I definitely don't think I'm alone in being a huge lover of an easy crochet coaster or pot holder for the home? I think they are two of the most popular crochet home decor things many of us crocheters and designers make over and over again. I'm not sure if it's the versatility, the simplicity, the many different styles, or just the overall practicality of them that makes them so popular.
What I do know is that these 8 stash-busting pot holder and coaster patterns I'm sharing with you today are all so fun and unique that no matter how many I have in my cabinets already, I will definitely be trying each of these.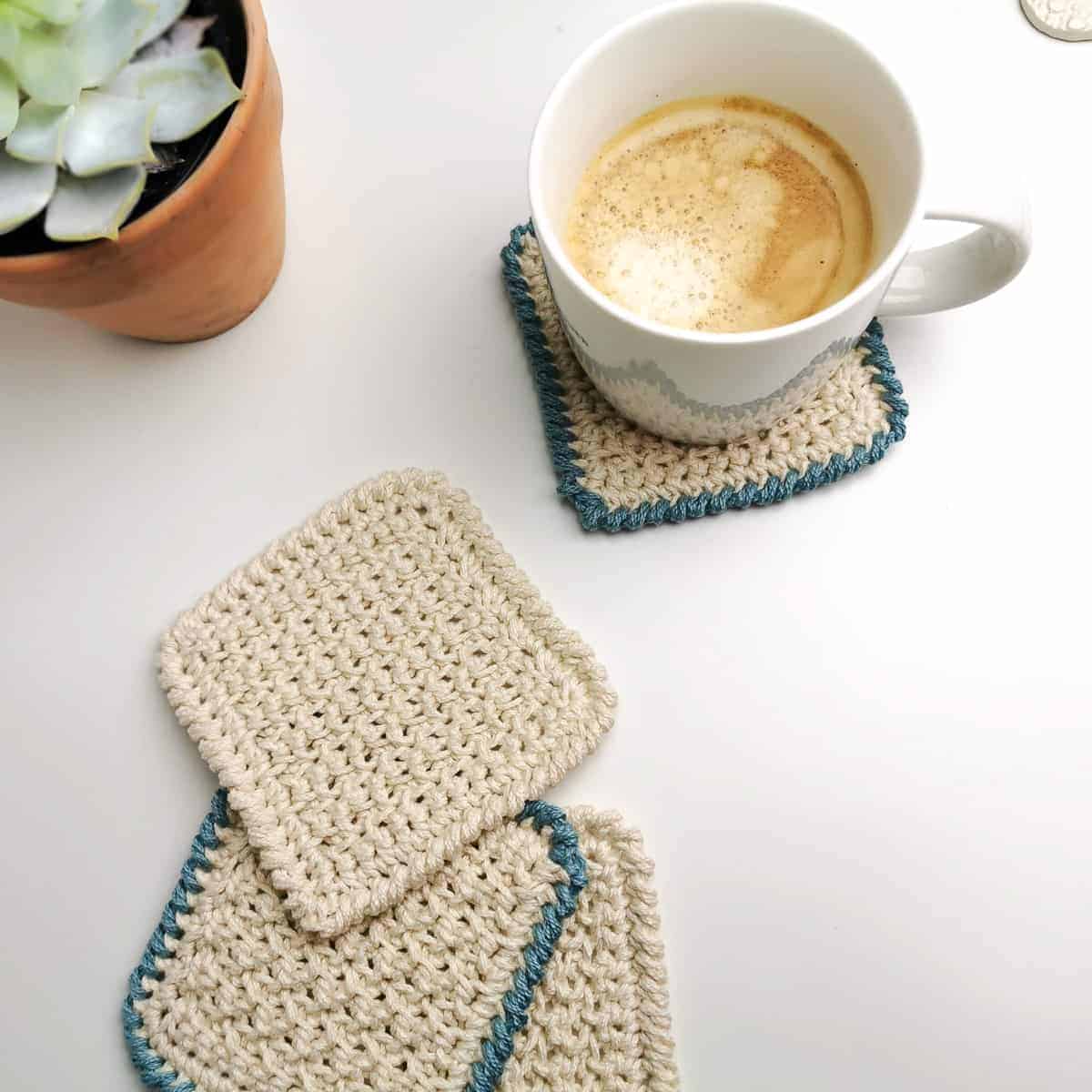 Within this list you're going to find: Nordic Crochet Coaster, Sweet Daisies Crochet Pot Holder, Tunisian Crochet Tresca Pot Holders, Sunday at the Pool Crochet Coasters, Spring Sparkle Coasters, Tunisian Mug Rug, Your Favorite Pot Holders and Ombre Coasters.
I love all the unique names each designer chose and once you see the pictures, you'll be bound to want to make each pattern yourself!
What Yarn Should I Use To Make an Easy Crochet Coaster or Pot Holder?
I am often asked what yarn I would recommend using to make not just coasters and pot holders but any crochet item for the home that is going to need to be both durable and pretty too.
I would always go with a good sturdy cotton for projects like these as you know that it will wear well, it will wash well and the stitch definition will be beautiful too.
Here are a few fabulous cotton yarns that would work really well for these crochet coaster and pot holder patterns:
Deramores Studio Cotton DK Yarn is a lovely double knit cotton yarn brand new to the market and is so lovely to use! It's 100% cotton and has 105m/50g.
Lion Brand 24/7 Cotton is a great option for anything you crochet for the home and it also has a beautiful sheen to it that makes the project look really bright and fresh. At 170m/100g it's great value and 100% mercerised cotton.
Paintbox Yarns Cotton Aran is a great idea to use for slightly chunkier crochet coasters and comes in a huge range of colours. It's 100% cotton with 85m/50g and I've used it for so many projects over the years.
Lion Brand Re-Up Yarn is perfect for any home project and is especially awesome as it's a recycled cotton yarn too! It's 100% recycled cotton with 107m/70g.
WeCrochet Dishie Yarn does exactly what it says on the tin – it's a 'practical prodigy and home decor hero' that is a worsted weight cotton yarn that I'd highly recommend. It's 100% cotton with 173m/100g and has fabulous colour choices too!
Join HanJan Crochet (and get a free pattern!)
I'd absolutely love for you to join me at HanJan Crochet so that we can connect and stay in touch! Sign up to receive a free PDF pattern and exclusive access to all of my patterns, offers and news. I can't wait to hear from you!
Take a scroll through the list below and click the button that says "Find the Pattern Here" to be redirected to the coordinating designers website for more information. I dare you not to try one (or two)!
8 Stash Busting Pot Holder & Coaster Crochet Patterns:
See… weren't all of those patterns phenomenal?! Told you so! Which is your favourite? I'd love to know.
If you try one (or lots) of these patterns, tag me and the designer in your post, we would absolutely love to see your final creation. It brings us so much joy to see you loving our patterns!
And if you're looking for more patterns to try that aren't Pot Holders or Coasters, check these out…
Other Pattern Round Ups You May Love:
9 Easy Crochet Dishcloth, Washcloth and Scrubbie Patterns
Free and Quick Crochet Projects
Yarn Stash Buster Challenge – projects to use up your stash!
Thank you for being here and choosing to be a part of the HanJan community, you make my "job" so enjoyable! See you next time!