Introducing the next eBook from HanJan Crochet!
9 Easy Crochet Patterns for Winter – hats, mitts, capes and cowls!
---
I adore designing and making most things but there's something about quick and easy crochet accessories that feel so satisfying to me.
I thought you'd enjoy a collection of my top 9 cosy and quick makes just in time for the gifting season.
This second digital ebook by HanJan Crochet has everything you need to explore, learn and make the 9 stunning crochet accessory patterns in it but there is much more besides!
The ebook features over 40 pages of patterns with articles, alternative sizings, yarn options, glossary and anything else you can think of too!
I have always been known as a crochet blanket lover – but accessories have stolen my heart now I think! I'd love for you to get your copy and enjoy them too.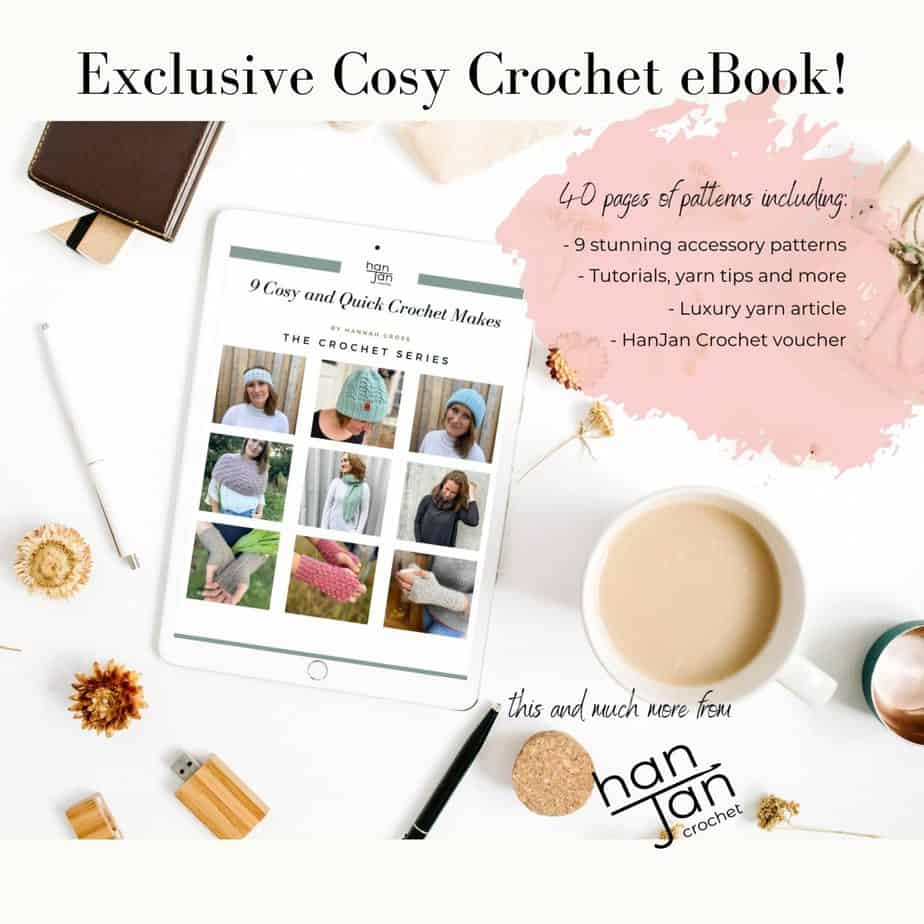 This post may contain affiliate links. Please see my full disclosure and privacy policy for details.
How to get your copy of the Ebook
I was thrilled when my friend Veronika asked me to design something to be featured in her Freebie Blog Hop for November 2021! I'm afraid my feature day is now over but I have great news – you can still get a copy of the Ebook if you'd like it with 50% off!
I've launched it in my stores and for a limited amount of uses you can use the code COSYHANJAN at checkout to save 50%.
9 Cosy and Quick Crochet Makes
Perfect for yarn stash busting!
The ebook includes:
The Fair Isle Headband
The Neo Mint Scarf
The Weston Bobble Hat
The Woodland Capelet
The Neo Mint Scarf
The Cosy Cowl
The Holbourne Mitts
The Pink Puff Mitts
The Mystical Mitts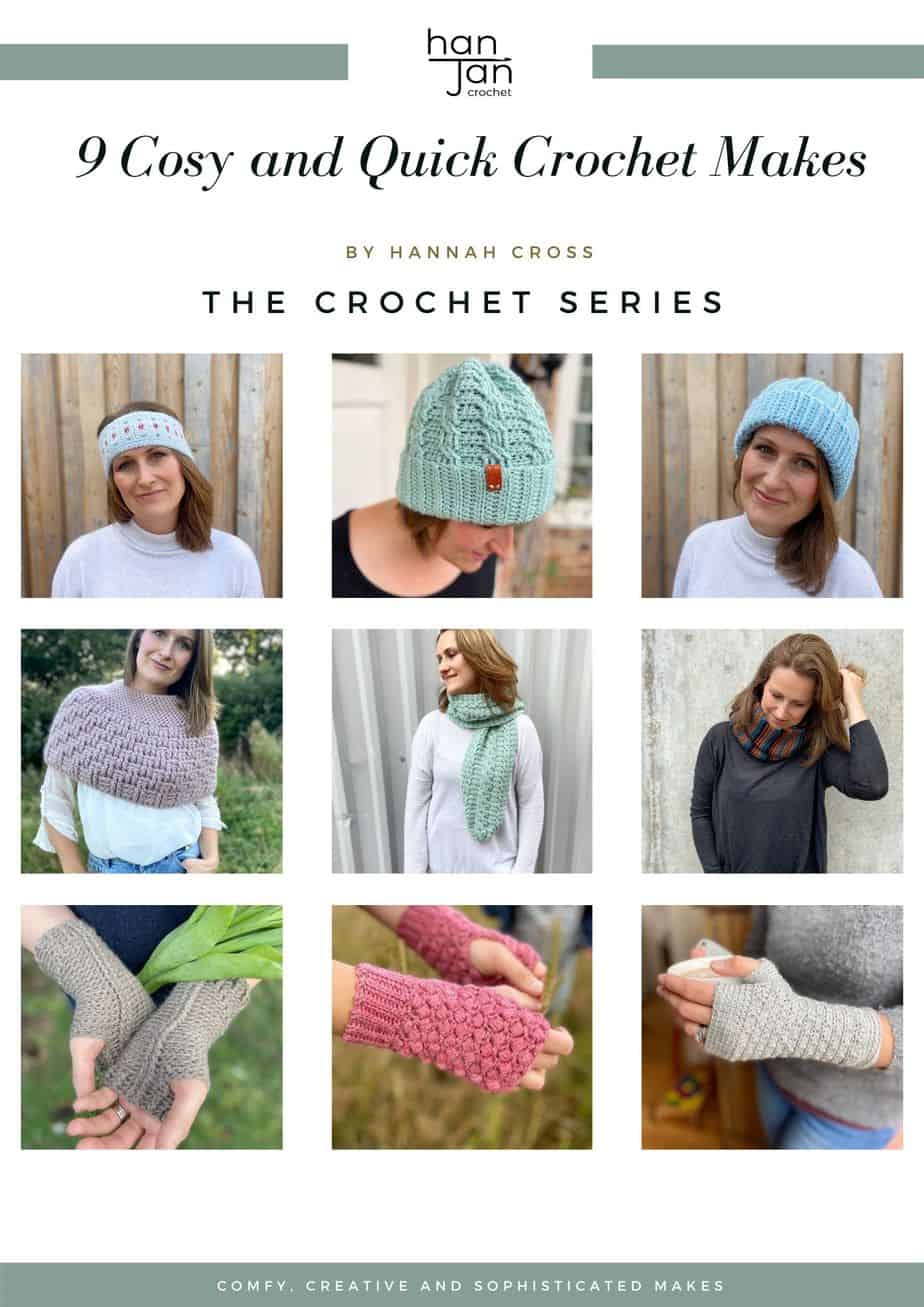 ---
What is included in the easy crochet patterns for Winter ebook?
---
The ebook features over 40 pages of patterns in both US and UK crochet terms. I absolutely loved putting it together for you and I really hope you love it too.
Some of the patterns are my most popular ones to date and some haven't event released yet! You'll be getting really ahead of the game when you get your copy 🙂
There are patterns suitable for beginners and beyond so I hope that everyone can enjoy this book and find some great projects to work on this winter.
Here's a closer peek of the patterns included in the ebook (plus it has articles and special HanJan discount codes too!).
Ready to get your copy?
Don't forget to use COSYHANJAN to save 50%
Want to know more about HanJan Crochet?
---
I'd love you to find out more about HanJan Crochet and join me in my crochet design adventures!
I have free patterns, tutorials, articles and so much more available on the blog and I also offer PDF versions of my patterns in my stores too if you'd prefer to print out and keep them.
Many of the patterns in this ebook are also available to view and use for free here on the HanJan Crochet site. They however don't include all the extras that are in the book (like articles on choosing colour, yarns and special offers too!).
If you're more of an avid blanket maker and lover like me then you might like to read about my 6 easy crochet blankets for beginners which has lots of tips and tricks for choosing the right pattern to start with and then grab my other Ebook too:
9 Colourful Crochet Blanket Patterns Ebook
Here are a few places you can visit next to find out more
HanJan Crochet Patterns including:
Tutorials and resources including:
I can't wait to send your ebook over to you and to get to know more about you!