I've been busy working away at new ideas to share with you all and I'm so excited to bring to you The Coffee Shop Wrap! Until now most of my patterns have been blankets but I'm really enjoying making things to wear (but secretly they're still just blankets sewn together so I can kid myself that I'm in my comfort zone!)
The pattern is free here on this post or you can buy an ad free, printable PDF of the pattern for £2 here.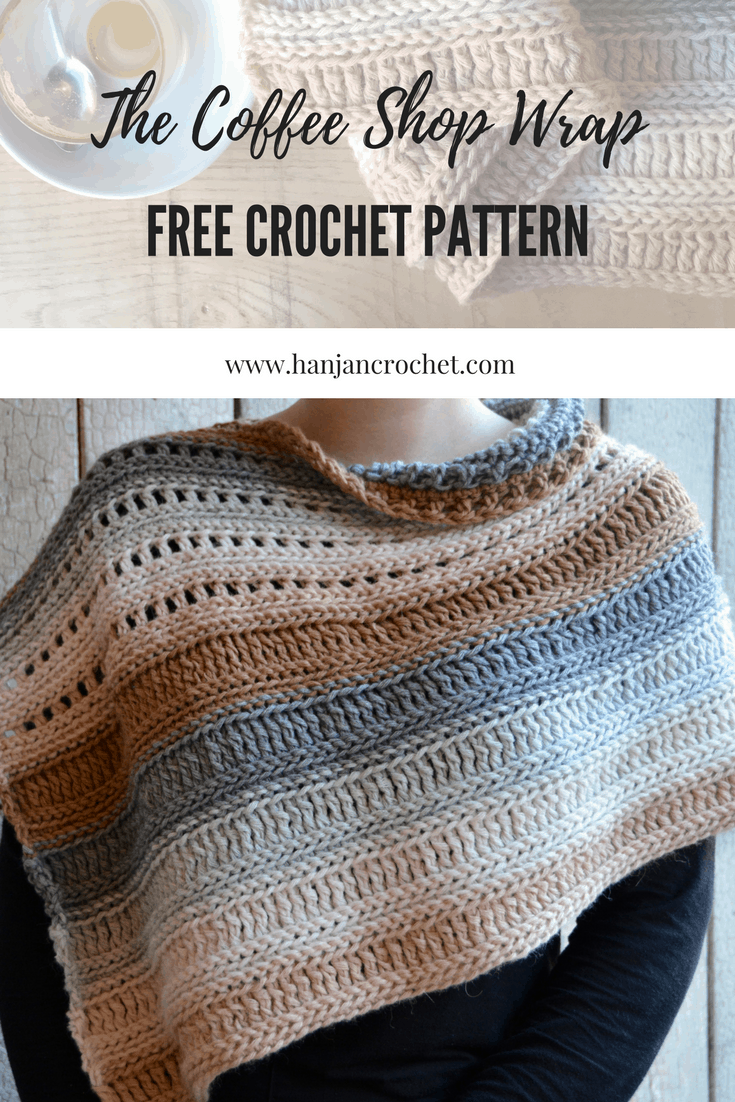 The Wrap:
The Coffee Shop Wrap is the simplest thing to make, just a beautiful great big rectangle of yarn that's seamed on the last row to create the shoulder and a cowl neckline. It uses a combination of double treble, double crochet and slip stitches (US treble and single crochet) to create a really unusual texture and sumptuous drape. It really does feel like it's giving you a great big hug when it's on.
The Yarn:
I used some seriously squishy yarn for this – Rico Essentials Alpaca Blend Chunky which is 50% Acrylic, 30% Wool, 20% Alpaca, 50g/90m
You will need 1 ball each of:
Powder 004
Beige 002
Light Grey 006
Medium Grey 007
Camel 016
You can buy the whole yarn pack and pattern together over at Deramores and save 10% by following the link below!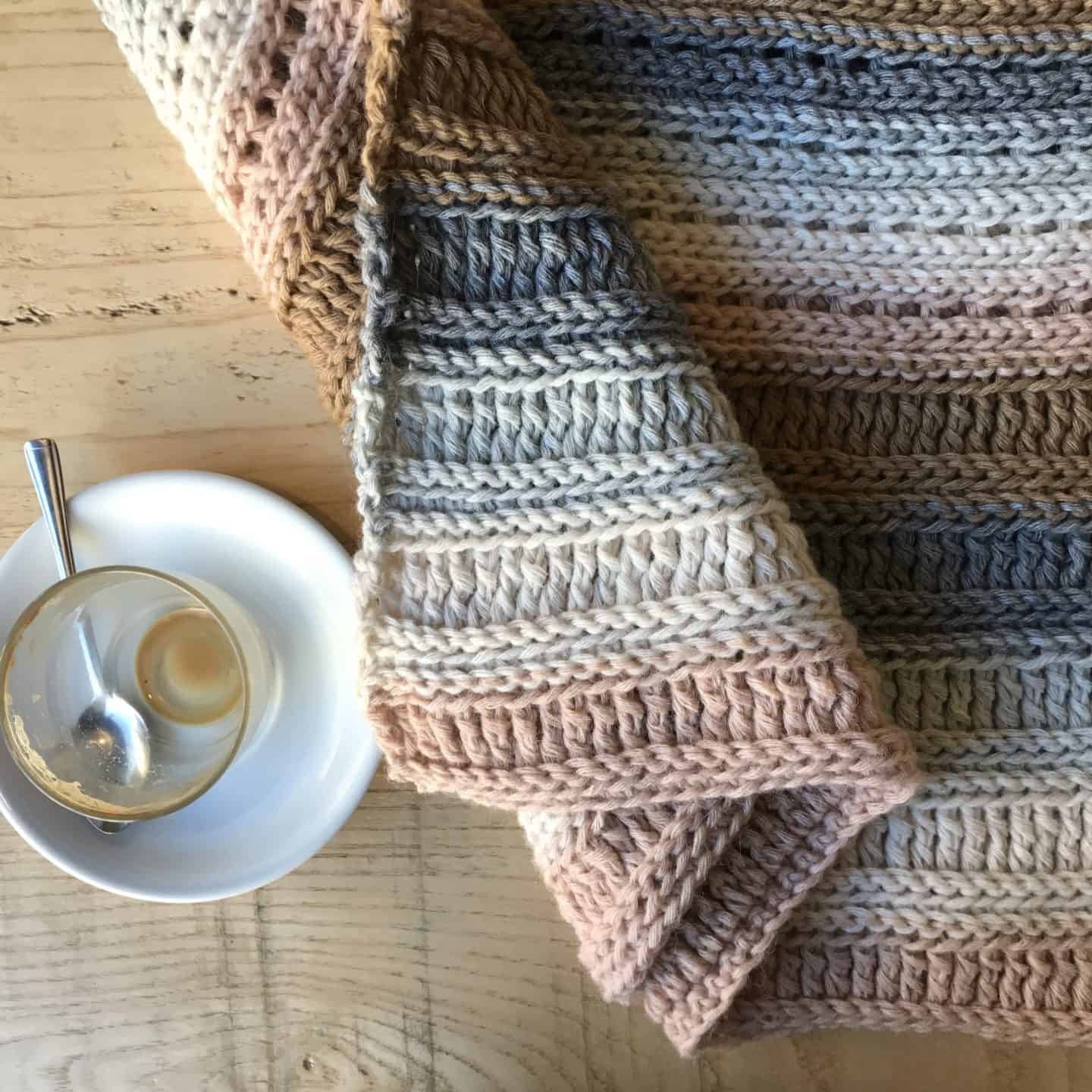 Materials:
Along with the yarn you will also need:
An 8mm/L crochet hook
Needle
Scissors
Finished Size:
One size fits all: the wrap measures 58cm by 50cm but is easy to adapt to any size you like by working a few more rows to get the desired length.
Tension:
12st and 8 rows = 10cm by 10cm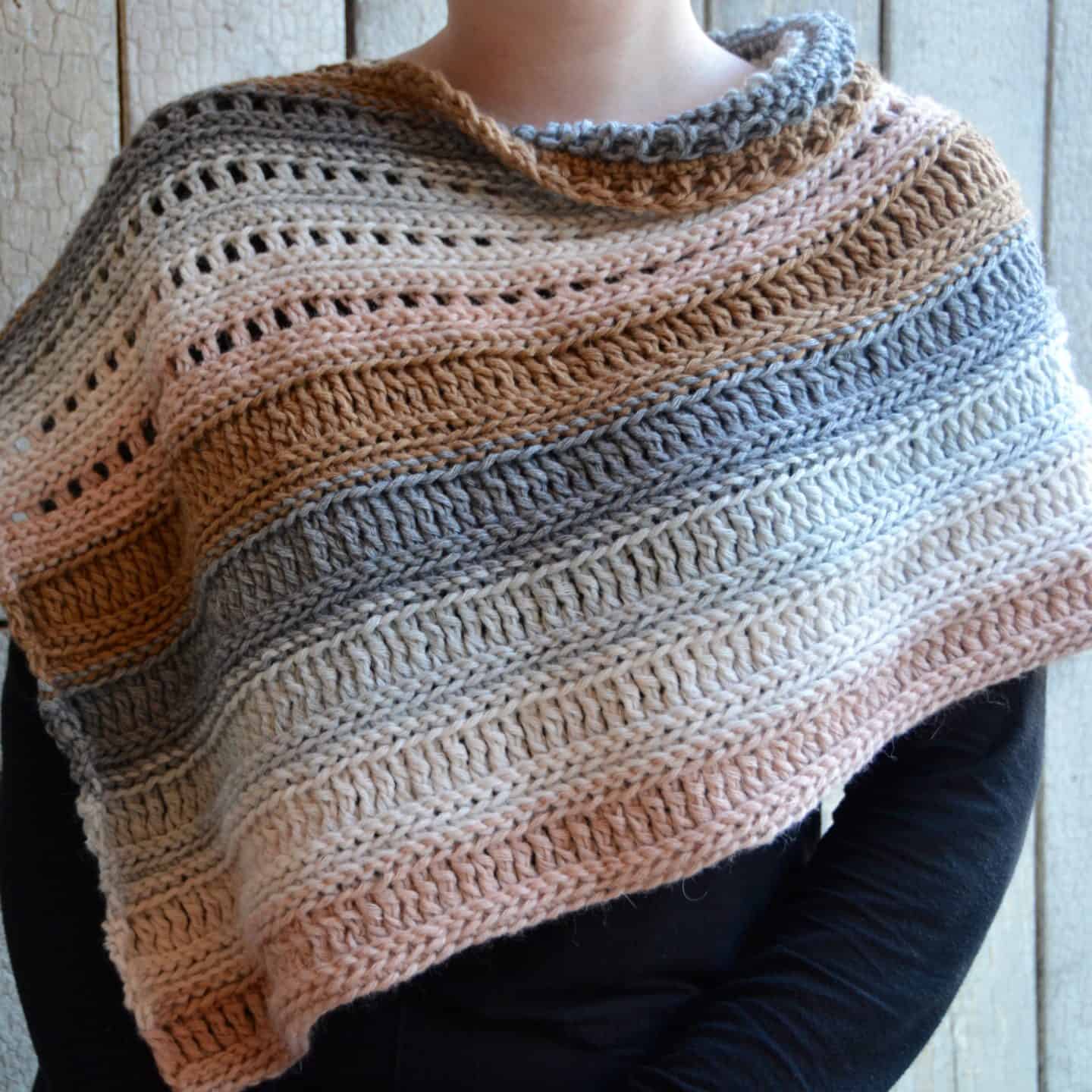 Glossary/Abbreviations: Standard UK terms (Standard US terms)
ch(s) – chain(s)
sk – skip
RS – right side
rep – repeat
st(s) – stitches
BL – back loop
FL – front loop
ss – slip stitch
dc – double crochet (sc – single crochet)
dtr – double treble (treble)
Pattern Notes:
The ch1/3 at the beginning of a row does not count as a stitch.
When working the last row make sure you leave a tail long enough to seam up the shoulder. (Less ends to sew in!)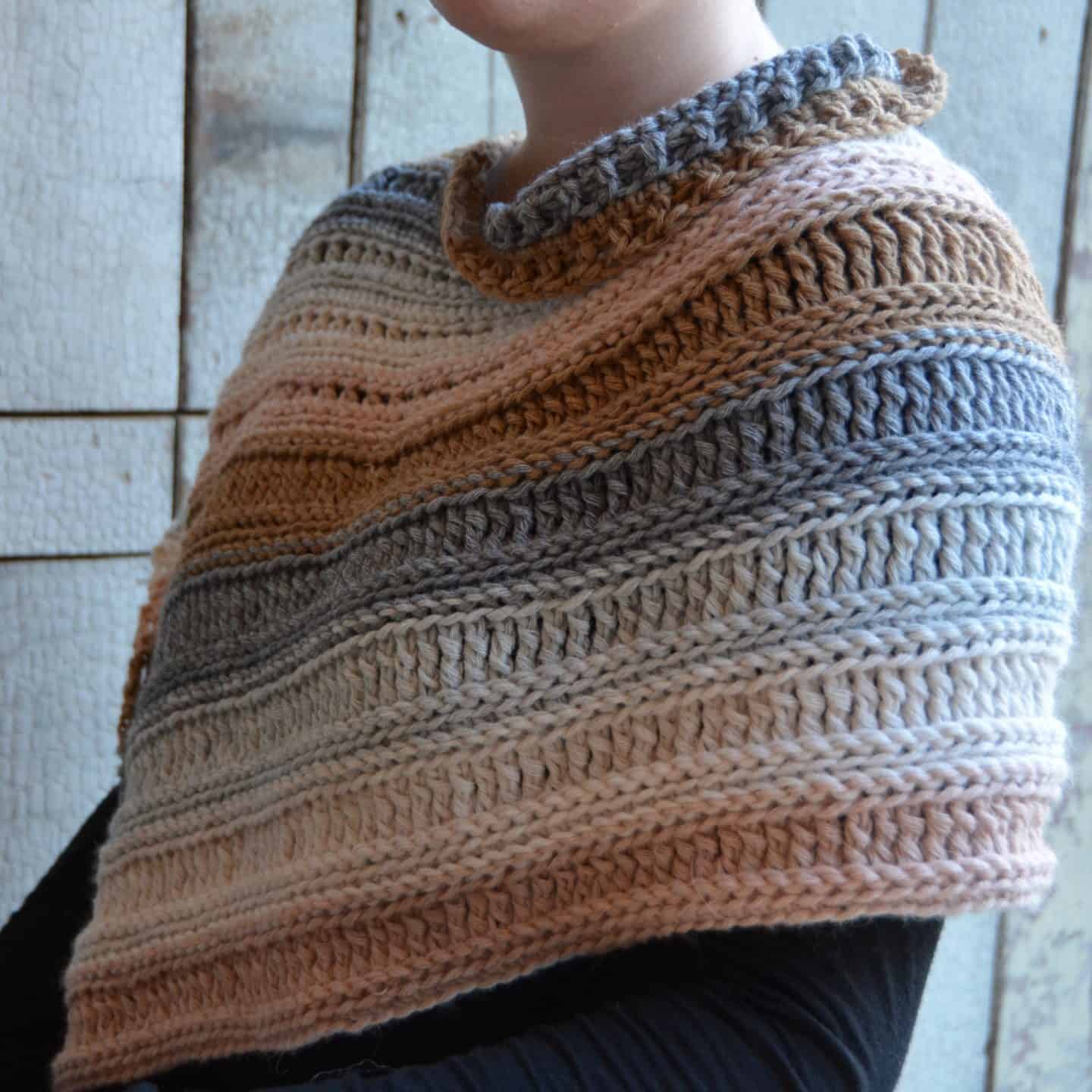 Pattern:
Standard UK terms/US terms in italics
Foundation chain: Using Powder, ch142 [can be any even multiple]
Row 1:dc/sc in 2nd ch from hook and each to end [141]
Row 2: ch1, ss in FL of each
Row 3: ch3, dtr/tr in Bl of each, change to Beige
Row 4: ch1, ss in FL of each
Row 5: ch1, dc/sc in BL of each
Row 6: ch1, ss in FL of each
Row 7: ch3, dtr/tr in Bl of each, change to Light Grey
Rows 4-7 create the pattern
Rows 8-11: Rep pattern in Light Grey
Rows 12-15: Rep pattern in Medium Grey
Rows 16-19: Rep pattern in Mocha, change to Powder at end of Row 19
Row 20: ch1, ss in FL of each
Row 21: ch1, dc/sc in BL of each
Row 22: ch1, ss in FL of each
Row 23: ch1, htr/hdc, *ch1, sk1, htr/hdc, rep from * to end
Rows 20-23 create new pattern
Rows 24-27: Rep pattern in Light Grey
Rows 28-31: Rep pattern in Medium Grey
Rows 32-35: Rep pattern in Mocha
Turn as if to work another row, ss seam 35 of the beginning and end of Row 35 to create poncho neck. This leaves 71st for neck.
To make the longer version, repeat Rows 20-35 again before joining for neck.
Photo Tutorial:

I absolutely love to see completed projects so make sure you use #hanjancrochet and tag me over on Instagram so I can find you!