Making for charity is such an awesome thing to do. My wonderful Mum is always crocheting or knitting hats and scarves for charity. She had made so many over the years and she sends them off in big batches when she has a pile.
As many of you know, I also work as a midwife in the NHS and so have first hand experience of how invaluable any handmade little hats and blankets are for our tiny premature babies and also the bigger ones that don't have enough to keep them warm.
So when I heard that Ashley from EdythBlayn was organising Crochet for a Cause I couldn't wait to be involved!
How You Can Help – Crochet Hats and Scarves for Charity
Every Monday from June until August two patterns (either hats and/or scarves) will be featured from different crochet designers. The PDFs to their patterns will be available for free download for the entire week!
You can crochet as many or as few of the patterns as you like and the goal is by the end of summer you have several crochet hats and/or crochet scarves to donate to wherever you like, for example – local homeless shelter, hospital, cancer centre, school, pregnancy resource centre.
If you can't find a local charity, here are some ideas of where to send your hats and scarves and a link to a heart charity project too:

More About the Patterns
The patterns will all be beginner-friendly to easy-intermediate in difficulty and range in size and gender-target so you can tailor them to your needs.
Please only use cotton and soft acrylic yarn and please avoid wool as it can be irritating, especially for babies with sensitive skin.
The patterns will be free to download from Monday at midnight EST until Sunday evening. The download will either be available directly from the designer's site, or through Ravelry.
How Do I Get The Patterns?
Ashley has created this great little infographic to show you how it all works: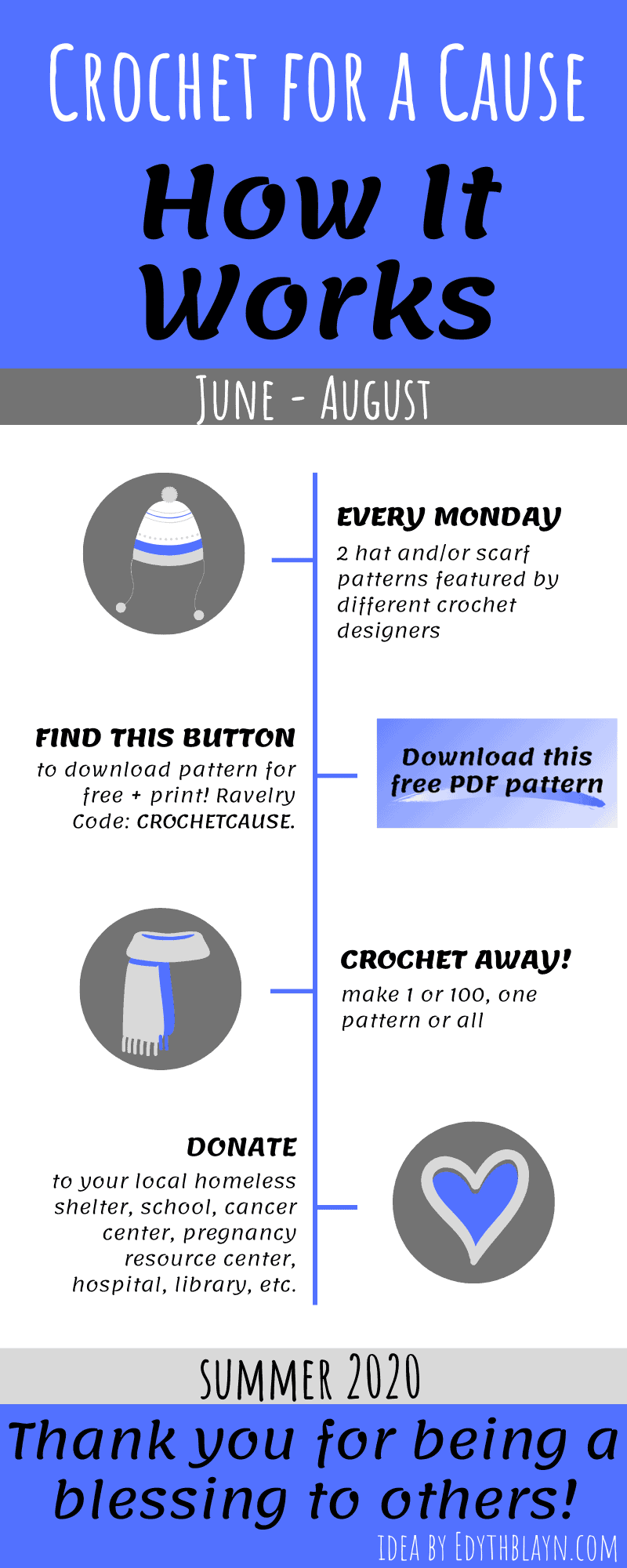 When you click on the pattern links below, you will be taken to the designers page and you need to find the following image that will take you to the pattern: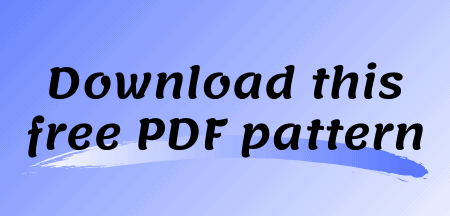 That's all there is to it! Just click on the button when you find it and remember to have the code: CROCHETCAUSE ready to pop into the field in Ravelry when it asks you for one. Easy!
There are two brand new patterns being added each week so don't forget to come back and download those too!
If you'd like to stay up to date and get a reminder when the new hats and scarves for charity patterns are available then I'd love you to subscribe to HanJan so I can let you know (you also get a free PDF of my most popular pattern too!)
Share Your Makes With Us!
We would LOVE to see how your hats and scarves for charity are coming along! If you have Instagram, please use the hashtag #CrochetCause2020 so we can see your makes and if you have Facebook, you can join Ashley's group Edyth Blayn Crochet Community to share pictures! It would be amazing to share at the end of Crochet for a Cause 2020 how many hats and scarves you made to donate so we can total them all up!
The Patterns
Once the new week starts the patterns will no longer be available as free downloads but loads of them are completely free forever on the designers sites so make sure you check them out by clicking on them.
Crochet for a Cause 2020 Patterns