I personally enjoy all parts of the festive season but getting everything ready on time sure is a challenge. So this year I decided to round up some patterns of quick Christmas crochet ideas that make perfect last minute gifts!
We're in the last few weeks before Christmas and the situation is getting both funner and crazier! There's so much to do, so many gifts to crochet and buy, and little odds and ends left to wrap up so let's make life easy for ourselves!
These crochet patterns are lifesavers. When you realise you've forgotten a name or the delivery date for a gift you've ordered keeps getting increasingly concerning, that's where these easy crochet patterns come in.
They're quick and easy to make. You can get a bunch ready to stuff into stockings, make goody bags out of, or just keep on hand if you have unexpected guests. After all, this season's all about spreading holiday cheer!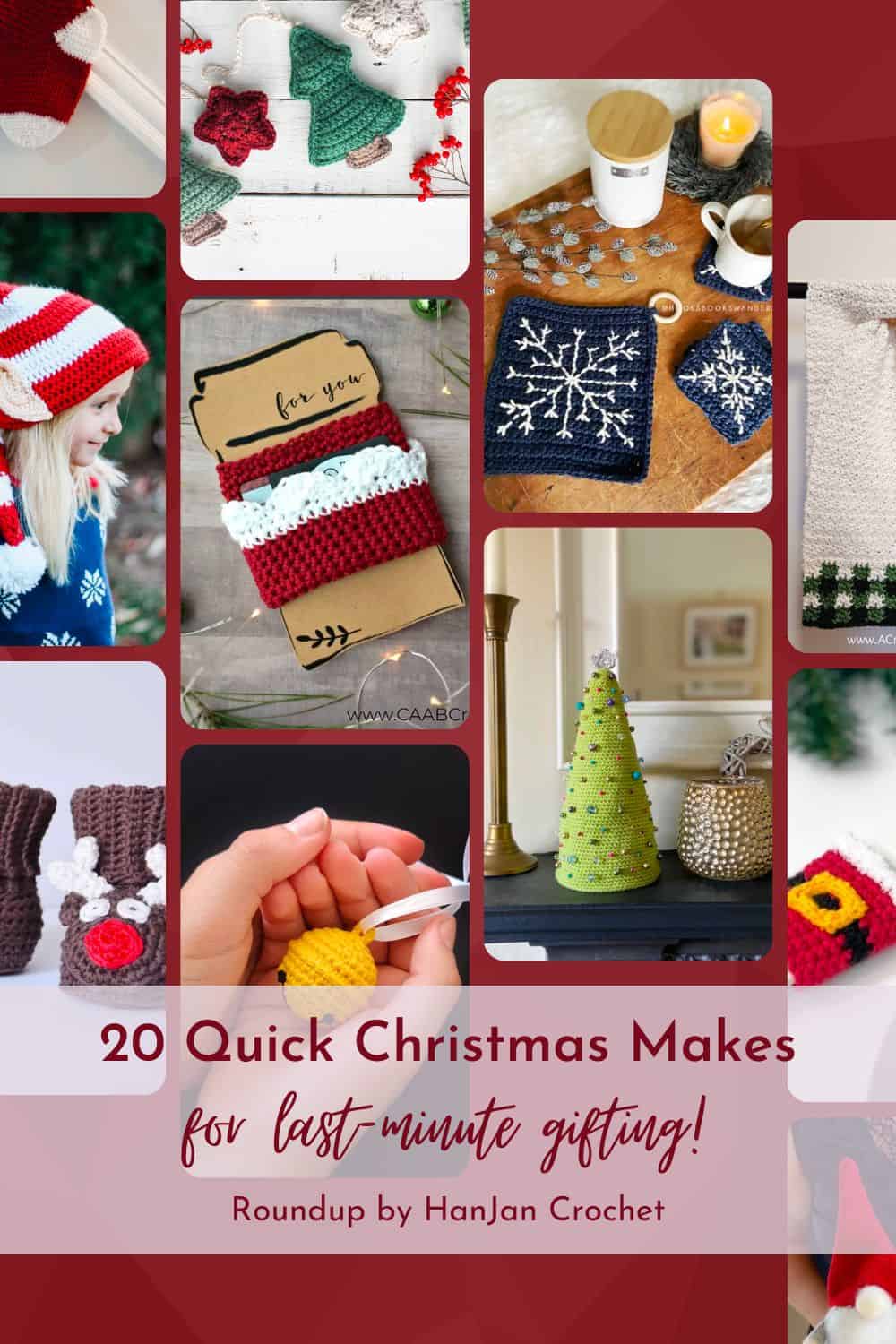 Some Things to Keep in Mind
Before starting your next project with one of these amazing crochet patterns, here are a few things to keep in mind:
These patterns all require different types of yarn and hook sizes as well as some additional material (such as a clear bauble or ponytail). It's always helpful to gather everything first before getting into the pattern.
Be sure to read these patterns through before you decide which one to go for because most of them use basic stitches and teach you new techniques. But if you feel like you might get stuck somewhere, it's better to figure it out before you start the project rather than midway!
It's all about experimentation! You might like some textures and other techniques and that's what makes crochet so fun! You can tailor all of these patterns according to your own preferences.
Now that we've gotten that in order, scroll on down to see all 20 patterns and click the button that says "Find the Pattern Here" to view the blog post with all of the information about that specific pattern. Enjoy!
20 Quick Christmas Crochet Ideas
How wonderfully festive are these quick Christmas crochet ideas? And they're all free patterns to try too!
You can make them for your own home or to gift to your loved ones. I challenge you to give one (or many!) a try and share it with us on social media by tagging me @hanjancrochet AND the designer so we can enjoy your beautiful creation!
Other Recommended Patterns You Might Enjoy
I'd love for you to explore my free crochet patterns on the blog and if you enjoy roundups like this, here are some more you might like to read too: