I love a granny square, I mean who doesn't!? But there is something really special about a hexagon, whether it's a granny hexagon or some other kind of hexagon! It is really quite amazing what you can create just using crocheted hexagons. And so, today I'm sharing my favourite free hexagon crochet patterns to try.
This roundup features all sorts of hexagon crochet patterns, from super quick coasters that you can whip up in an evening, to larger blanket and cardigan projects. Most use a combination of simple stitches that are suitable for beginner to intermediate level.
If you find a pattern you want to have a go at, be sure to pin this roundup to keep it safe with you!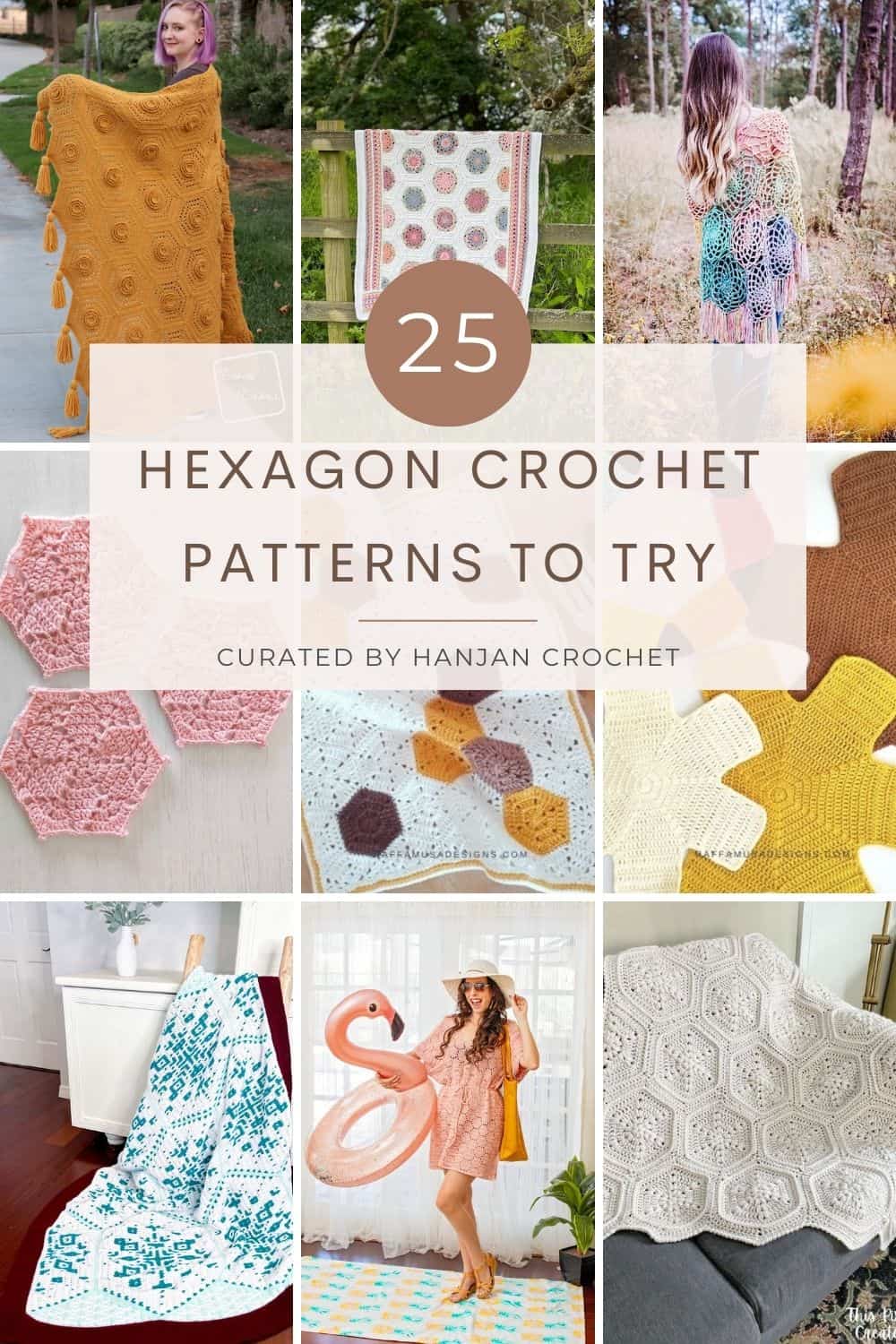 How do you crochet a hexagon?
There are lots of different ways to crochet a hexagon, like with all crochet projects. The majority are worked in the round, although it is of course possible to work backwards and forwards in rows with increases and decreases.
Many of the patterns I have chosen to share with you follow the granny square style – that is, a combination of double crochet and chains worked around a central point. Corners are created by working more than one stitch into a stitch from the previous round with chains in between. They are just like a granny square, just with six corners instead!
I have also chosen a number of patterns that use some different crochet techniques. You will find mosaic crochet and filet crochet, along with lots of colorwork thrown in. So plenty to practice your skills on and keep you interested!
Since the majority of the hexagon patterns are made as a series of hexagon motifs that then need joining together, these patterns generally require seaming in some way. Some follow the Join As You Go method, whilst other use a slip stitch seam. Both of these are crocheted seams. Check out my post on joining hexagons together for more information.
Other patterns use a sewn seam, such as the whip stitch. So you're probably going to need a tapestry needle on hand, as well as some scissors.
How do I choose the right pattern for me?
Choosing the right hexagon crochet pattern completely depends on what you'd like to make, who you're making it for, what experience you have with crochet, and what you'll be using the item for.
Firstly, you need to make something that you like and you want to make. There is no point in crocheting something that you don't love. If you can imagine how and where you'll use the finished piece, you are much more likely to complete it.
Secondly, you need to choose a pattern that is right for your skill level and experience. I've added the skill level and main stitches used to all the patterns to save you having to open each pattern to find out if they are right for you.
What crochet stitches will I need to know?
Each of the patterns that I've included use mostly single crochet, half double crochet and double crochet stitches. However, there is also plenty of opportunity to practice different stitches, such as the puff stitch, cluster stitch and working in the front and back loops.
There are a few that use more advanced techniques like colorwork and mosaic crochet because I didn't want you to limit yourself if you're keen to push yourself and would like to learn these techniques.
Supplies for Hexagon Crochet
Pattern
As I've said, choosing the right pattern for you is essential and I have 25 for you to choose from! All of them are free to view on the designer's blog which is a great way to try out a pattern without committing any money.
Once you have chosen one (or more), you will be able to pay for the premium pdf download, which you can then save and print off. This is great for writing notes on and keeping track of where you are. It also means you'll have the pattern for the future, if you want to make it again!
Yarn
The pattern will let you know the recommended yarn that the designer used, the weight (referred to as category) and the amount of yarn you'll need for each size. You are of course welcome to use a different yarn of the same weight. This is encouraged particularly for the stashbuster projects!
I've added the information about the yarns with each pattern for you to look at quickly whilst selecting your pattern.
One of the most important things when choosing yarn is to make sure that you work a gauge swatch. This is particularly important for wearables, to ensure the garment fits correctly. It is less important for the blanket patterns, where the size isn't essential, but it still gives you a good idea of how big your finished piece is going to be.
Hook
Your pattern will let you know the crochet hook size that the designer used but you can always adjust according to the yarn you're using or if your stitches are tighter/looser than most people's. The best thing to do is to work a gauge swatch first.
Notions and Other Materials
The other essentials you might need while making some of these patterns are:
Scissors to break your yarn.
Stitch markers are often helpful for keeping count of stitches, especially when you're shaping different pieces
Free Hexagon Crochet Patterns – The List
Now that you're totally clued up on all things hexagon crochet, let's get to the patterns. Here are a massive 25 free crochet patterns using hexagons. I've organised them by project type to make it easier, so you'll find blankets first, followed by garments, bags, accessories and finally smaller projects that you can do in an evening!
So here it is! Check out my favourite free hexagon crochet patterns below.
Conclusion
So which one did you choose from these 25 hexagon crochet patterns? It's a really hard decision! I really hope you found the perfect thing to make. I would love to know if you make one (or some!). Please share them with me in the HanJan Crochet Facebook group or on Instagram – don't forget to tag #hanjancrochet.
Don't forget to join HanJan Crochet to receive regular discount codes, hear about all my new patterns first and get exclusive access to events!