Until a few weeks ago I didn't even know the word capelet existed. I mean, spellcheck is still trying to tell me it's not real but I've checked and checked again and capelets are indeed a thing. They are actually my new favourite thing as I designed this one back in December and it's just perfect for the chilly weather we've got here now. Even better, it's worked in chunky yarn so is soft, cosy and makes up in a flash, a definite bonus in my book. So if you're looking for something a bit different to wear that doesn't take forever then this is the one for you, the free crochet capelet pattern is just below.
You can carry on reading to find the free pattern here in this blogpost or purchase an ad-free, printable PDF version of the Vintage Cape crochet pattern in my stores to download and print.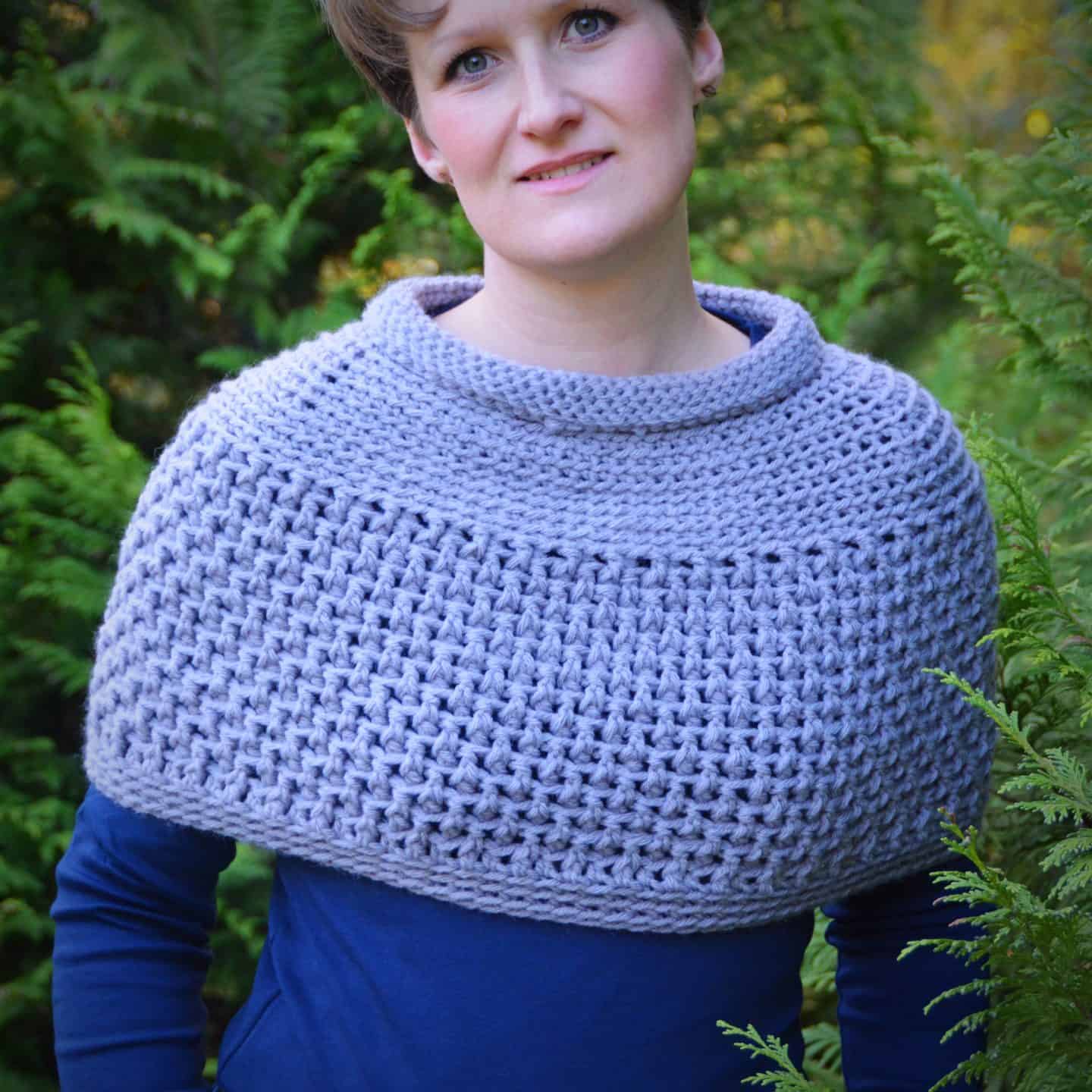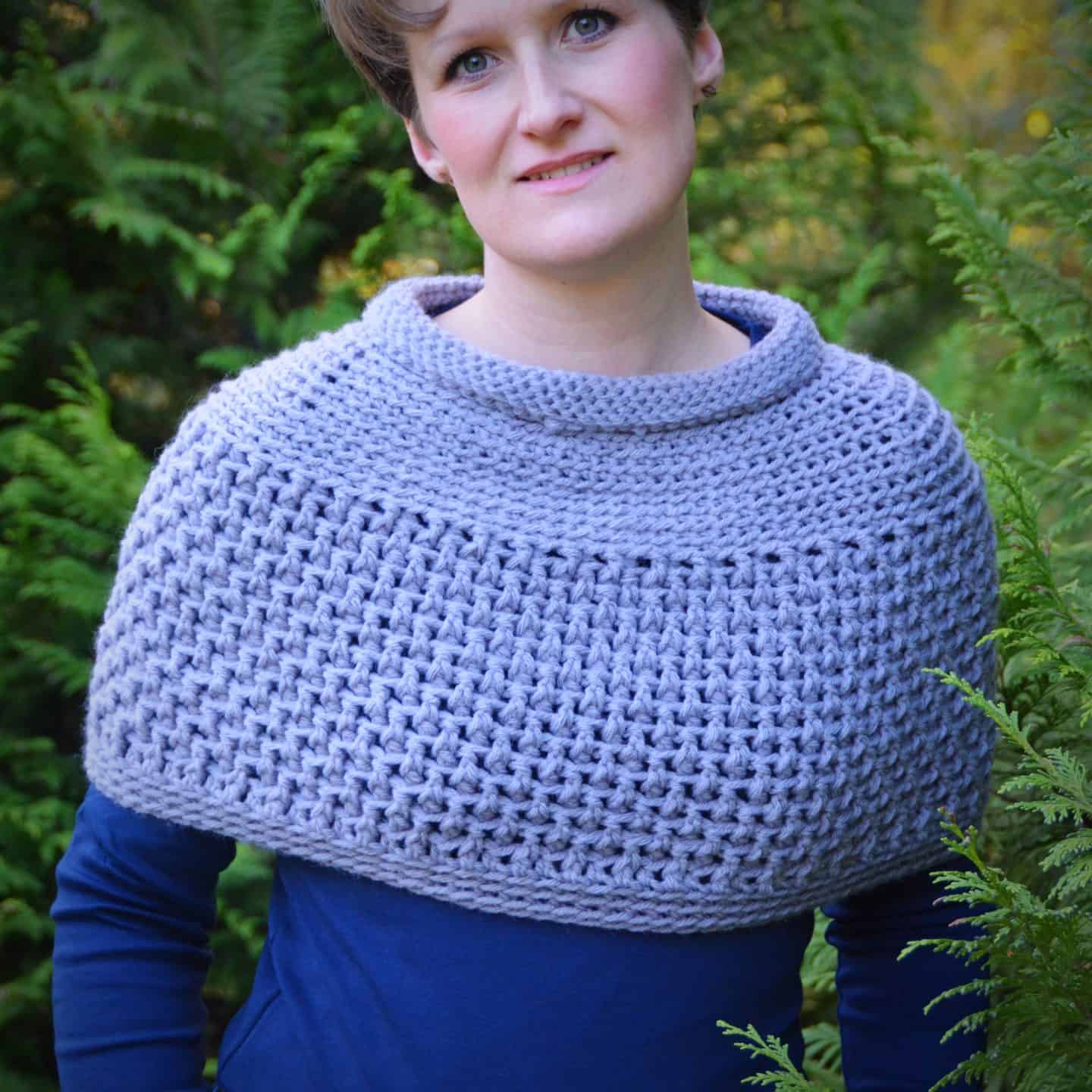 The capelet comes in 4 sizes smaller, medium, large and x-large. It's worked seamlessly (hurrah!) from the bottom up in continuous rounds. The detail and texture comes from working back loop and front post stitches throughout. Not easy for beginners but scroll down after the pattern for a step y step photo tutorial to help.
The pattern is here free for everyone to enjoy. You can buy an ad-free PDF version of it here.
Add the pattern to your queue on Ravelry here.
This post contains some affiliate links so any clicks from you help support me to bring more free patterns each week.
The Yarn
I used Stylecraft Special Chunky to make the capelet and it's so easy to work with and is so warm and cosy.
It's 100% acrylic, 144m/100g and you will need 4,4,5,6 balls of Silver(or any colour you like) for each of the respective sizes.
Materials
Along with the yarn you will also need:
An 8mm/L crochet hook
Needle
Scissors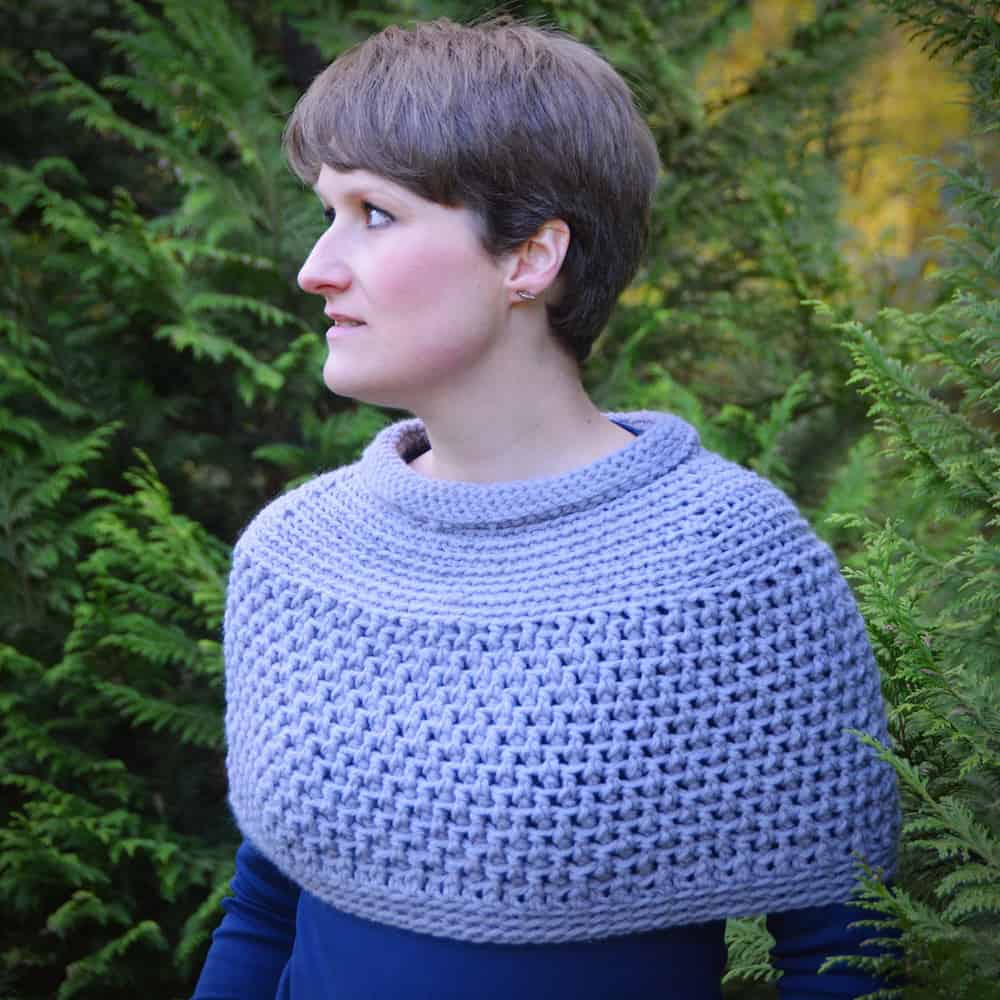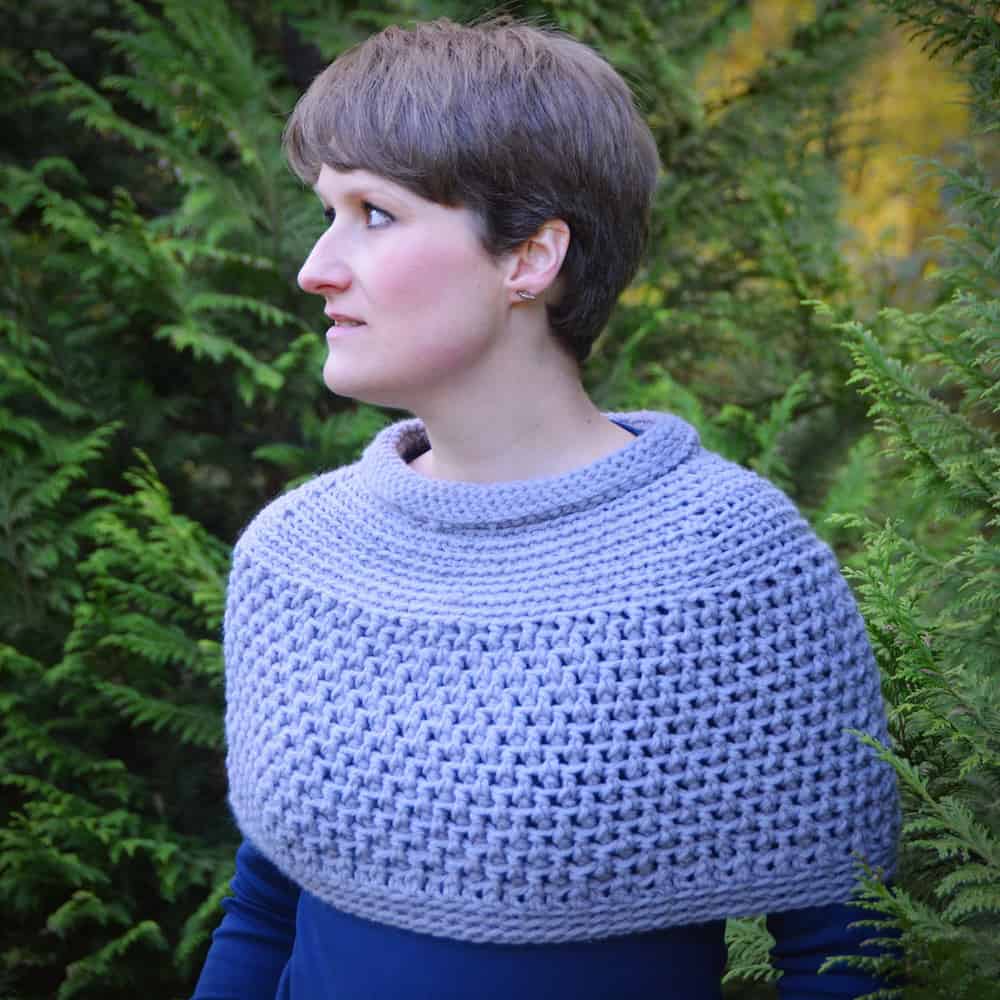 Tension
8 stitches and 8 rows = 10cm by 10cm
Sizing
Small – 56cm wide, 34cm long
Medium – 61cm wide, 36cm long
Large – 66cm wide, 39cm long
X-Large – 71cm wide, 41cm long
You can adapt your capelet to be any size you like though by just adding a few more rounds to the main body.
Glossary/Abbreviations
ch – chain, ss – slip stitch, st- stitch , BL – back loop, rep – repeat
UK TERMS: dc – double crochet, htr – half treble, FPtr – front post treble, dc2tog – double crochet 2 together
US TERMS: sc – single crochet, hdc – half double crochet, FPdc – front post double crochet, sc2tog – single crochet 2 together
Notes
Work in continuous rounds throughout the pattern.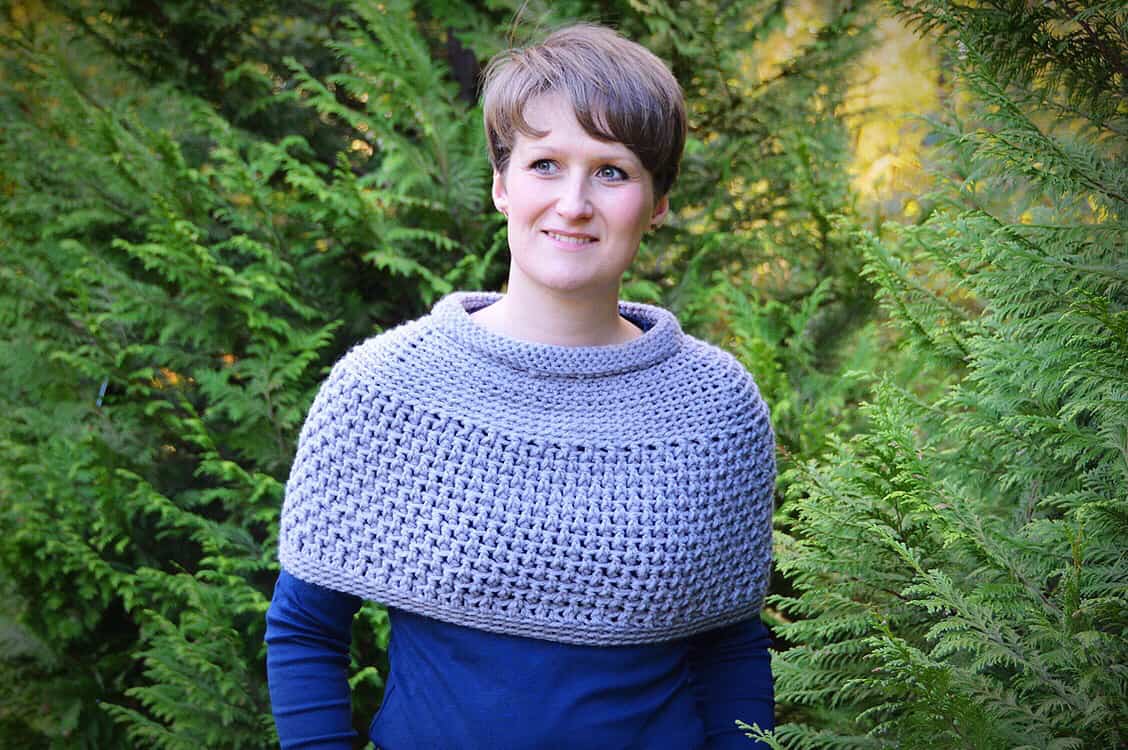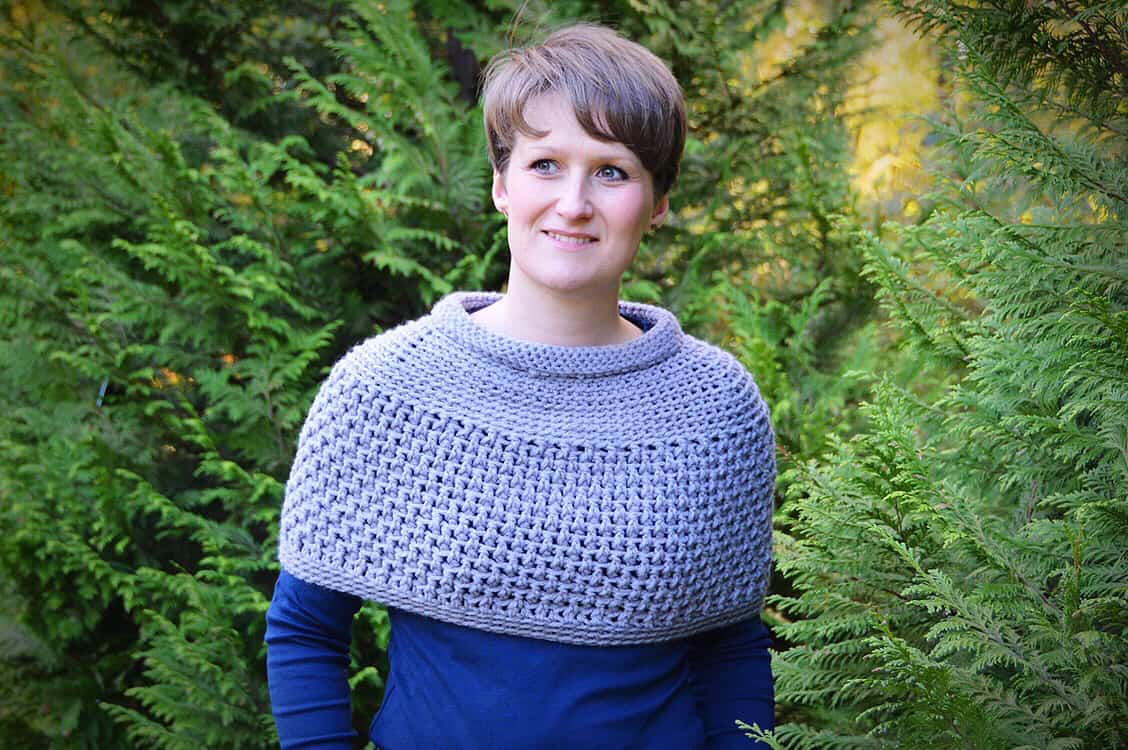 Pattern
STANDARD UK TERMS/STANDARD US TERMS IN ITALIC
Bottom Cuff –
Foundation chain: ch90,98,106,114, taking care not to twist, ss in first st.
Round 1: dc/sc in each [90,98,106,114]
Round 2: dc/sc in BL of each
Round 3: Repeat Round 2
Continue for the Main Body –
Round 1: htr/hdc in BL of each
Round 2: *htr/hdc in BL, FPtr/FPdc, rep from * around
Round 3: *FPtr/FPdc, htr/hdc in BL, rep from * around
Rounds 2 and 3 create the pattern
Repeat the pattern 6, 7, 8, 9 more times.
Continue for the Neckline – work in BL throughout now
Rounds 1-3: dc/sc in each
Round 4: *dc2tog/sc2tog, dc/sc in 30,32,34,36, dc2tog/sc2tog, dc/sc in 11,13,15,17, rep from * [86,94,102,110]
Round 5: *dc2tog/sc2tog, dc/sc in 30,32,34,36, dc2tog/sc2tog, dc/sc in 9,11,13,15, rep from * [82,90,98,106]
Round 6: *dc2tog/sc2tog, dc/sc in 30,32,34,36, dc2tog/sc2tog, dc/sc in 7,9,11,13, rep from * [78,86,94,102]
Round 7:*dc2tog/sc2tog, dc/sc in 30,32,34,36, dc2tog/sc2tog, dc/sc in 5, 7,9,11, rep from * [74,82,90,98]
Round 8: *dc2tog/sc2tog, dc/sc in 30,32,34,36, dc2tog/sc2tog, dc/sc in 3,5,7,9, rep from * [70,78,86,94]
Round 9:*dc2tog/sc2tog, dc/sc in 30,32,34,36, dc2tog/sc2tog, dc/sc in 1,3,5,7, rep from * [66,74,82,90]
Continue for the Collar –
Rounds 1-8: ss in BL of each [66,74,82,90]
Fold the collar over and join with a ss seam to the unworked front loops of Round 9 of neckline. Sew in ends to finish.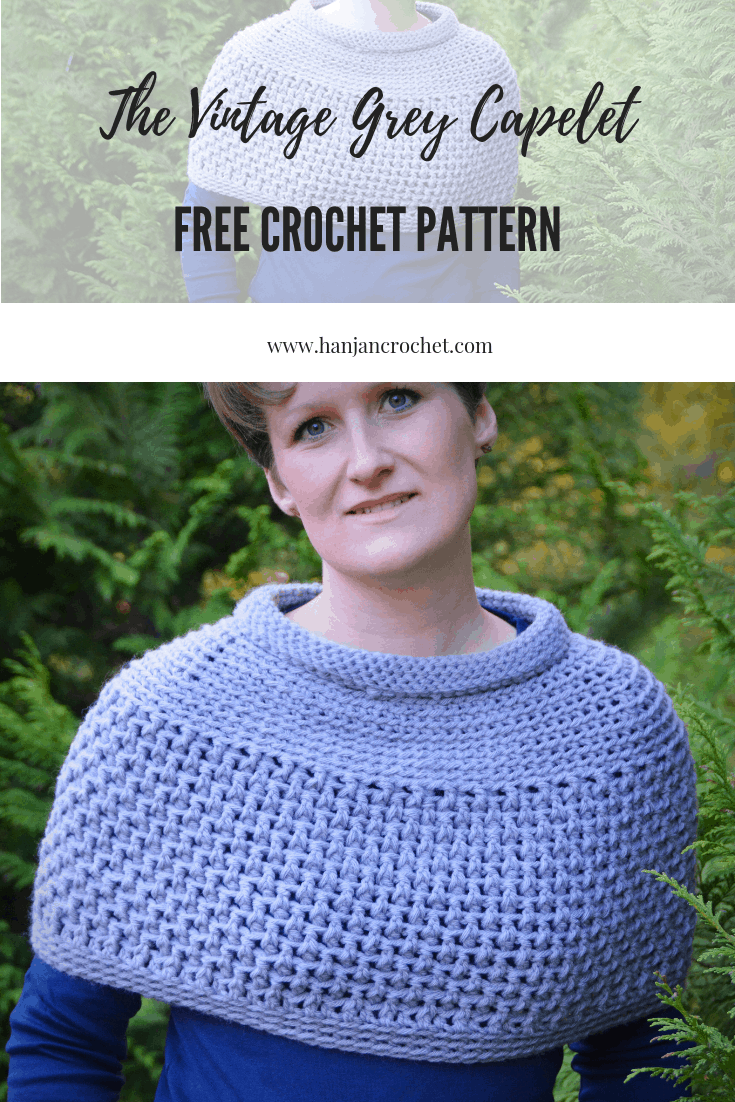 Step By Step Tutorial
I've also put together a little step by step tutorial to help with all the front post, back loop antics, hope it helps!
That's all there is to it – Winter ready with a super easy garment! I absolutely love to see completed projects so make sure you add your completed projects to Ravelry here or use #hanjancrochet and tag me over on Instagram so I can find you.
Oh, and another exciting little piece of news is that I've been voted in the top 25 crochet blogs of 2018 by AllFreeCrochet! I'm so delighted to have made the list and want to that absolutely everyone who is making this wonderful time for me as a designer possible (that's mainly you lovely people who read and make my designs!). Thank you so much. If you'd like to read more about the top 25 then head on over to AllFreeCrochet to read more.