The Sydney Cardigan is an easy, knit-look crochet cardigan pattern in sizes XS to 5XL. With the front and back made in one piece, there are hardly any seams to deal with and the easy crochet stitches create a beautiful ribbed cardigan that will be a wardrobe staple all year round.
The 3/4 length slouchy sleeves are just right for Spring and Summer or make them longer for a cozy Winter wrap cardigan if you prefer.
If you've ever been intimidated by crochet garments then this is the one for you!
Using just basic stitches and no shaping whatsoever, you can make this fabulous knit-look crochet cardigan pattern.
There are a few ways to get hold of the pattern and I'm excited to let you know about them!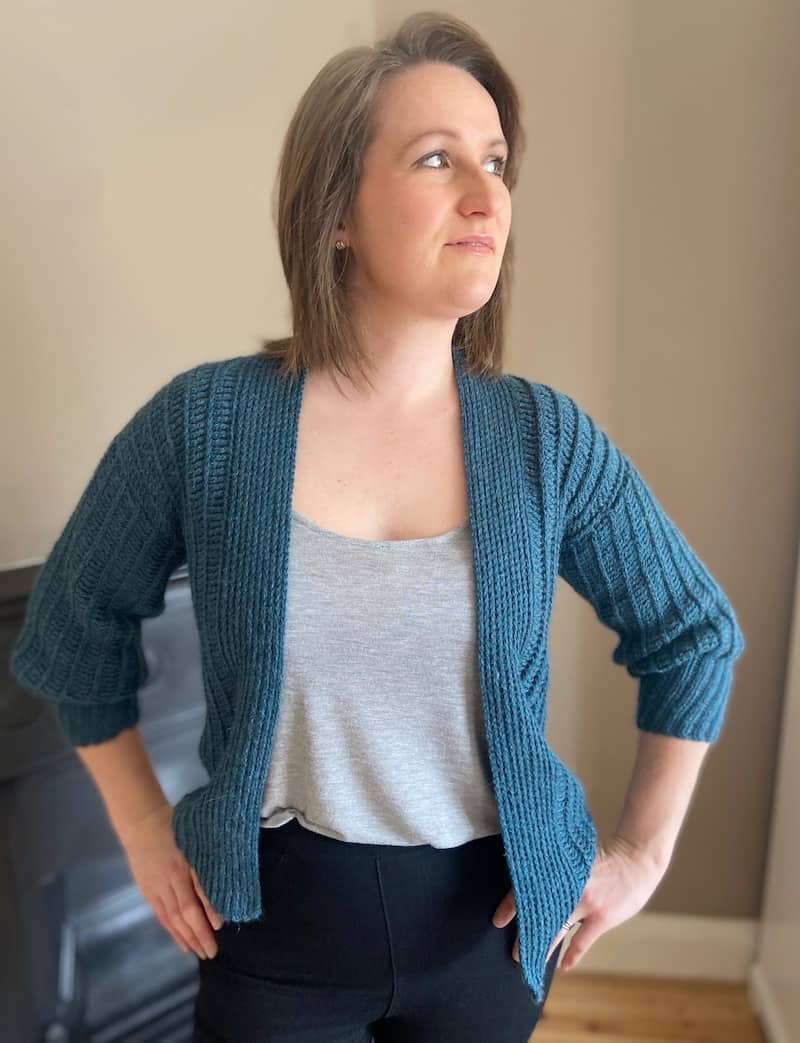 This post may contain affiliate links which I will earn a small commission from if you choose to click and purchase anything from. I will only ever link to products and services I believe in and it is at no extra cost to you as a customer. It helps me to keep HanJan going and to keep publishing new free patterns for you to enjoy, so thank you!
About the Knit-Look Crochet Cardigan
I've always wanted to design a really simple, ribbed cardigan pattern that is really easy to wear and style differently.
After playing around with different stitches and combinations, I happened upon the idea of just mixing a long stitch (a US treble/UK double treble) with a slip stitch.
Even though I can knit, there's something really appealing to me about knit-look crochet and I know so many others love it too.
Maybe it's because of the funny conversations you can then have with people trying to convince them that not only did you make it, but that it's crochet and not knitting too!
The entire body of the cardigan is worked side to side in a two row repeat and is such a lovely mindful project to get yourself lost in.
The sleeves are then worked separately with the cuff worked into them (I love anything that means less seaming!) and then added to the body.
Finally, there is a deep collar (which you can make as big or small as you like) worked in rows along the sides and neck to finish.
Super simple to crochet, super modern and so easy to wear. I hope you love it as much as I do!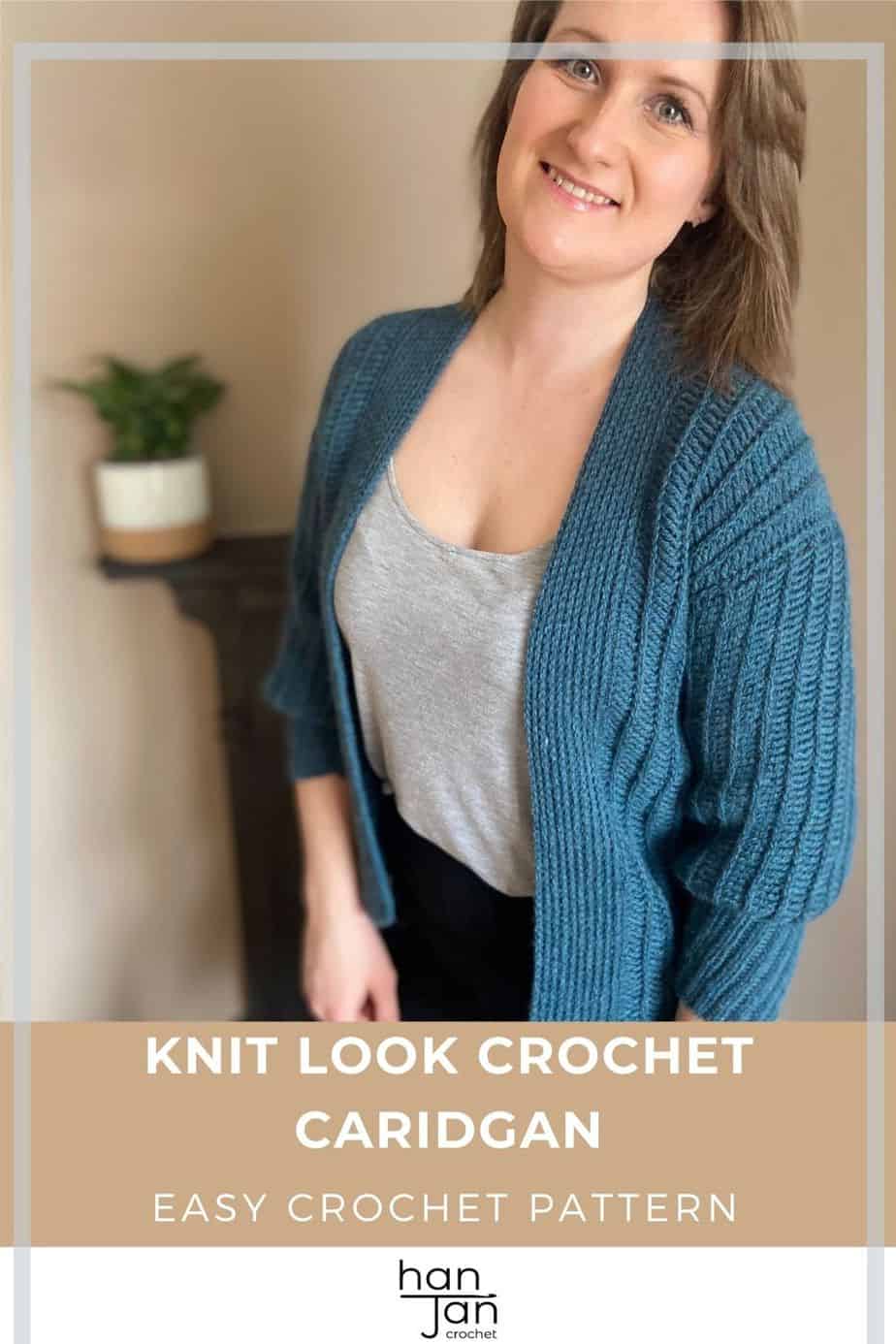 Join HanJan Crochet
I'd absolutely love for you to join me at HanJan Crochet so that we can connect and stay in touch! Sign up to receive a free PDF pattern and exclusive access to all of my patterns, offers and news. I can't wait to hear from you!
Other Patterns You Might Enjoy
Here are a few of my other Spring and Summer Crochet patterns that I thought you might enjoy:
Are you new to garment making?
If you're new to crochet garment making then please don't worry! I have a fabulous guide on how to start your perfect crochet wardrobe and also learn garment making with 12 free crochet top patterns for different skill levels.
Yarn
To make the Sydney Cardigan I used Alpaca Cloud DK yarn by WeCrochet which is 100% baby alpaca, 112m/50g in the shade Magnus.
It's probably some of the softest yarn I've had the pleasure of working with and was perfect for this ribbed cardigan.
Yarn >>> take a look at the yarn I used here.
You will approximately need the following amounts of yarn for each size:
| | | |
| --- | --- | --- |
| Size | Balls of yarn | Approx metres of yarn |
| XS | 8 | 896m |
| S | 9 | 1008m |
| M | 10 | 1120m |
| L | 11 | 1232m |
| XL | 12 | 1344m |
| 2X | 13 | 1456m |
| 3X | 14 | 1568m |
| 4X | 15 | 1680m |
| 5X | 16 | 1792m |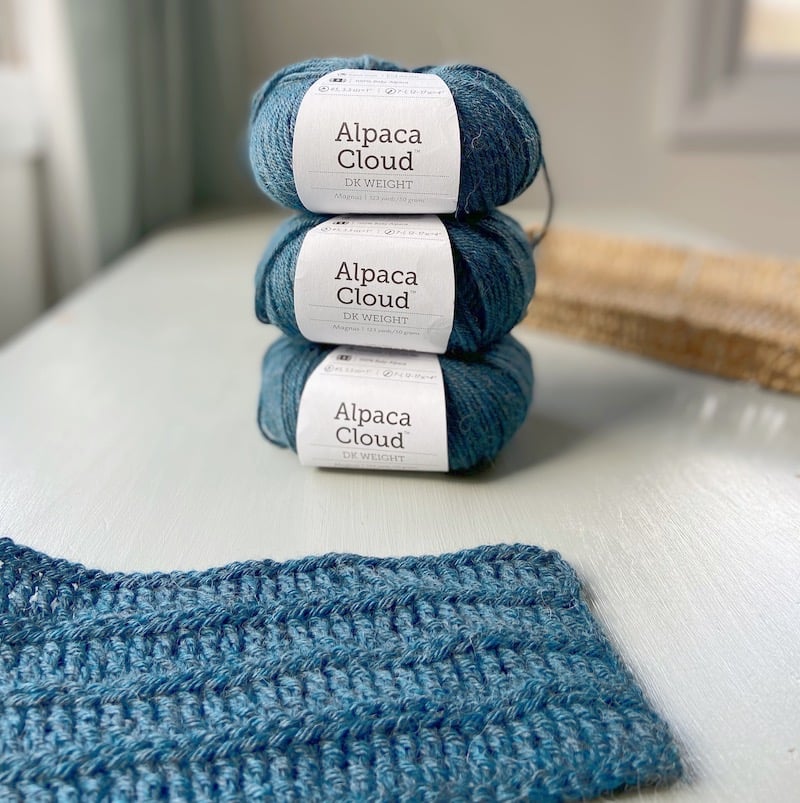 Choosing yarn is so important (and fun!) but I know it's great to have options depending on your budget, here are some great alternatives I've found.
Whatever yarn you choose, just make sure to check your gauge before starting your project as they will all be slightly different.
£££ – A great alternative yarn is Capra DK by WeCrochet which is 85% fine merino, 15% cashmere, 112m/50g, for a completely luxurious garment.
££ – Another option is Swish DK by WeCrochet, 100% fine super wash Merino wool, 112m/50g, a great wool that washes so well.
£ – lovely budget option is Deramores Studio DK yarn which is 100% acrylic, 125m/50g, a soft, anti-pilling acrylic yarn in a wide range of shades.
Tension and Sizing
The crochet cardigan pattern comes in sizes XS (S, M, L, XL) (2X, 3X, 4X, 5X) to fit bust measurements of 76, (86, 96.5, 106.5, 117) (127, 137, 147, 157) cm.
It's really important, especially when making a garment to check your gauge before you start crocheting.
You will need to get 17sts and 8 rows of the main pattern repeat to measure 10cm by 10cm.
Materials
Along with your yarn, you will need the following:
Glossary and Abbreviations
ch(s) – chain(s)
ss – slip stitch
RS – right side
WS – wrong side
tog – together
sk – skip
rep – repeat
blo – back loop only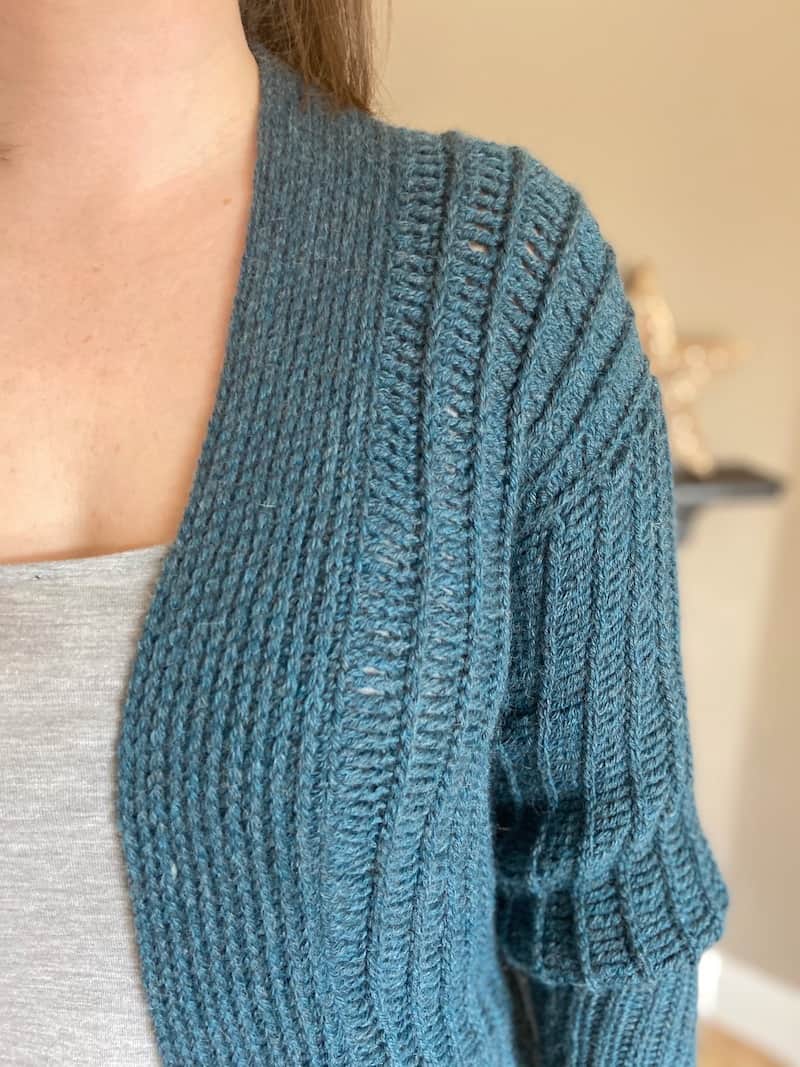 Crochet Stitches
The knit-look crochet cardigan uses the following crochet stitches:
| | |
| --- | --- |
| Standard UK Crochet Term | Standard US Crochet Term |
| dc – double crochet | sc – single crochet |
| dtr – double treble crochet | tr – treble crochet |
Constructing the cardigan
A ch1 at the beginning of a row does not count as a stitch.
A ch4 at the beginning of a row does count as a stitch, but you can work a stacked stitch if you prefer.
The cardigan is worked from side to side with the front and back created in one panel.
The sleeves are then worked separately and joined.
The collar rib is added once the cardigan is seamed to complete.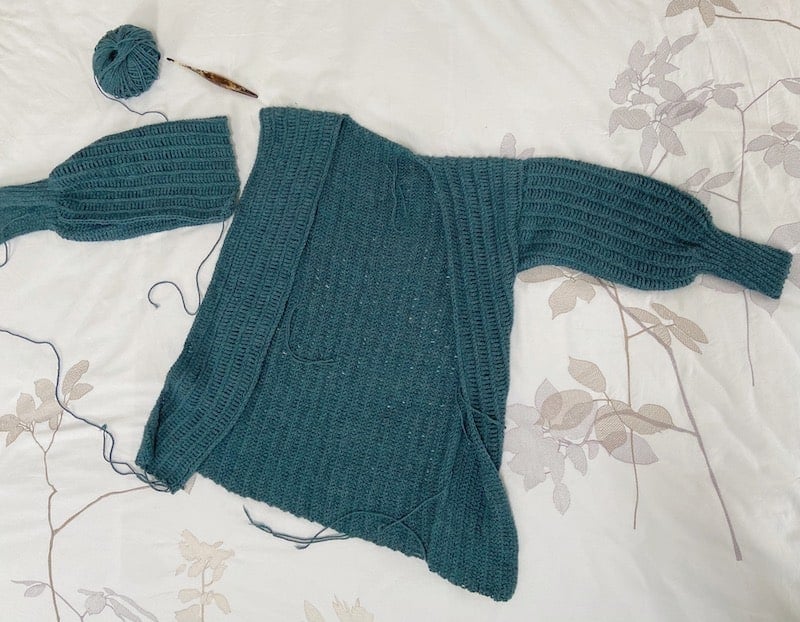 Pattern Options
There are a few ways you can access and enjoy this crochet pattern:
Option 1
Purchase the PDF pattern:
Purchase the PDF >>> Get the PDF crochet pattern in my Etsy Store
Purchase the PDF >>> Get the PDF crochet pattern in my LoveCrafts Store
Purchase the PDF >>> Get the PDF crochet pattern in my Ravelry Store
Option 2
Get the PDF as part of the Spring Style Blog Hop Bundle:
33 patterns for the price of 2! >>> Get the Spring Style Collection here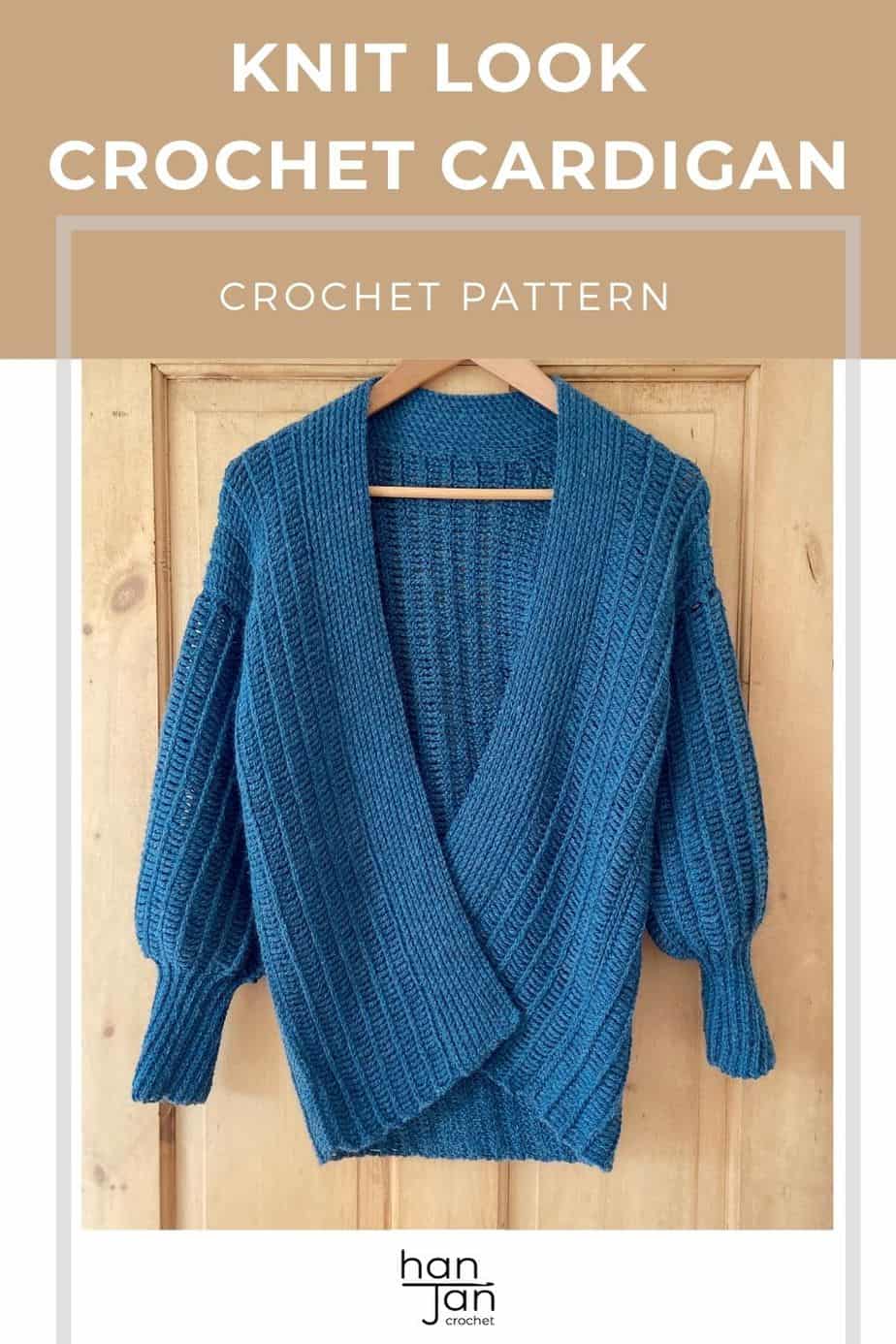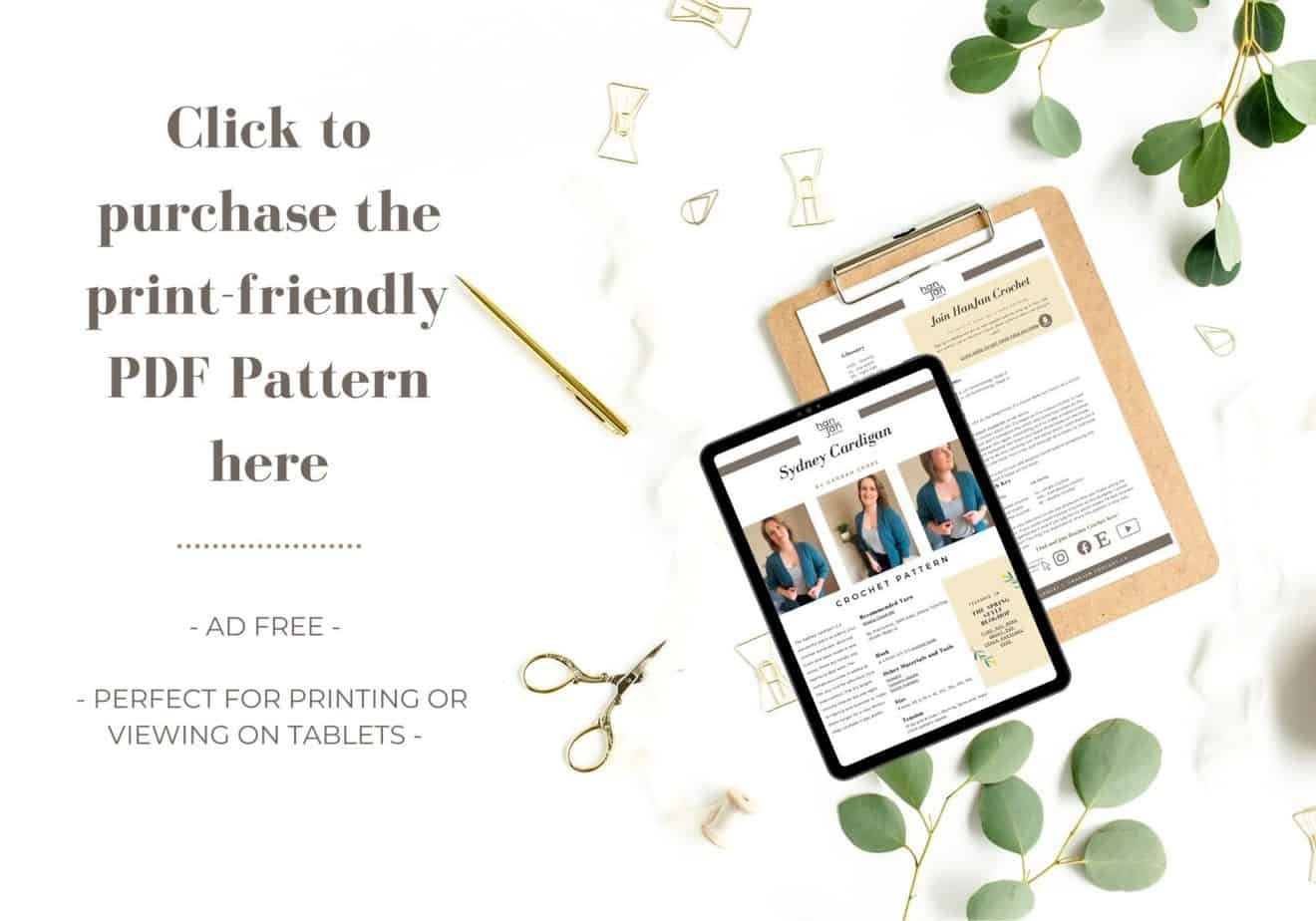 Join HanJan and Share Your Crochet!
I'd love to stay connected with you so please do sign up for my subscriber list if you'd like to. Looking forward to hearing from you and sending you your free gift!
Thank you so much for being here to share in HanJan Crochet with me. I'd love you to browse and enjoy my free crochet patterns. It's such an honour to be able to create and share my craft with you.
I'd love to see your finished crochet projects and so please share them with me in one (or all!) of the following ways –