Today we are sharing with you a collection of beautiful mosaic crochet patterns from Etsy that should definitely be on your list of things to make!
I am delighted to welcome Kaylan as a guest writer to HanJan Crochet to share her thoughts on this fabulous (and rather addictive!) mosaic crochet technique. If you've never tried it then you absolutely must – it's far easier than it looks!
Kaylan W. is an aspiring law student, writer, and crochet designer, and clearly needs to make as many hats as she likes to wear. You can find her at @skeleskein on Ravelry for crochet business and @kw_writing on Twitter for all the rest.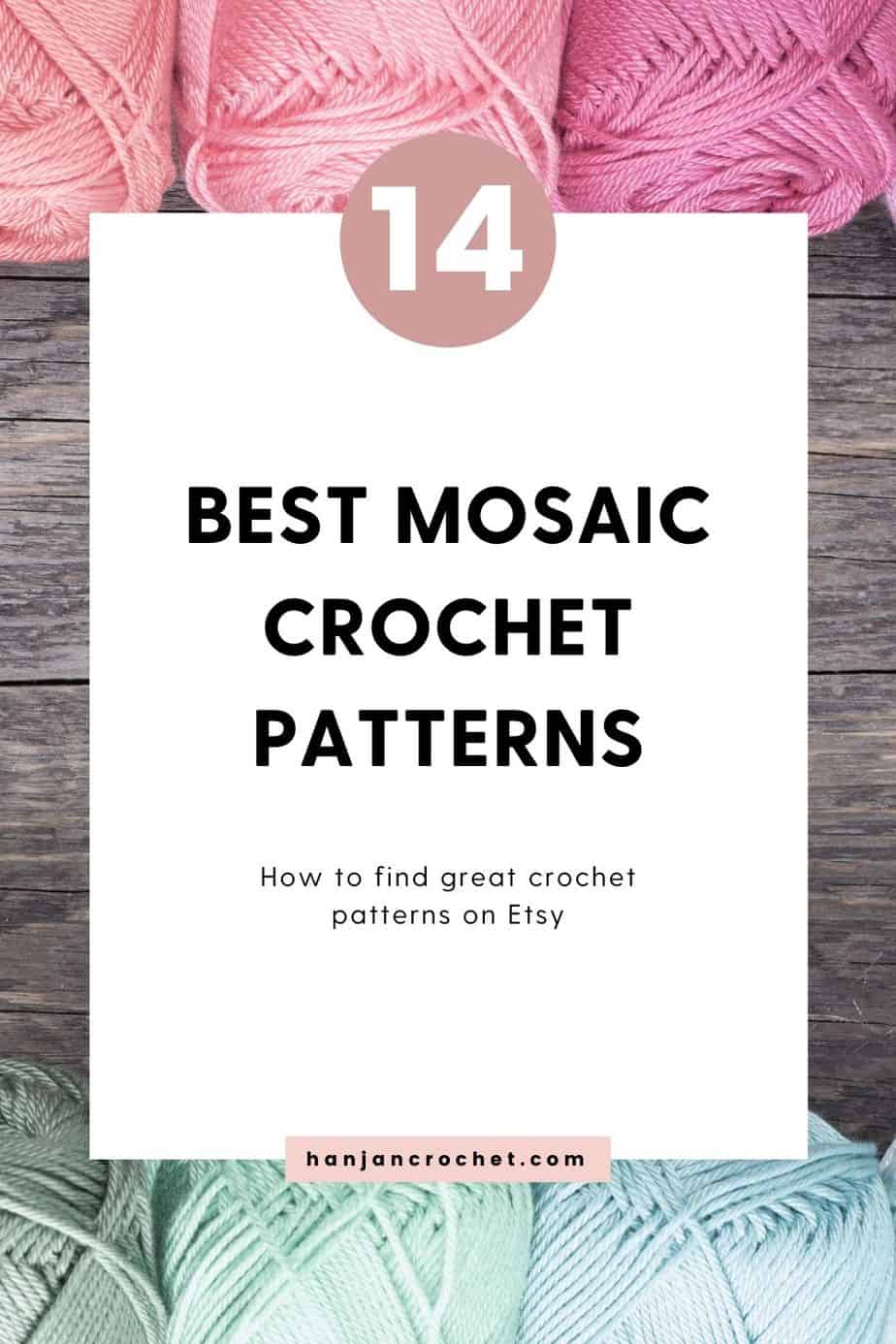 This post may contain affiliate links which I will earn a small commission from if you choose to click and purchase anything from. I will only ever link to products and services I believe in and it is at no extra cost to you as a customer.
Mosaic Crochet Patterns
Mosaic crochet, despite how complex it looks, only requires a few stitches, two contrasting yarn colors, and some care when it comes to counting.
Although it can be used in a variety of garments, its usage in home decor is especially common.
Please note that because of the different versions of mosaic techniques, not all of these patterns will use the same method.
No matter if you're just learning mosaic crochet now or have several projects under your belt, here's a collection of patterns from fourteen different designers to bring a little geometric charm to your household!
Here is our top collection of mosaic crochet patterns you can find on Etsy:
Overall, mosaic crochet just fits in well with home decor. It can create complex patterns that work as blankets, table runners, or even coasters with some of the tile designs.
Now is as good of a time as any to pick up the technique, no matter what your preferred version is!
Which of these are you going to add to your upcoming projects?
Have any other mosaic patterns that caught your eye recently? Feel free to share both!
Join HanJan and Share Your Crochet!
I'd love to stay connected with you so please do sign up for my subscriber list if you'd like to.
Looking forward to hearing from you and sending you your free gift!
Thank you so much for being here to share in my free crochet patterns and supporting my blog. It's such an honour to be able to create and share my craft with you.
I'd love to see your finished crochet projects and so please share them with me in one (or all!) of the following ways –