I am thrilled to welcome you to my Bauble-ing Along Collection! I have always enjoyed making for the festive season and this year have created a crochet bauble pattern for you to enjoy each day in our crochet along that will be fun, fast and look amazing!
People often tell me that they don't really want big projects to tackle at this time of year and so these bauble patterns are great because they hardly take ay time at all.
Whip as many or as few of them up as you like, use some of your yarn stash and learn something new as we work through them too. We're going to explore the world of Fair Isle, tapestry and overlay mosaic crochet together and have an amazing time!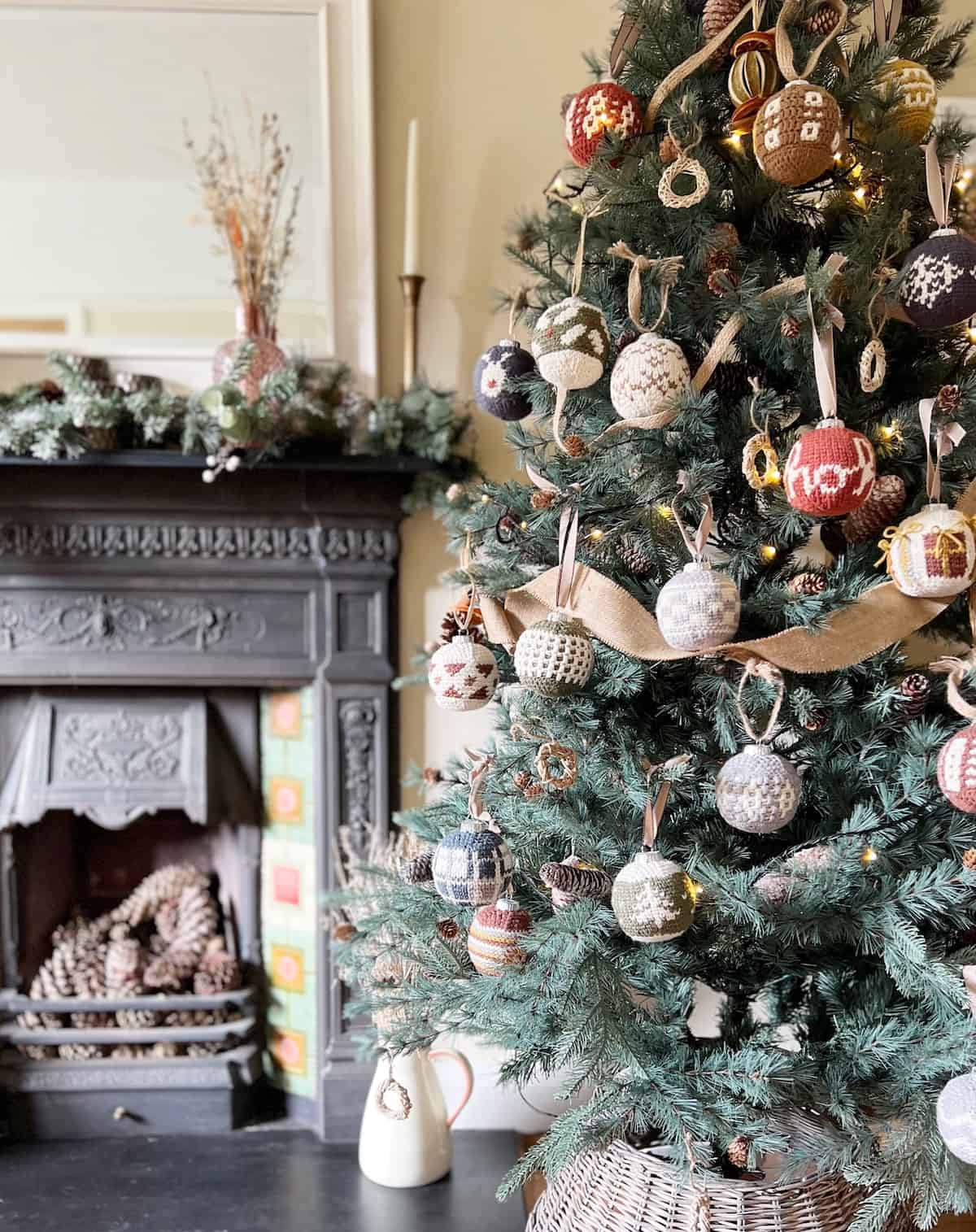 How do I get the all of the Bauble Patterns?
There are a couple of ways to get the crochet bauble patterns depending on what you prefer –
Option 1: View the written patterns on the blog
Find links to all of the baubles right here in this post for you to view on the blog and make from there.
I know that viewing on the blog with ads isn't for everyone and if that's you then the 66 page Ebook and online course is perfect for you!
Better still, it's on offer during the event at a special discount so grab it if you'd like it!
The beauty of this is that it:
you get all of the patterns right away to start whichever you like!
there are no ads to scroll by
you get extra step by step photo tutorials
introductions to Fair Isle, tapestry and mosaic
has bite-sized video tutorials for each aspect (ad free)
includes a bonus napkin ring tutorial
has lifetime access to work at your own pace
Here's a bit more information so you can decide which option suits you best 🙂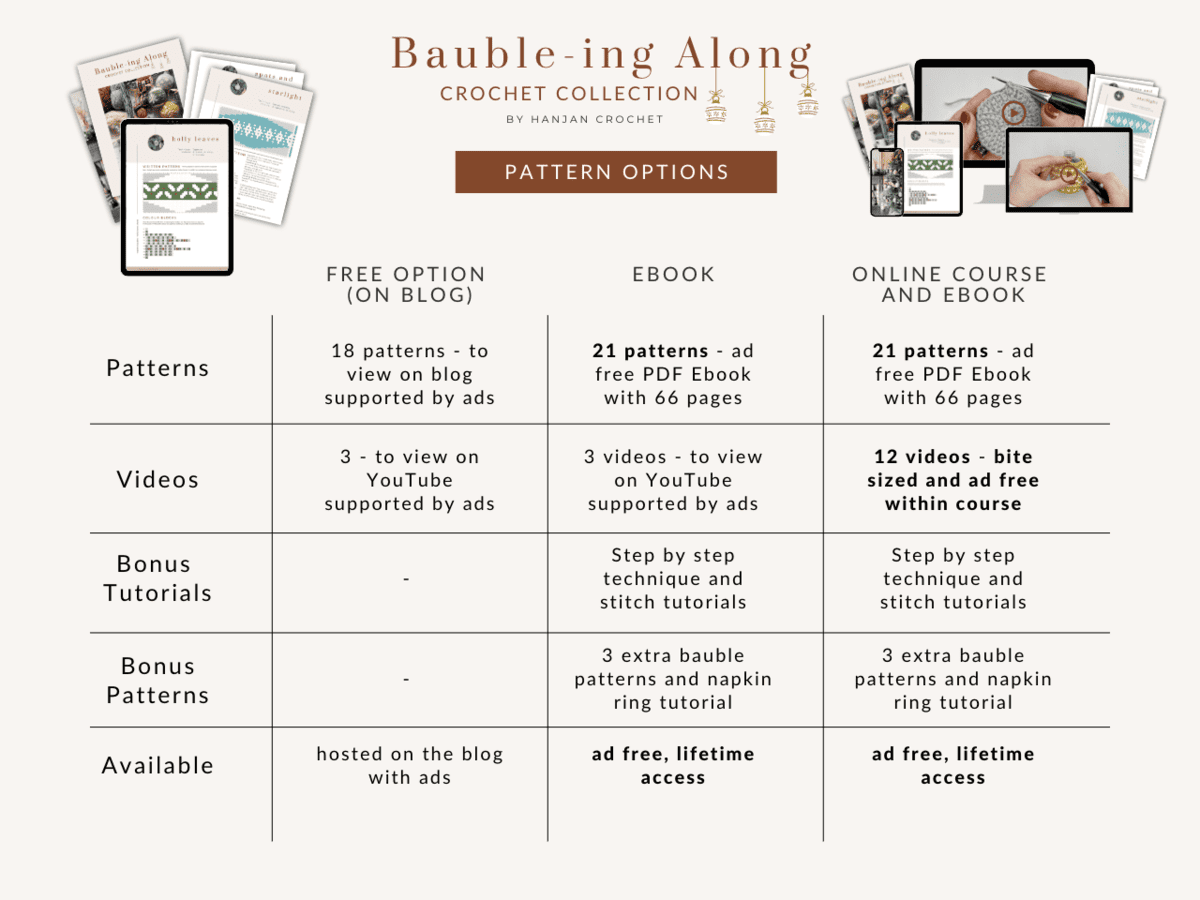 Join me for the online course!
Completely ad-free, lifetime access
Packed with videos, tutorials, charts, colour blocks and more!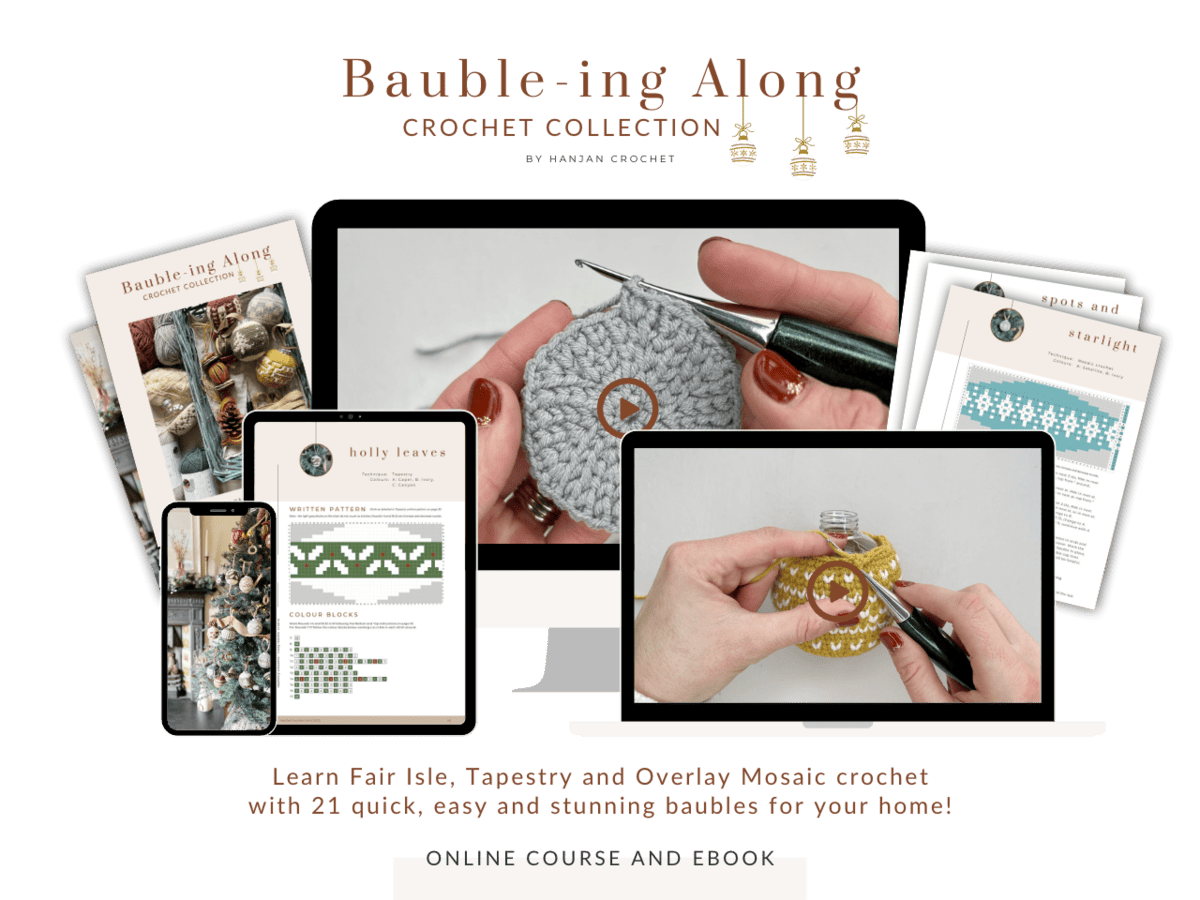 Just want the Ebook?
No problem!
Grab the 66 page Ebook and work at your own pace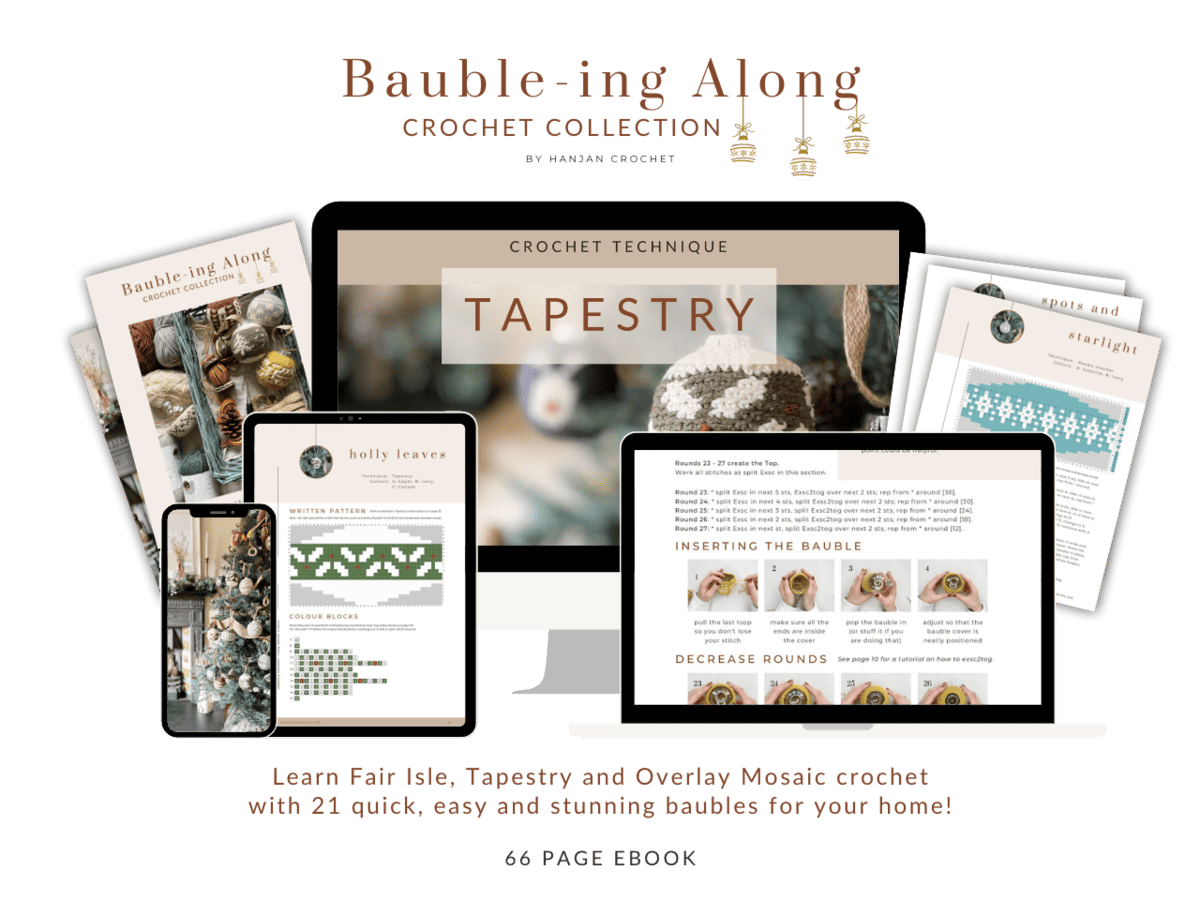 Yarn and Materials
To make my version of the crochet baubles I used Color Theory yarn, 100% acrylic, 246yds/100g, Category #4 weight.
Each bauble uses approx 20g of yarn (50yds) if you'd like to raid your stash!
I will add the exact colours and details I used to each of the blogposts as I publish them.
For the whole collection of baubles I used the following colours:
3 balls of Ivory
1 ball each of Nutmeg, Canyon, Raisin, Satellite, Dijon, Caper, Stonewash and Thunder
Along with your yarn, you will need the following:
A 2.75mm(C) crochet hook- my favourites are Clover Soft Touch or Furls Odyssey (use HANJAN15 to save 15%)
8cm/3.15″ plastic baubles available here in a pack of 24: Fillable plastic baubles
Alternatively, you could cover existing baubles that you have at home.
You could also use Fibre Fill to stuff them or scraps of yarn ends! You just need to make sure to stuff them really full to get a good shape.
Pair of sharp scissors
Ribbon for hanging
Techniques and Stitches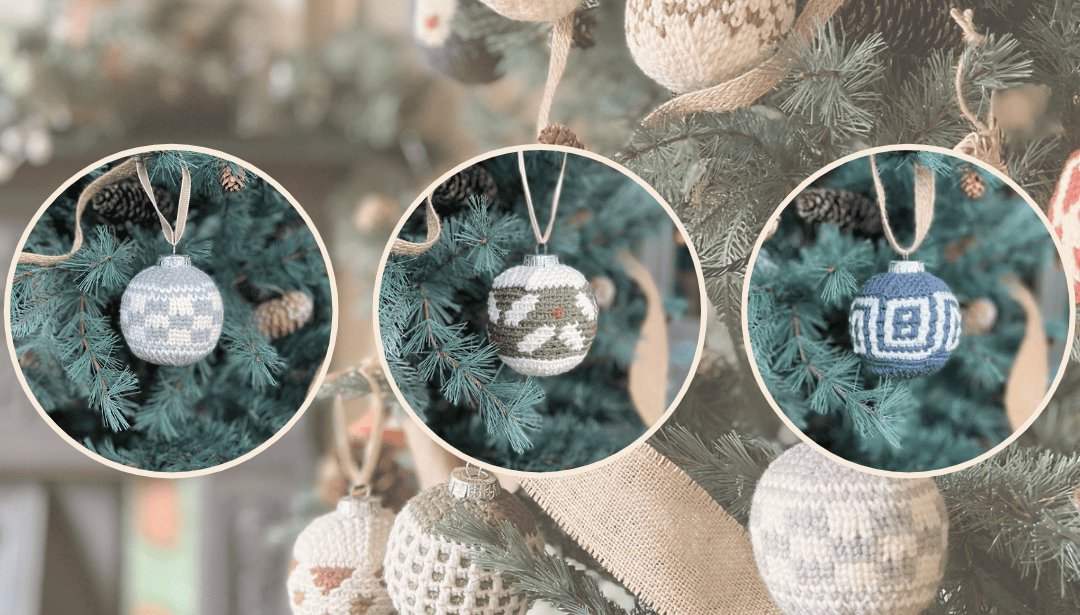 It's no secret that I love all kinds of crochet colour work but I know just how scary and intimidating it can be to know where to start!
So, with this collection I've created quick and easy baubles that are designed for us to really get the hang of the techniques that we will learn.
We will be working an equal number of Fair Isle, tapestry and overlay mosaic crochet baubles and each is designed to build on the knowledge and techniques that we learn from the previous one – there is method in it I promise!
So, we will be covering lots of things that you probably already know how to do but we will go through everything in detail so even if you aren't experienced in these techniques then you can absolutely do it too!
Here's what we will look at together:
How to crochet in rounds and increase
How decrease in rounds
How to work split stitches
How to crochet 2 together
How to crochet split single crochet, extended single crochet and mosaic stitches
How to read crochet charts
How to change colours in a round
How to work Fair Isle, tapestry and overlay mosaic crochet techniques
So quite a lot really hey?!
If you have experience with most or all of these things then you will have no problem just following along with the written patterns on the blog but if you'd really like to learn about everything in detail then why not grab the course that has so many extras to support you along the way?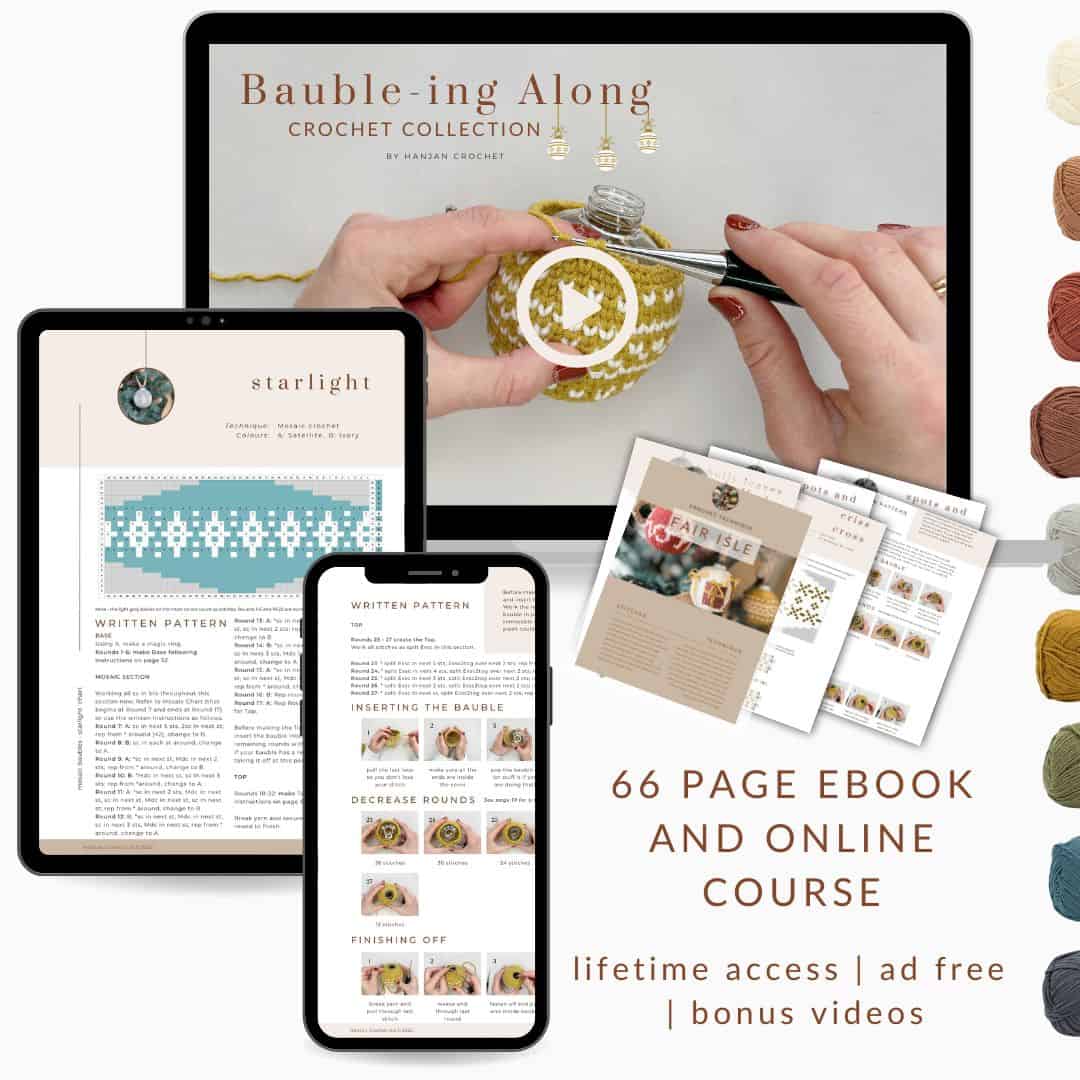 Crochet Bauble Patterns Start Here
Bauble 1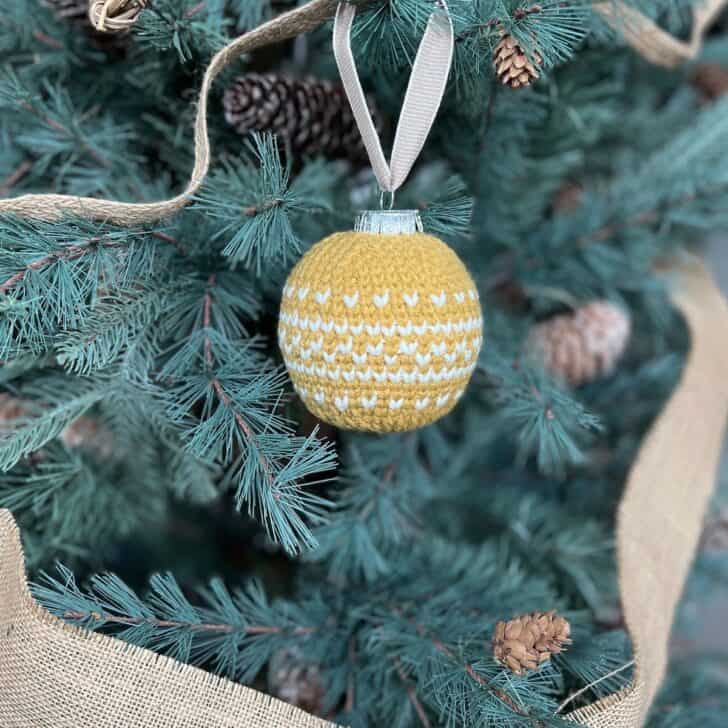 Spots and Stripes
Technique used: Fair Isle Crochet
Come and join me to make our very first crochet bauble together. It looks way more complicated than it is and although you need to change colour during rounds you'll have no trouble at all once you see how easy it is.
Bauble 2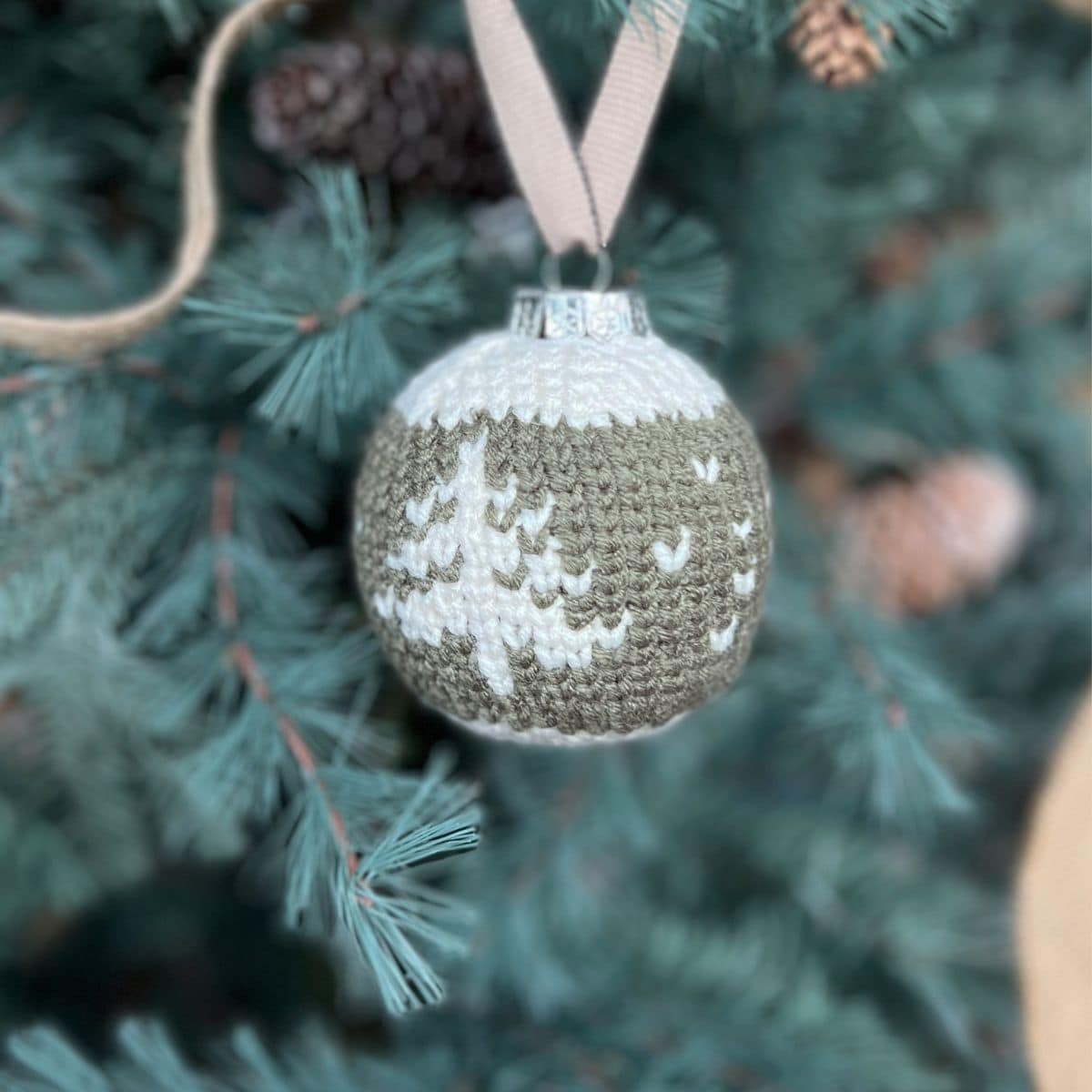 Festive Trees
Technique used: Fair Isle Crochet
Our next bauble has cute little festive Christmas trees on it and starts using much longer spaces between colour changes so great for working on creating 'floats' at the back of your work.
Bauble 3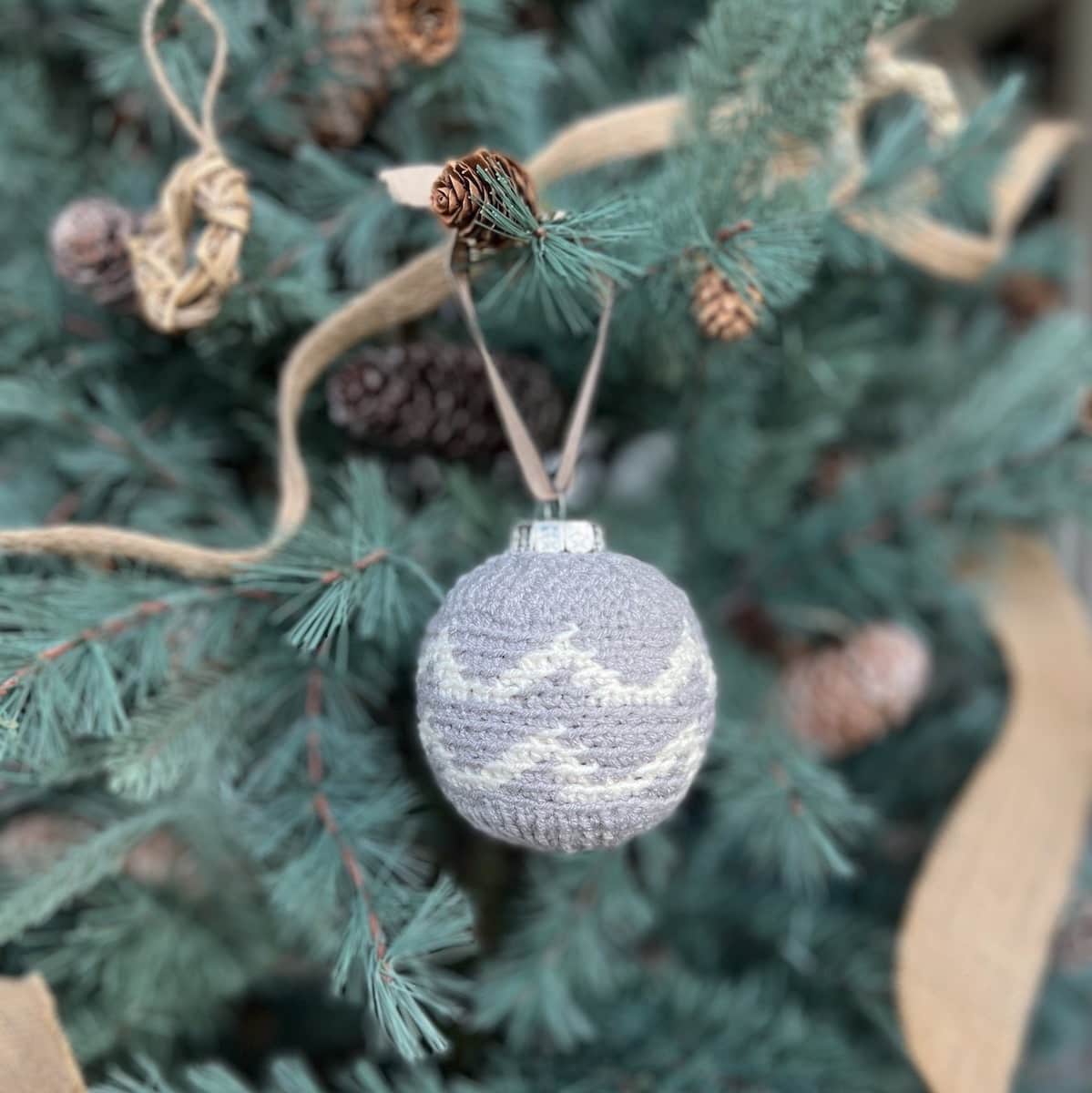 Zigzags
Technique used: Tapestry Crochet
Today we are trying out a new technique with our bauble – tapestry crochet! It's great fun and uses just one simple change of working the stitches into the back loop only rather than splitting them.
Want to join me for lifetime, ad-free access?
Get your course with 3 extra patterns today 🙂
Bauble 4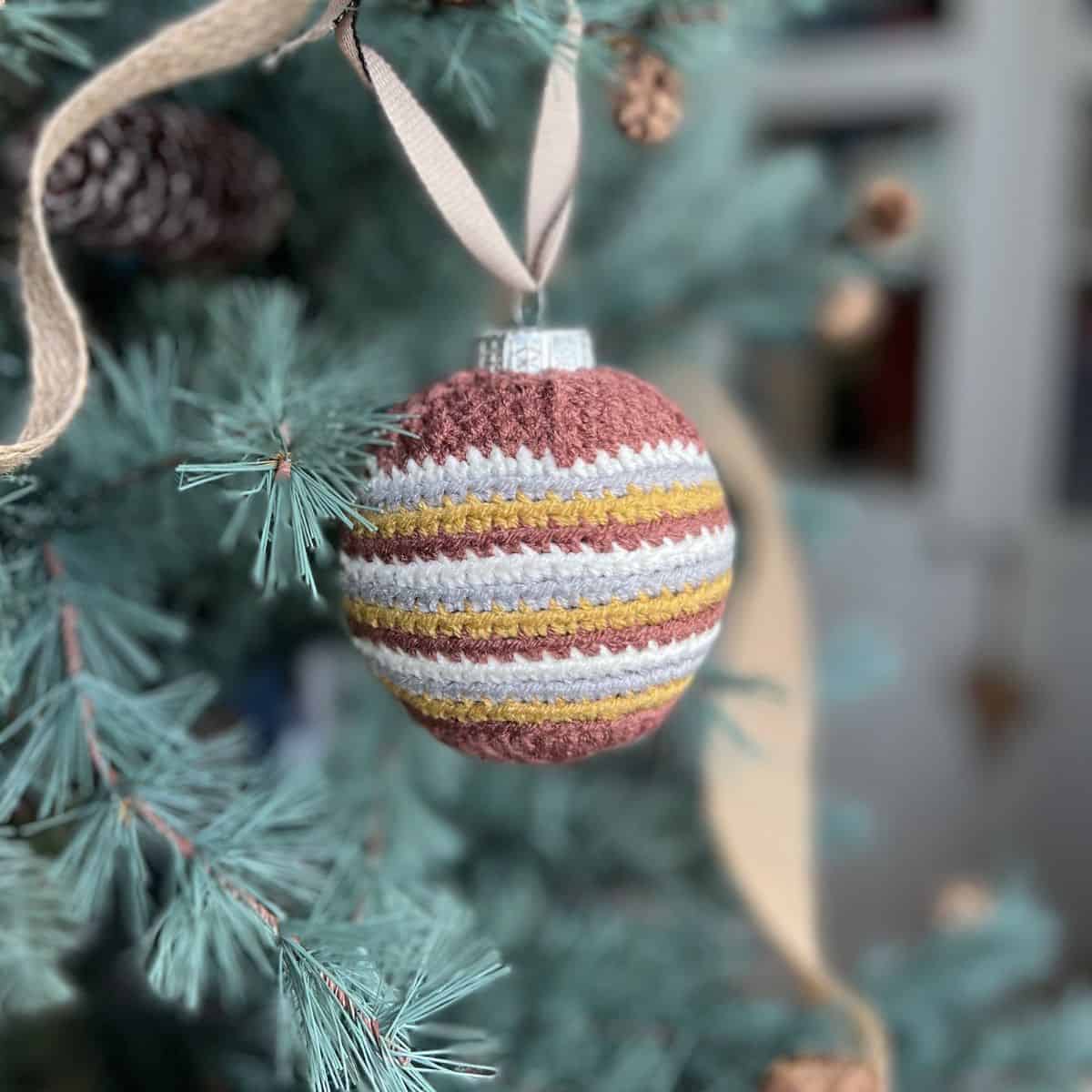 Simple Stripes
Technique used: Tapestry Crochet
Today we are making everything super simple with some stripes – you don't have to change colour at all during a round for this bauble!
Bauble 5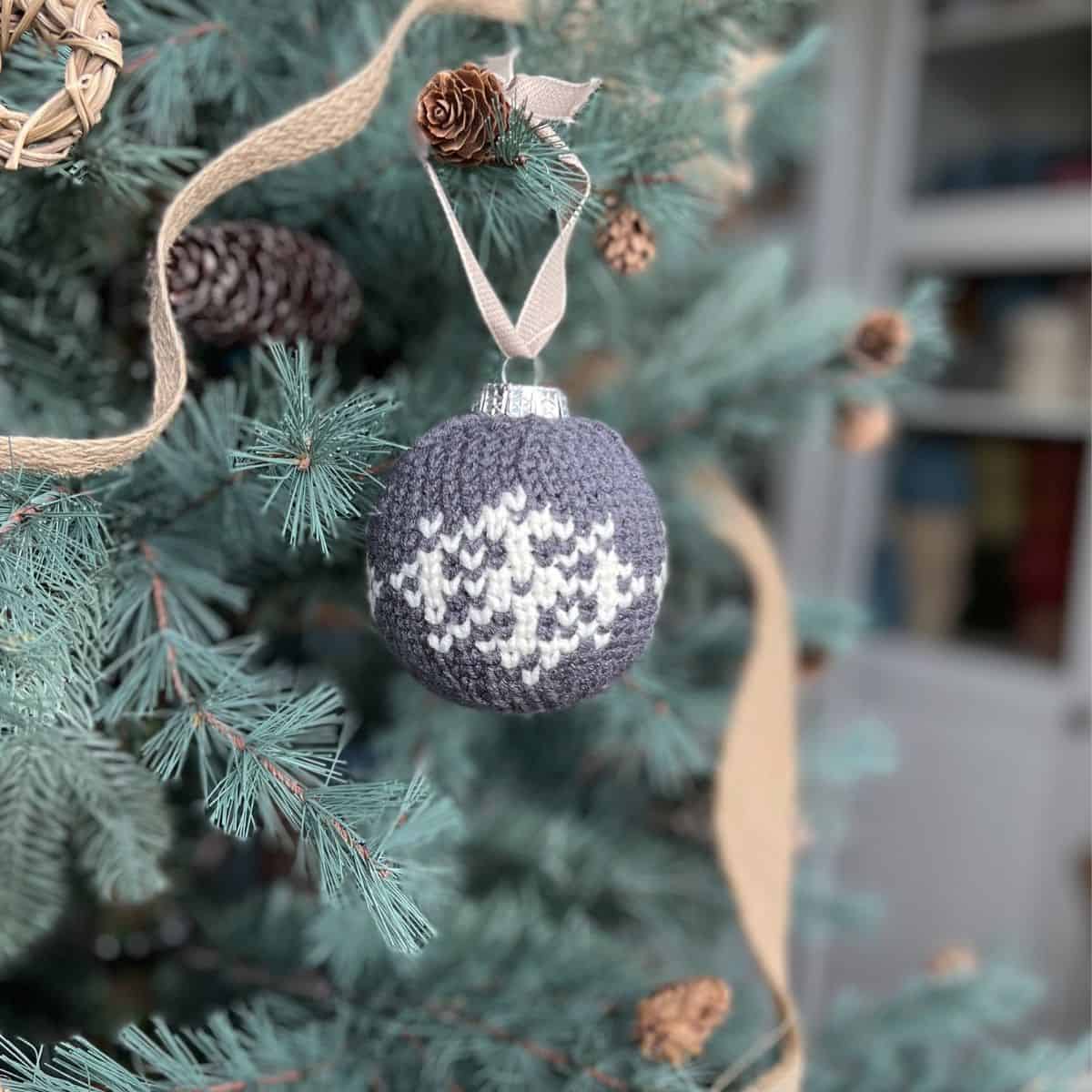 Snowflakes
Technique used: Fair Isle
It's time to return to a Fair Isle crochet decoration today and this one has a lovely snowy, wintery feel about it.
Bauble 6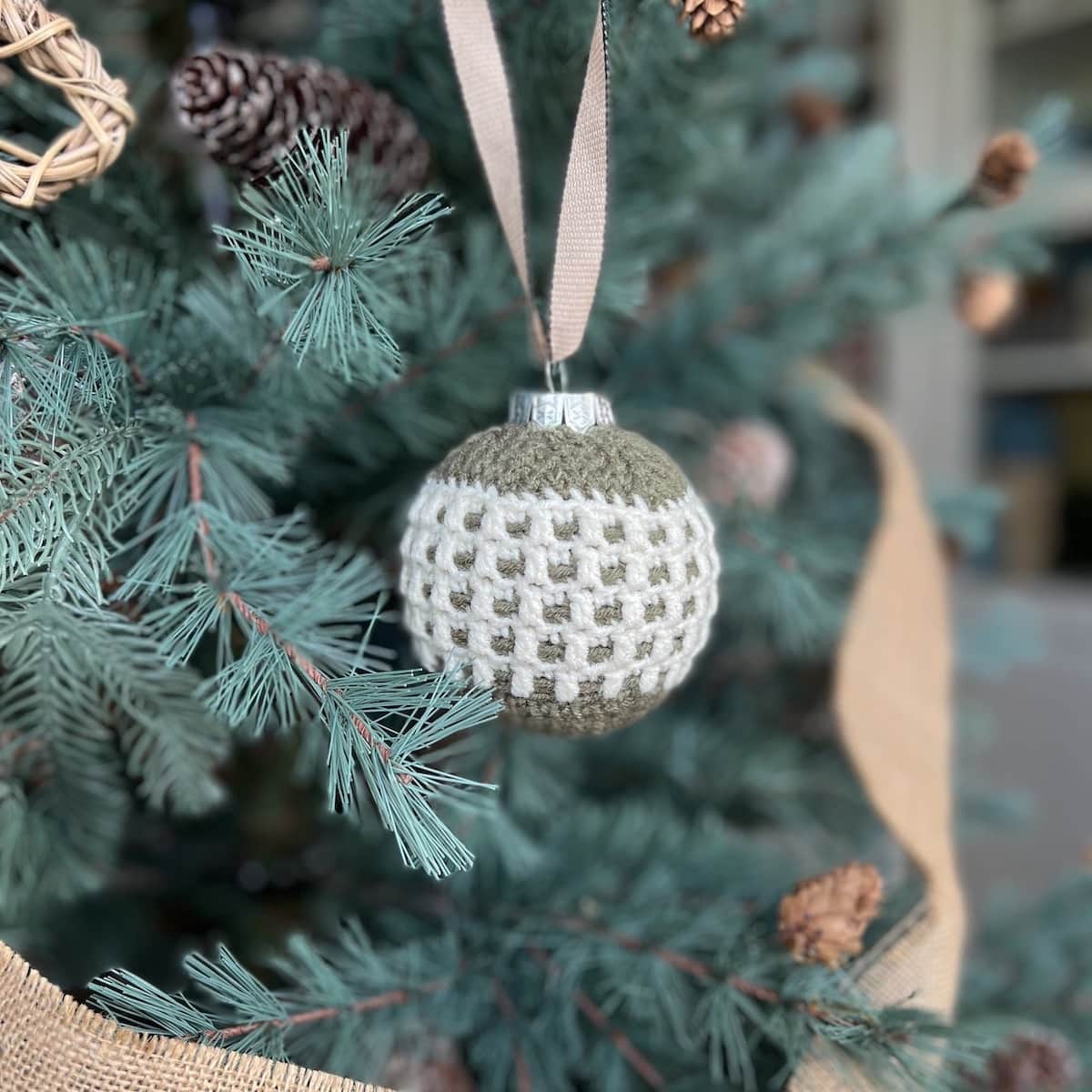 Checkerboard
Technique used: Overlay Mosaic Crochet
Today we are finally turning our hand to overlay mosaic crochet to make this fun, geometric Christmas decoration for our tree. Get ready for a new stitch to learn and no need to change colours as much!
Don't fancy waiting for the patterns?
Get them all in one place today!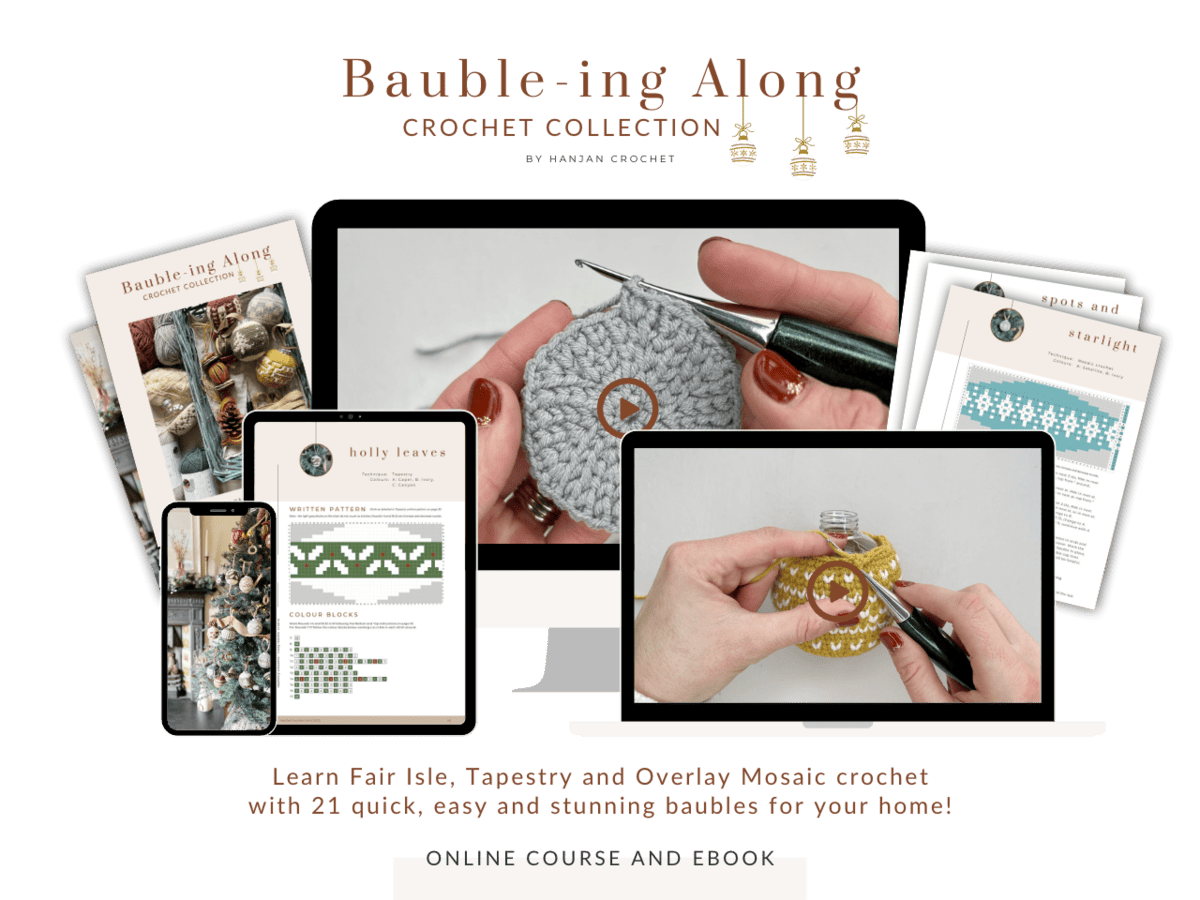 Bauble 7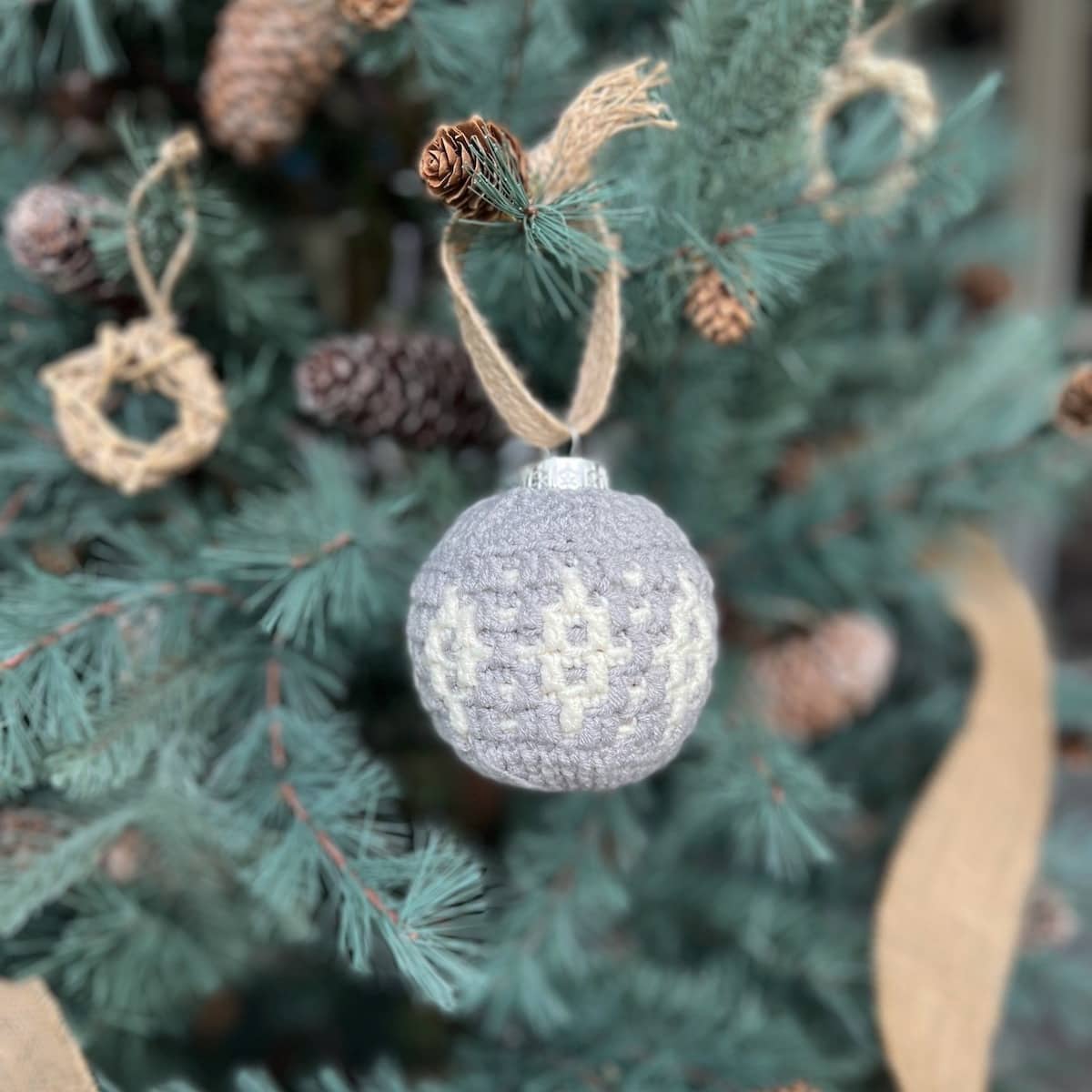 Starlight
Technique used: Overlay Mosaic Crochet
If you enjoyed the mosaic technique then you will love this one! A really fun decoration that looks like little bursts of starlight.
Bauble 8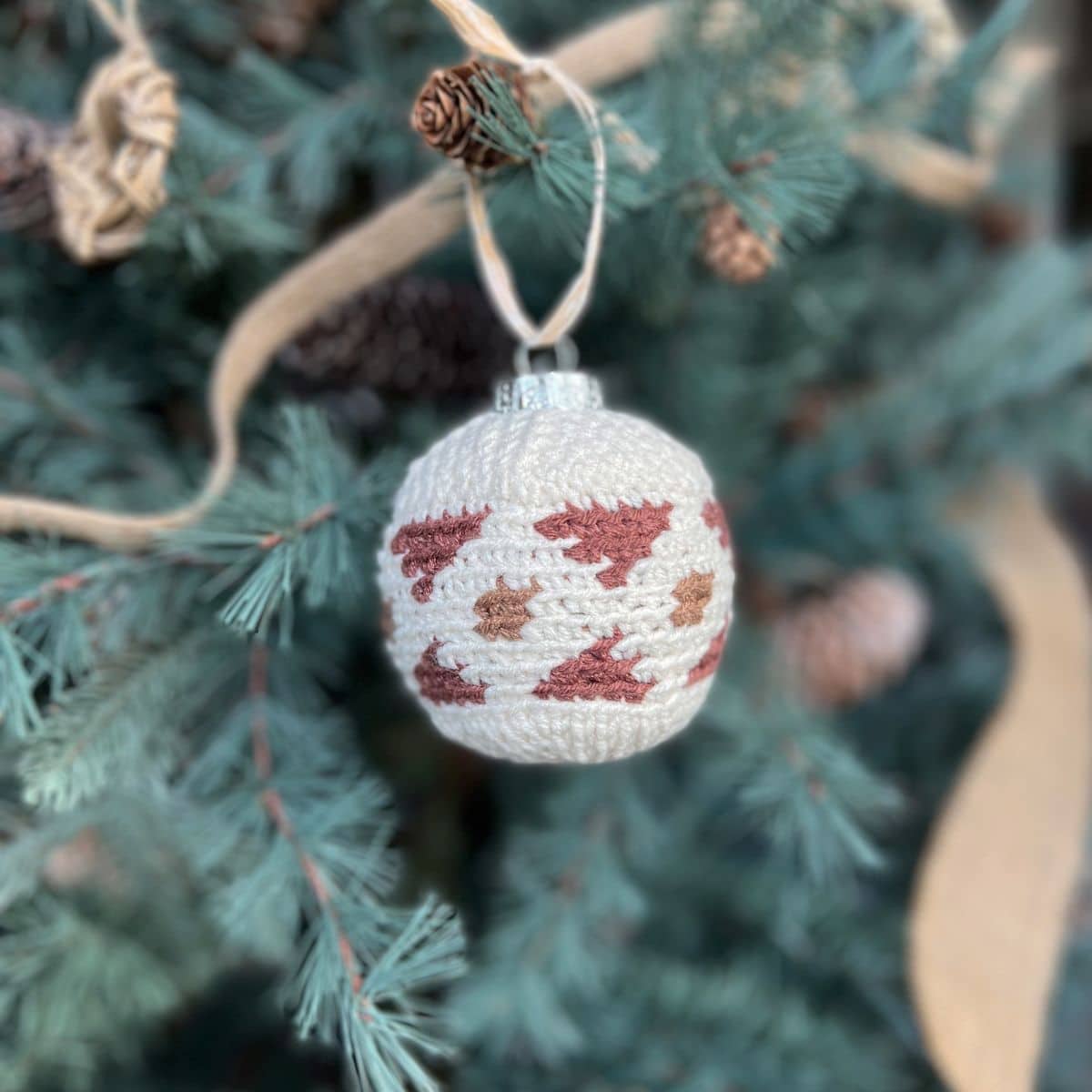 Diamonds
Technique used: Tapestry Crochet
Have fun with tapestry crochet and 3 colours to create this fun tree decoration in any colours you fancy!
Bauble 9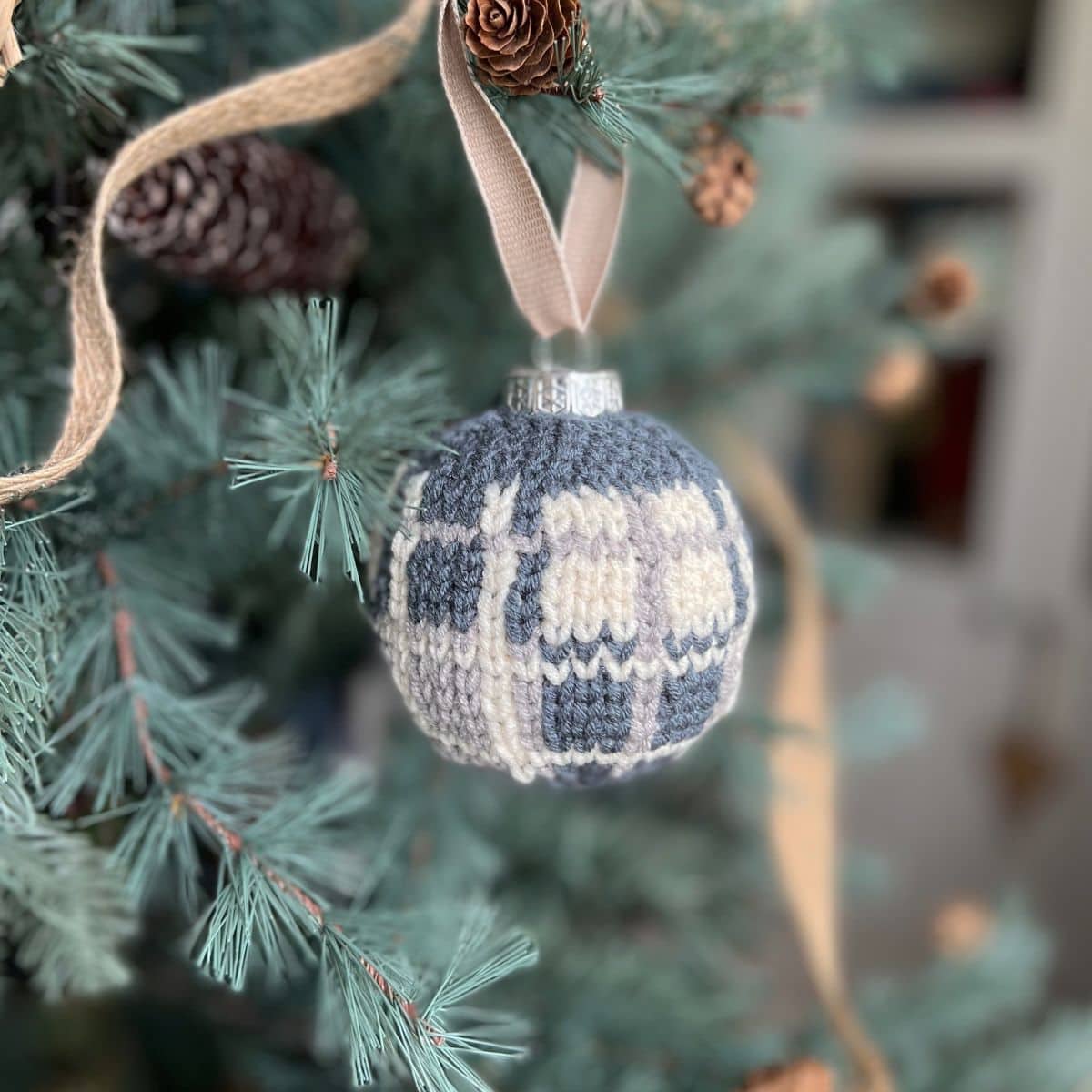 Tartan
Technique used: Fair Isle Crochet
It might not be a completely traditional tartan crochet decoration but it's my take on it and I love it!
Bauble 10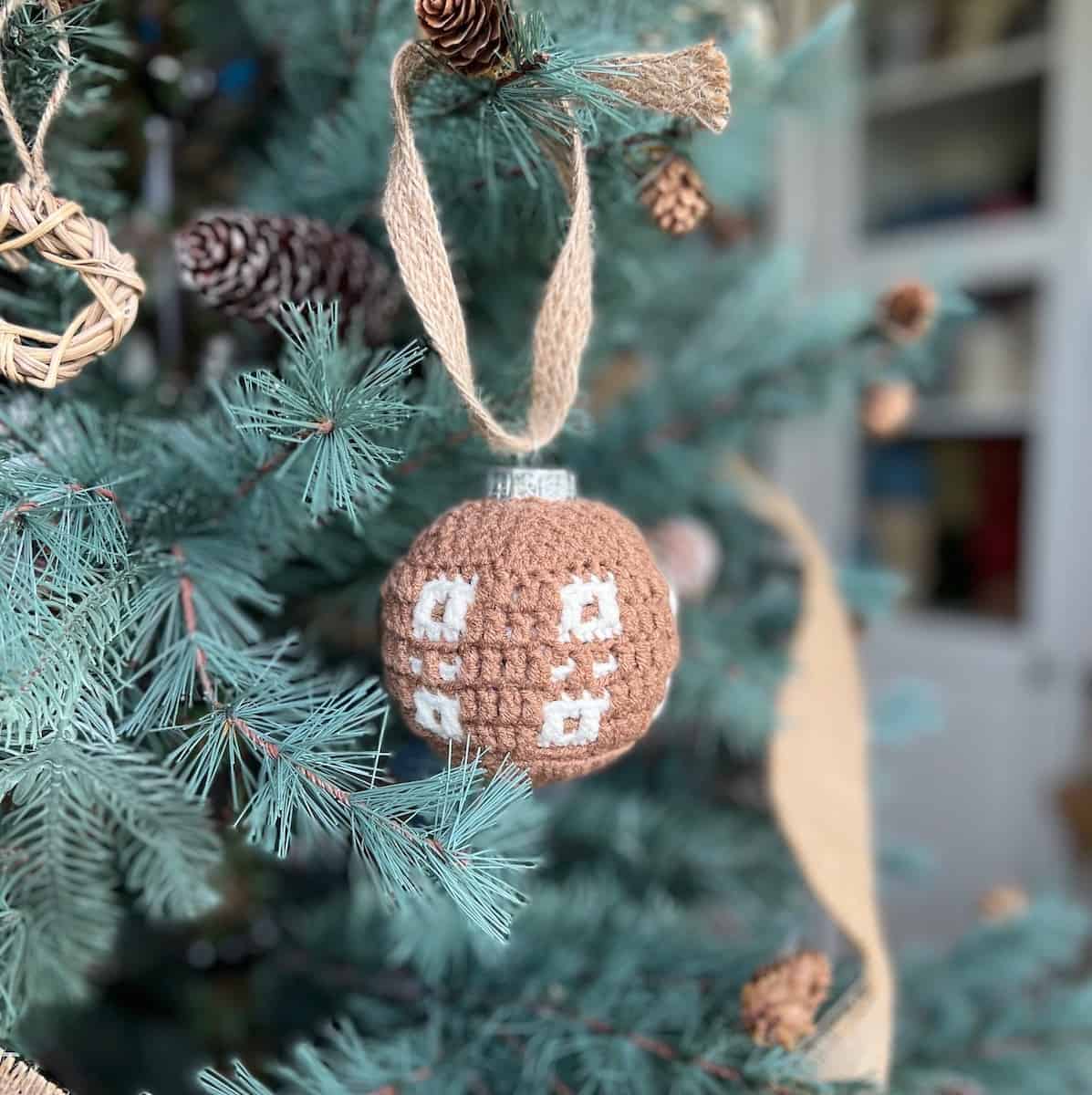 Spots and Squares
Technique used: Overlay Mosaic Crochet
A super simple crochet tree decoration that uses spots and squares all the way around for a fun little make!
Bauble 11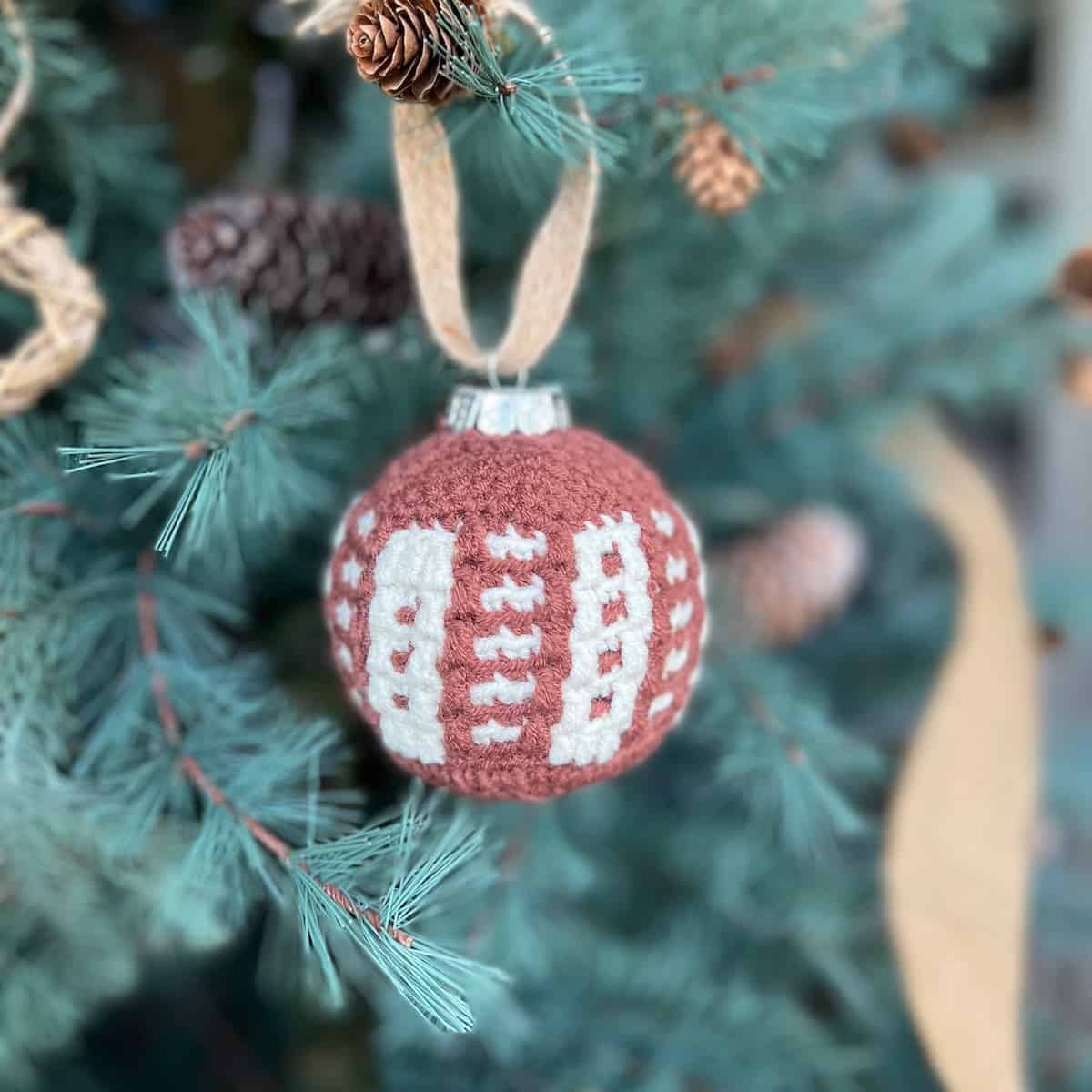 Keep in Line
Technique used: Overlay Mosaic Crochet
Build on your mosaic skills to crochet this fun tree ornament with little lines running up it.
Bauble 12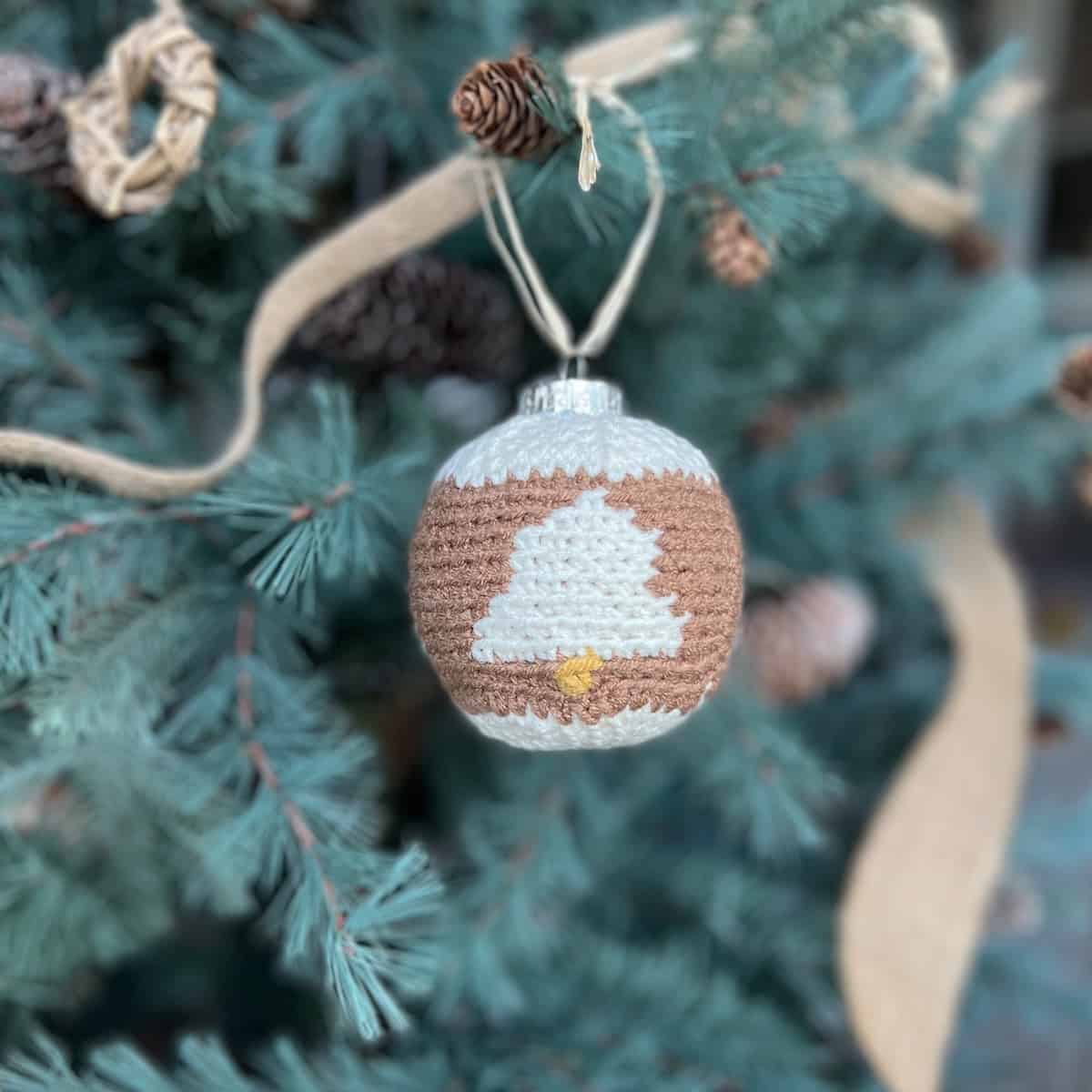 Festive Bells
Technique used: Tapestry Crochet
This fun tapestry decoration has little bells running around it and was designed by my eldest son Elliot! (Make sure to look out for the bauble bonus today too!)
Bauble 13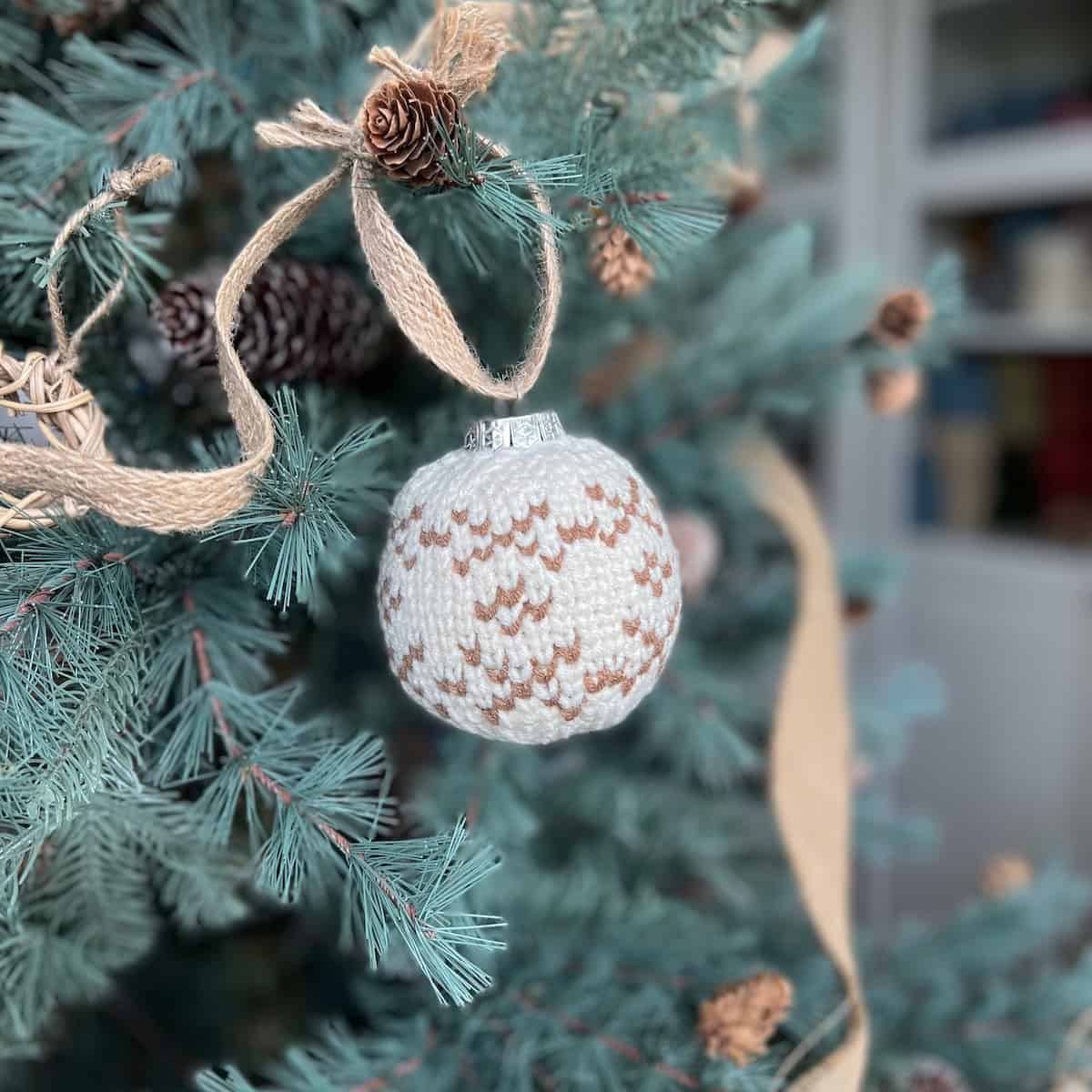 Criss Cross
Technique used: Fair Isle Crochet
With a nod to traditional Christmas Fair Isle patterns this bauble is a treat in any colours.
Bauble 14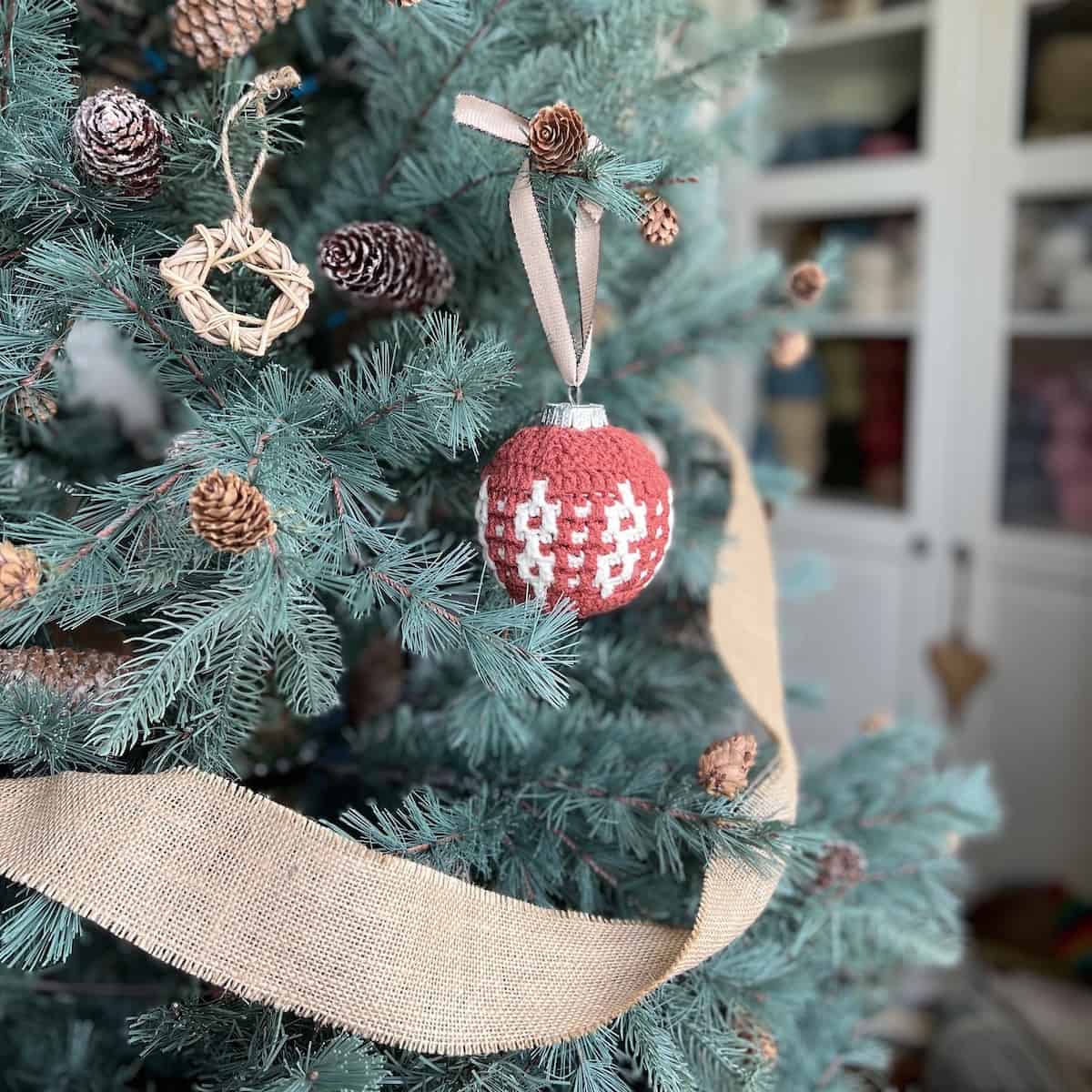 To The Point
Technique used: Overlay Mosaic Crochet
Another pop of mosaic today with this striking decoration.
Bauble 15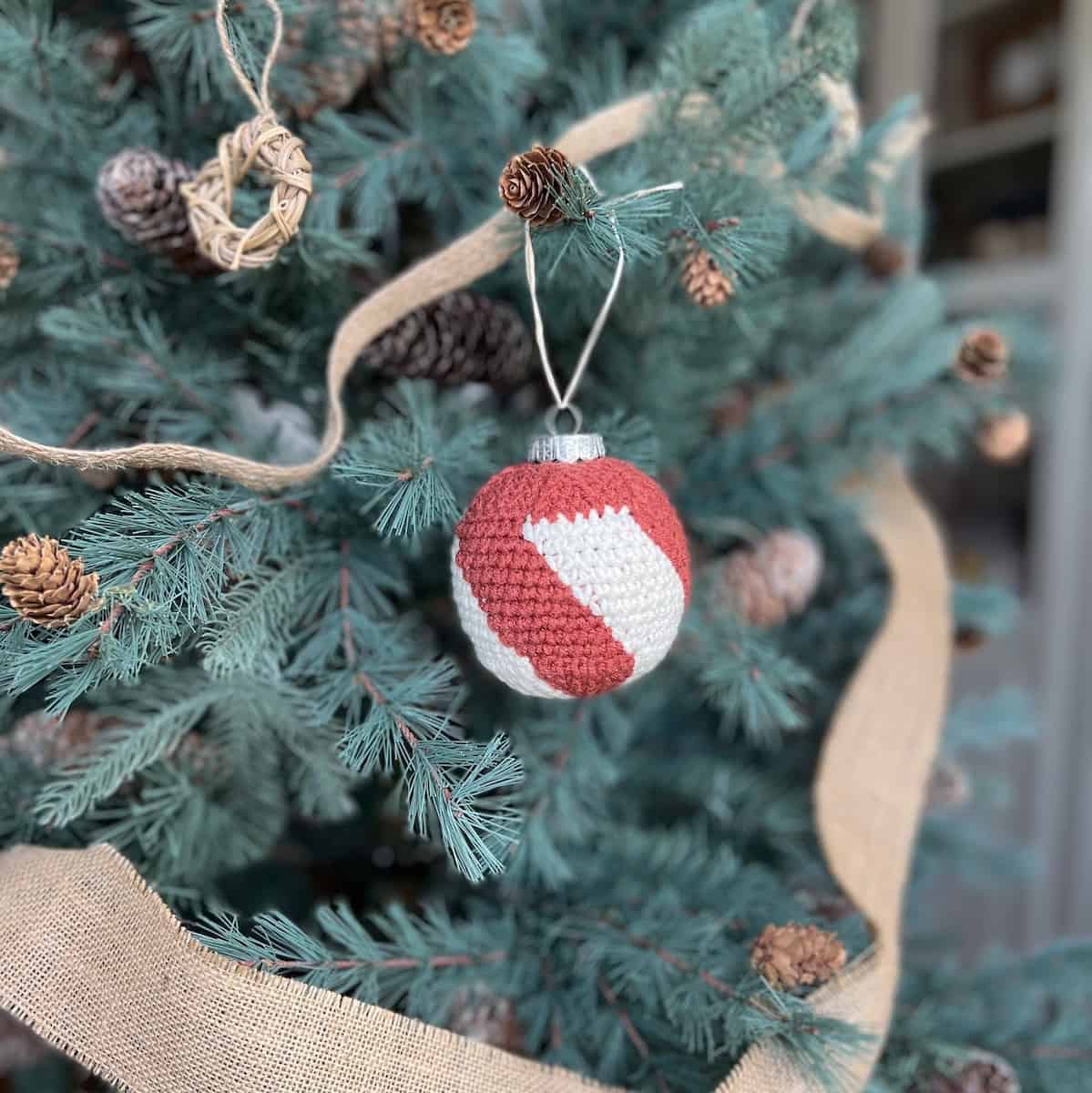 In a Swirl
Technique used: Tapestry Crochet
Pop back on the 19th to find out which bauble we are trying out next!
Bauble 16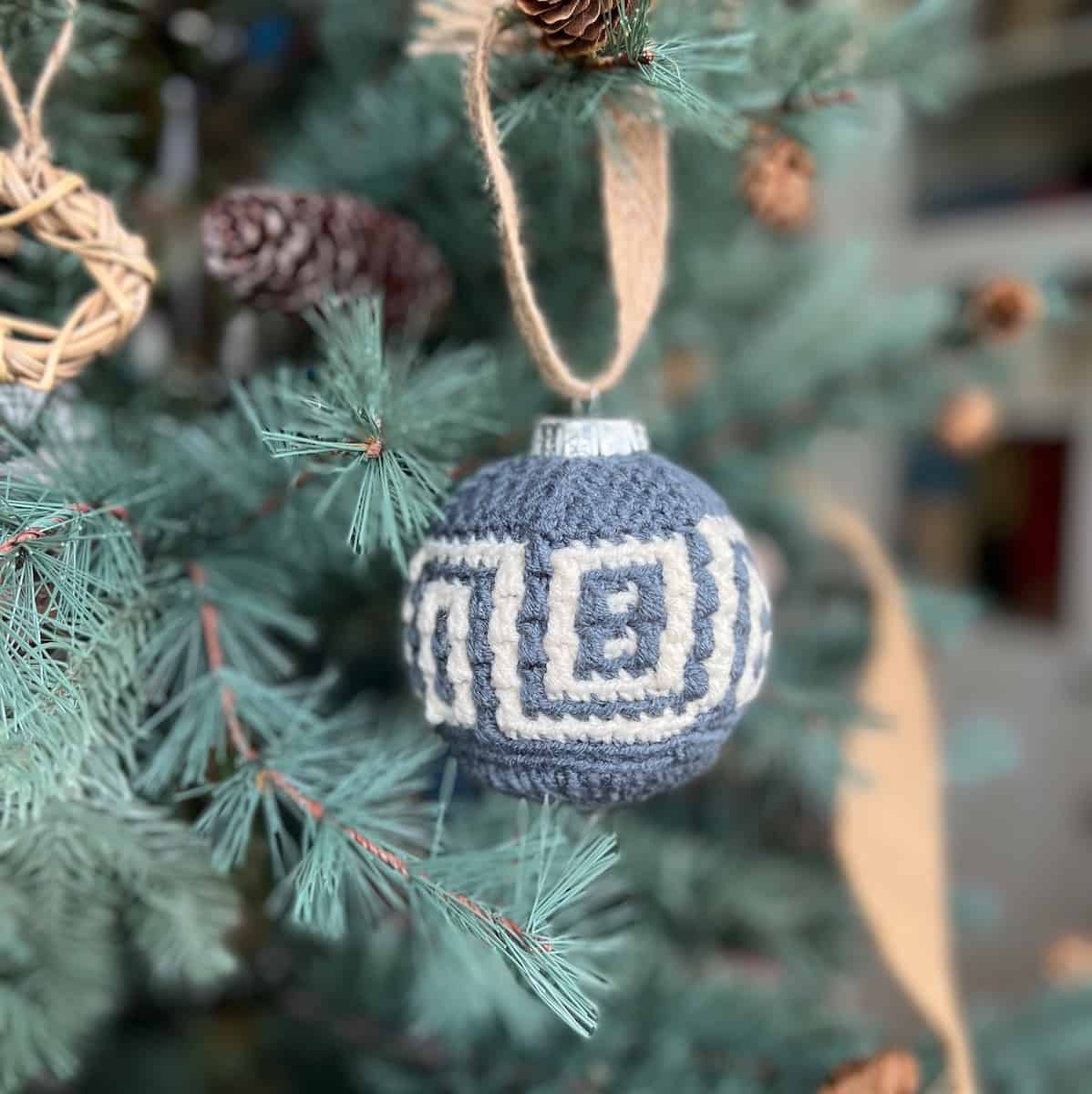 Straight Swirls
Technique used: Overlay Mosaic Crochet
This bauble is my favourite! I love the bold pattern and the geometric, art deco feel to it!
Bauble 17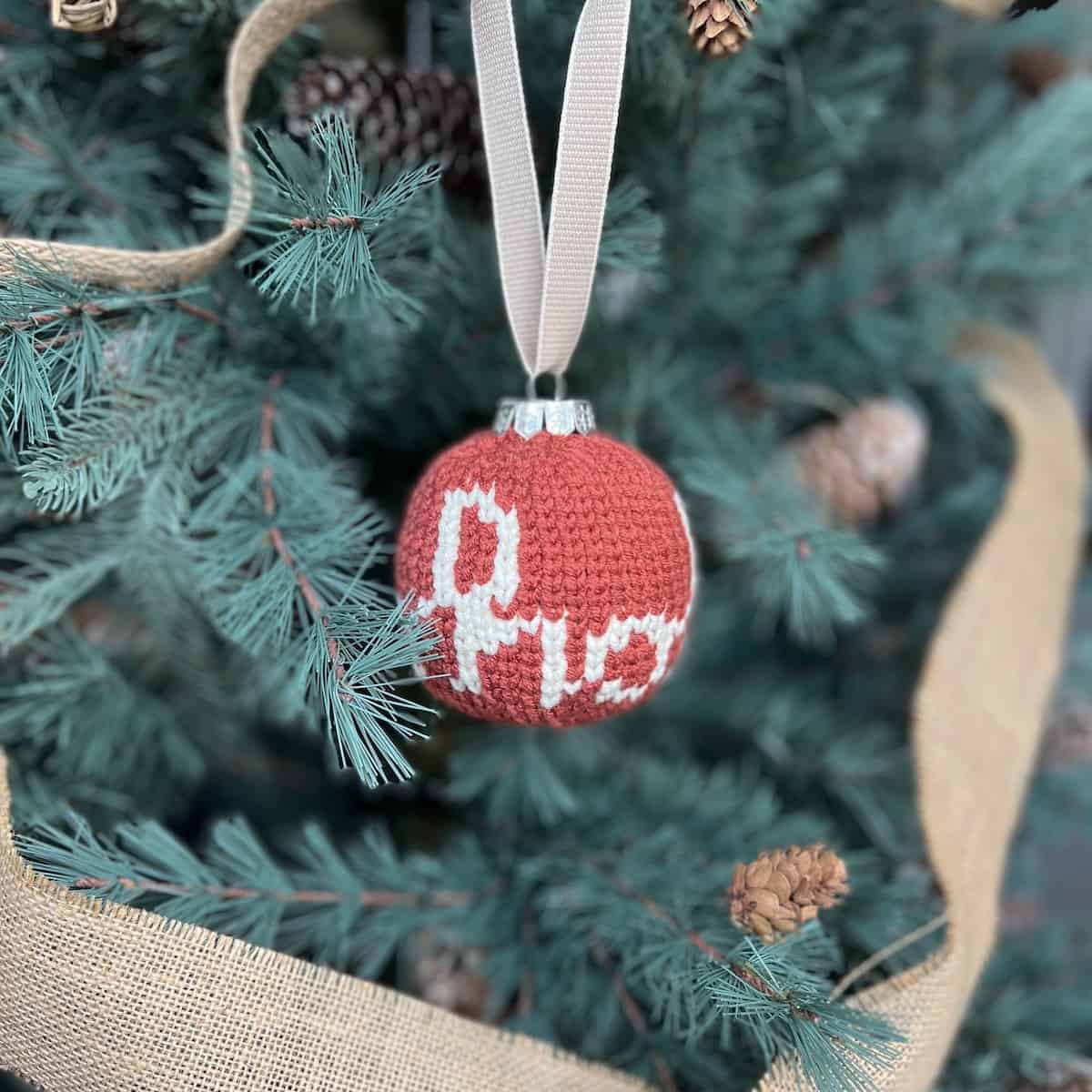 Ho Ho Ho
Technique used: Fair Isle Crochet
Have you ever tried to write with crochet? Now you can with this fun 'ho ho ho' crochet bauble for your collection!
Bauble 18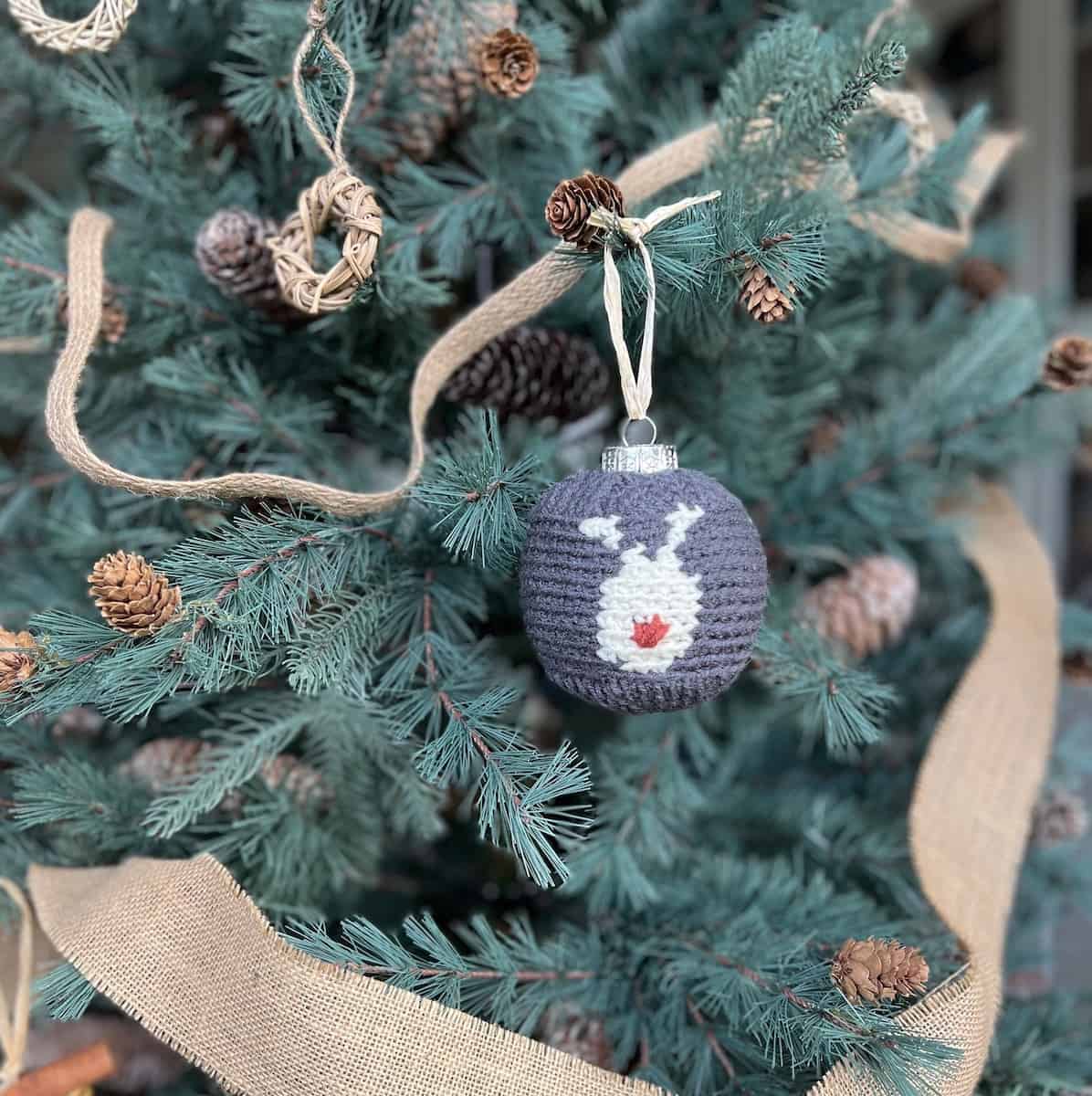 Reindeer
Technique used: Tapestry Crochet
Our final bauble in the collection is the reindeer crochet decoration! Made in tapestry crochet with a cute little nose, who could resist!
---
Thank you!
I am so thrilled that you have found me here at HanJan Crochet and your support is what keeps me doing what I'm doing – so thank you!
I'd love to stay in touch with you and share all of my latest crochet designs and news with you – join me here and I'll send you my most popular pattern for free!
Ready to take your colour work to the next level?
Join me for the entire course!
Packed with videos, tutorials, charts, colour blocks; completely ad-free and lifetime access!