I hope you enjoy this easy triangle shawl crochet pattern that is perfect for beginners! It's worked up using just double crochet stitches with a little added texture to the stitch by using front or back loops.
You can make this shawl in any size you like and it'll definitely be a staple in your wardrobe once it's ready.
This is one of those mindless crochet projects that, once you get the hang of the row repeat, you can crochet on and on. It's also great for making as big or as small as you like because after you've reached the desired size, you can just stop right there.
There's a little technique to it so if you're a beginner looking to advance your skills, this is a great pattern. You'll learn something new and be left with a beautiful piece you can toss on over any outfit!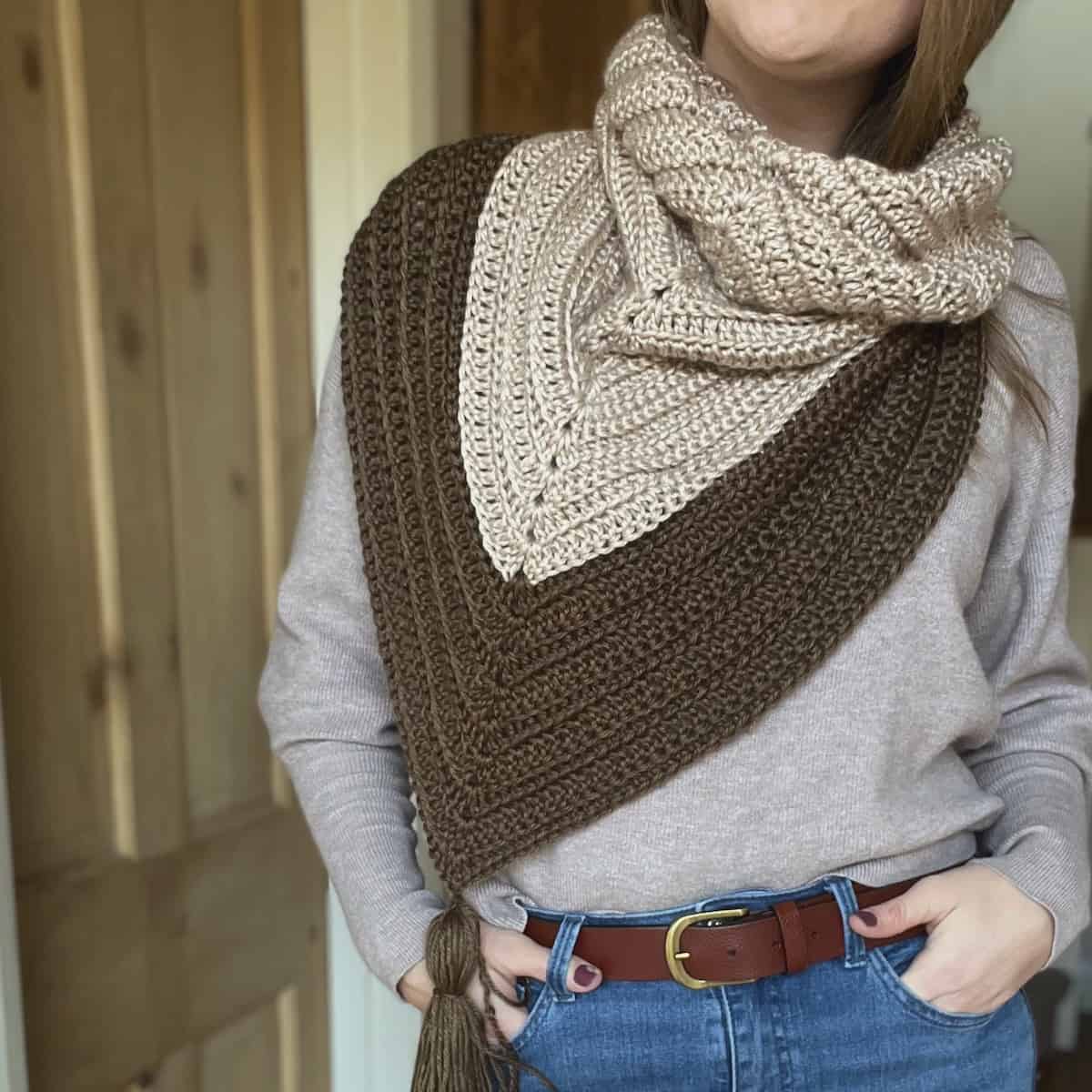 This post may contain affiliate links. Please see my full disclosure and privacy policy for details.
Scroll down and sign in to find the Easy Triangle Shawl Crochet Pattern, or purchase an ad-free, printable PDF version here:
More about this easy textured crochet shawl
Simple and chic — that's exactly how I'd describe this beginner-friendly crochet pattern. It's a go-to project for when you're not in the mood for anything complex but you want to still pick up your crochet hook and a ball of yarn.
Another great aspect about this shawl is that you can bust your stash with it and use up your scraps. If you have a ball, half-a-ball of some colors, you can put them in this shawl and make colorful tassels at the end. That'll really pull everything together nicely!
You get to set the tone of your shawl — whether that's funky or neutral, retro or chic. The choice is yours!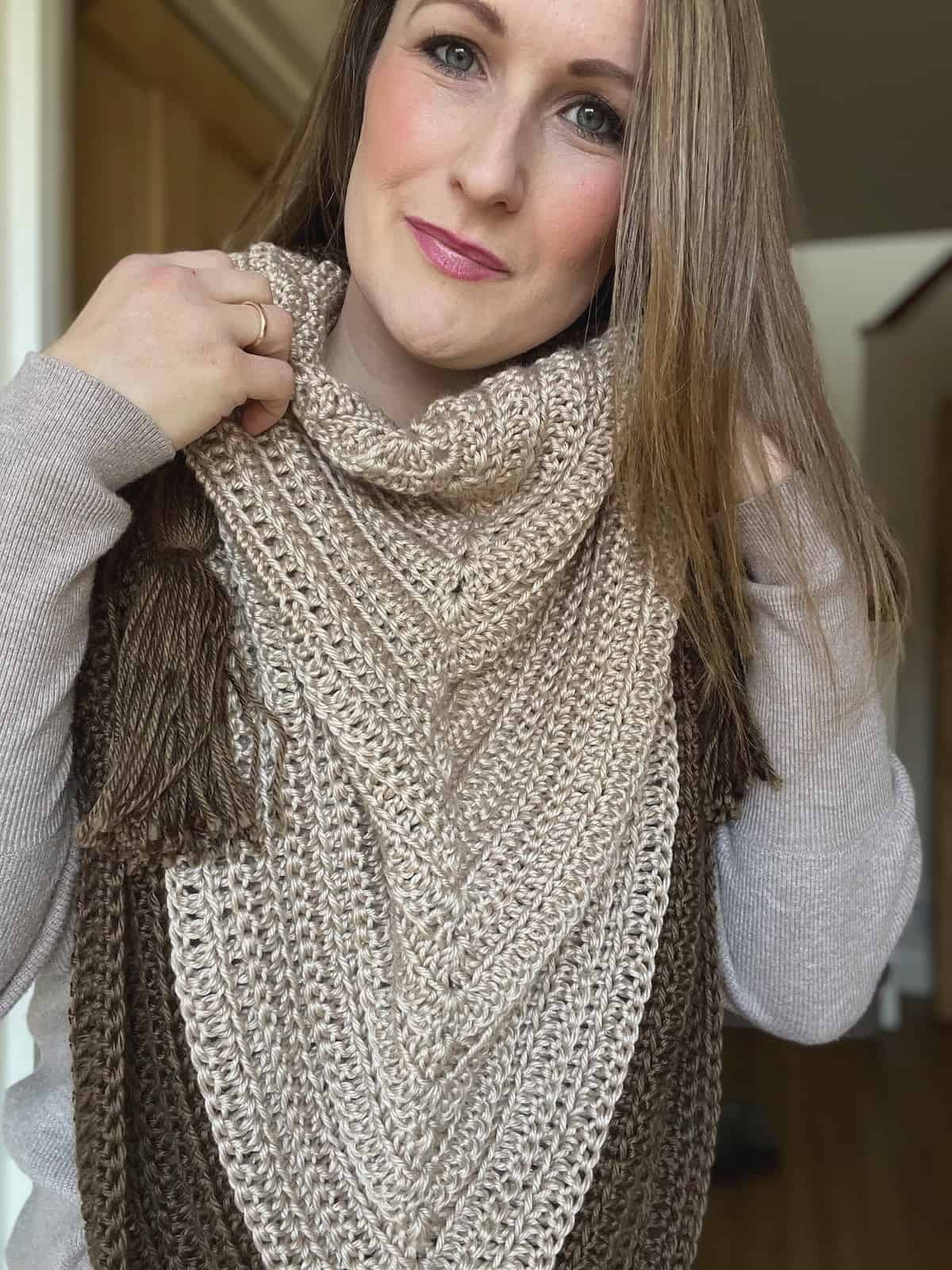 How do you crochet a triangle crochet wrap like this?
This shawl is worked in one piece from a two-row repeat. It forms into a triangle as you work with the sides extending further and further as you go.
You can change colors whenever you'd like and at the end, add tassels to the corners. Once you're finished, you can style it as a scarf or wrap.
Yarn
To crochet this beginner-friendly crochet shawl pattern, I used two shades of Wander by Furls Crochet (100% acrylic, 120yds(109m)/100g, worsted weight), namely, Sandbar and Cocoa.
My shawl came together with 3 balls of Sandbar and 2 balls of Cocoa but you can use any worsted weight for your project. Some great options are:
According to the size you are making, you'll increase/decrease the number of balls you use. With the yarn and hook I used, the finished shawl measures 70cm by 130cm ( 27.5" by 51") without tassels.
Materials
Along with your yarn, you will need the following:
Video Tutorial
You can watch a full video tutorial for the Willow Shawl here:
Pattern Options
Get this crochet pattern free in this blog post in US terms – just scroll down to find it in the exclusive members area! You can also purchase an ad-free, printable PDF in US terms with added extras in my pattern stores:
Purchase and Print
Get the ad-free, printable PDF with added extras in my pattern stores: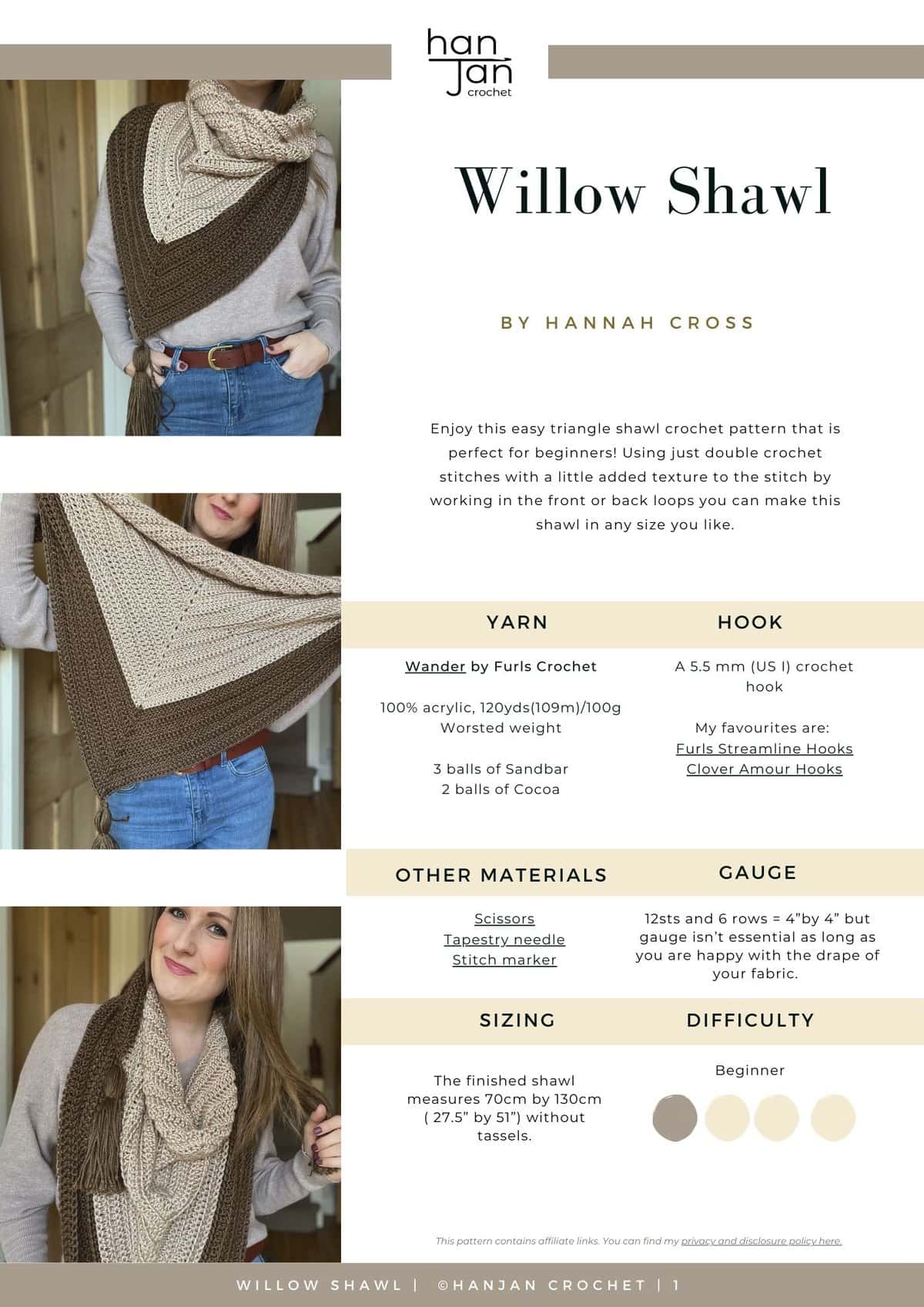 Don't forget to join HanJan Crochet to receive regular discount codes (and more free patterns!) and Pin this free textured crochet shawl to your crochet Pinterest board!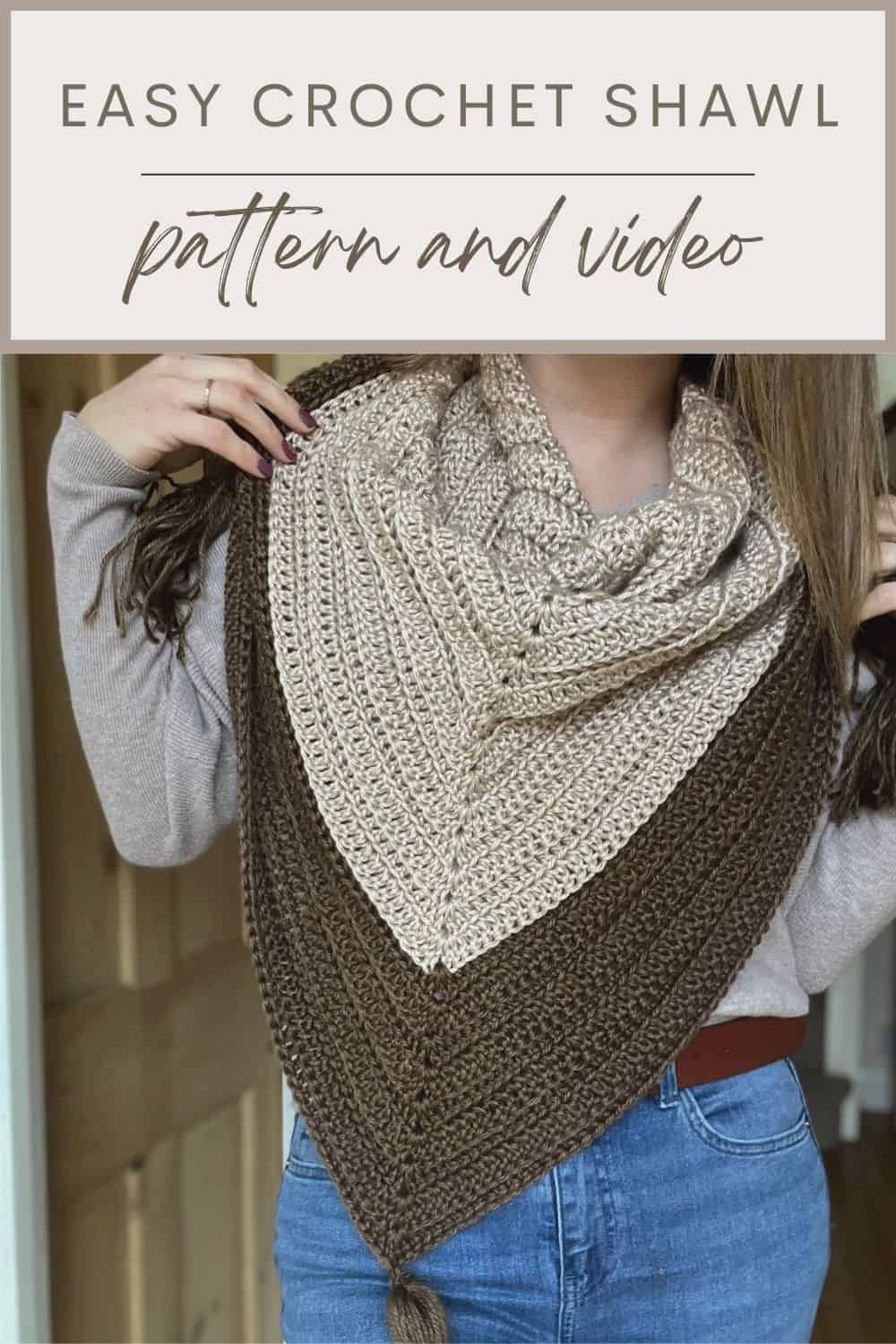 Glossary and Abbreviations
ch(s) – chain(s)
sp – space
RS – right side
WS – wrong side
rep – repeat
yoh – yarn over hook
blo – back loop only
flo – front loop only
Stitches
The beginner shawl uses the following crochet stitches:
sc – single crochet (UK dc – double crochet)
dc – double crochet (UK tr – treble crochet)
Special Stitches
This shawl is made by starting from a small triangle and working your way out.
If you want to make more neckwear crochet projects, I've got a few suggestions for you (and you can search my blog for more patterns too):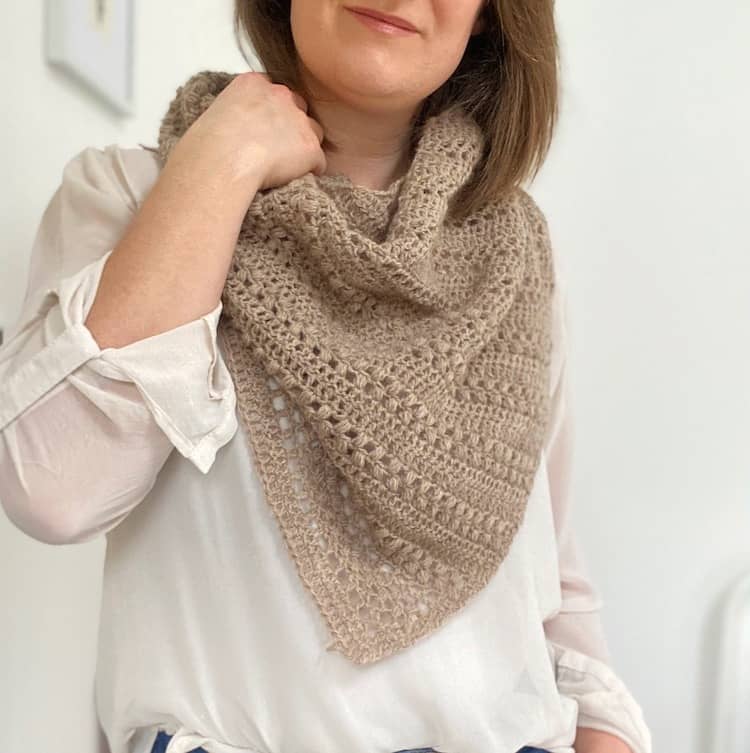 The special stitches used in this simple crochet triangle shawl are given below:
Front Loop Only: flo
Work the stitch into the front loop only of the stitch. Looking at the stitch from above this is the loop nearest you.
Back Loop Only: blo
Work the stitch into the back loop only of the stitch. Looking at the stitch from above this is the loop furthest from you.
Pattern Notes
The pattern is written in standard US crochet terms.
The shawl is made in rows and you will turn at the end of each row.
A stacked crochet stitch at the beginning of a row counts as a stitch. If you would prefer not to work stacked stitches then you can chain 3 that counts as a stitch instead.
Change color in whatever sequence you like on the shawl but always do it at the end of a row on the last 'yarn over and pull through' of the last stitch.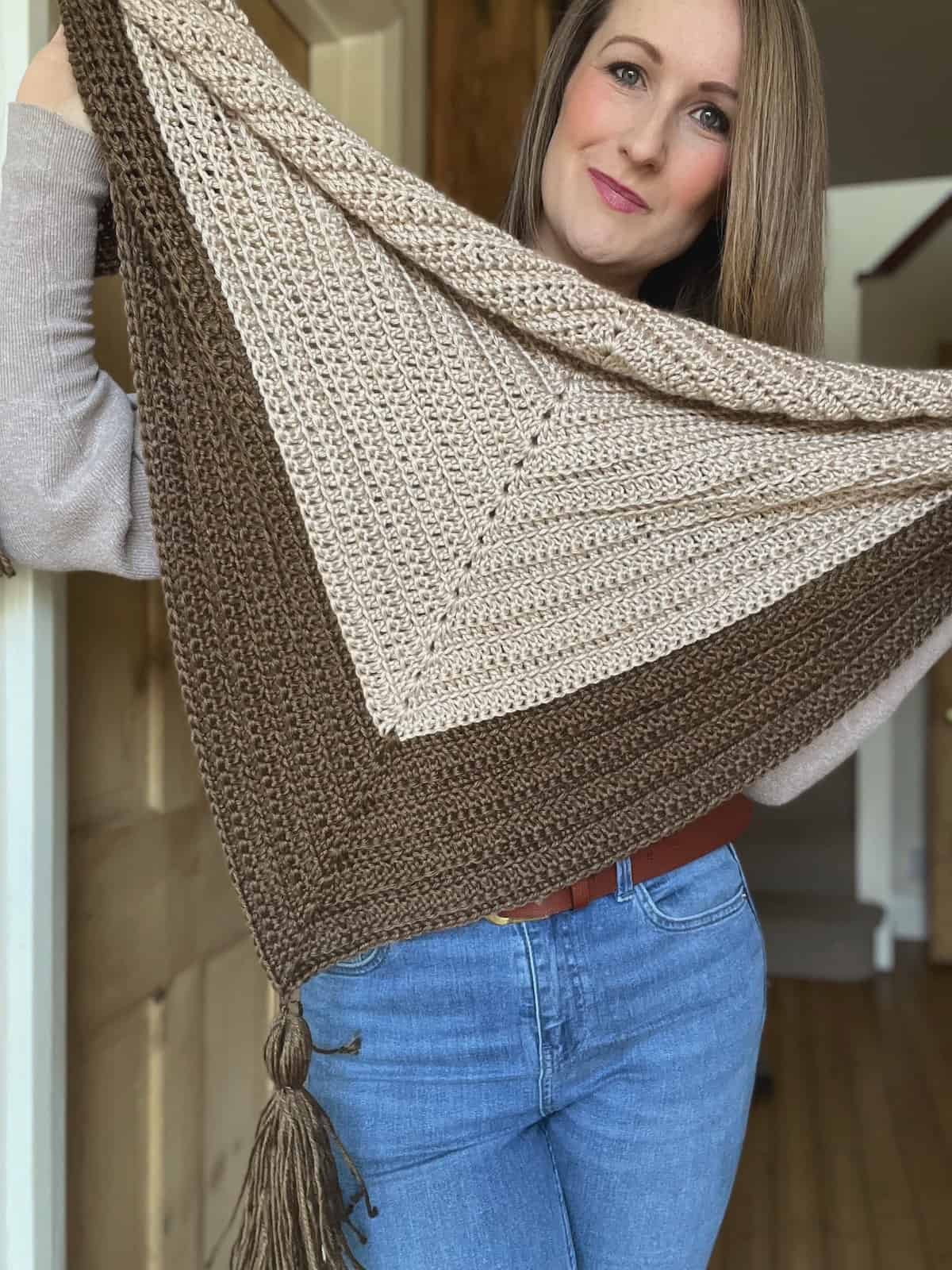 Customisation
The possibilities are endless with this pattern to really make it your own and completely unique. You can easily customise the entire shawl by continuing to work as many or as few repeats of Row 2 and Row 3 as you would like.
You can also customise by changing your yarn weight – just make sure to use a hook that gives you the drape of fabric that you are happy with.
You can change colour at any point, add stripes, use a single block colour, anything you like!
You can add tassels to each of the points as I have or leave them off if you prefer. If you have plenty of yarn left you can always add a fringe too if you like.
Gauge and Sizing
The gauge for the shawl is 12sts and 6 rows = 4" by 4" but gauge isn't essential as long as you are happy with the drape of your fabric.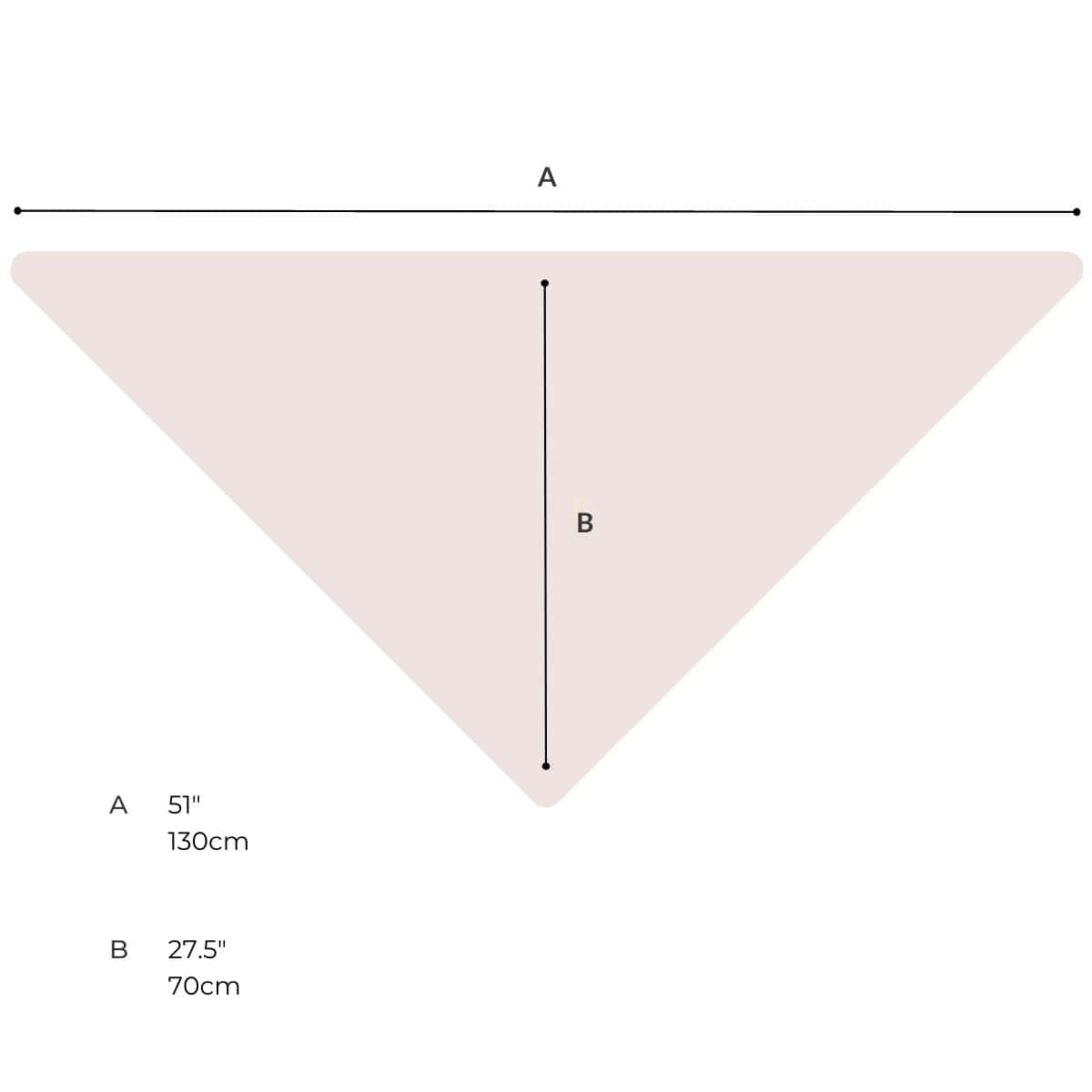 Free Beginner-Friendly Crochet Shawl Pattern
To unlock Exclusive Content on the HanJan Crochet Blog, all you need to do is click the box below and the Grow.me app will pop up, allowing you to enter your email and create a password.
Once you've created an account, every time you see Exclusive Content on my blog (or any others that use Grow), simply login to your Grow account. Be sure to switch to the login screen to enter your login credentials.
If you forget your password, click the "forgot password" link and follow the prompts. Please note that I'm unable to assist with resetting Grow passwords or accessing your Grow account, so be sure to save your login information in a safe place.
Thank you for subscribing and for joining me at HanJan Crochet! I hope you enjoy the exclusive content available on the site and I can't wait to see what you create 🙂
US Terminology
SHAWL
Using the colour of your choice (I chose Sandbar to begin), ch2.
Row 1: (RS): (4dc, ch1, 4dc) into 2nd ch from hook. [8dc, 1 x ch1-sp]
Row 2: (stacked dc, dc) in 1st st, dc in flo of each st to ch1-sp, (2dc, ch1, 2dc) in ch1-sp, dc in flo of each st to last st, 2dc in last st. [14dc, 1 x ch1-sp]
Row 3: (stacked dc, dc) in 1st st, dc in blo of each st to ch1-sp, (2dc, ch1, 2dc) in ch1-sp, dc in blo of each st to last st, 2dc in last st. [20dc, 1 x ch1-sp]
Rows 2 and 3 create the Main Set Pattern.
Rows 4-35: Repeat the Main Set Pattern.
If you would like to follow my colour sequence then change colour at the end of Row 26 before continuing Row 27 with Cocoa.
Repeat the Main Set Pattern as many times as you like for a larger or smaller shawl.
Once you have completed the amount of Rows that you would like break your yarn.
Weave in ends to finish.
TASSELS
If you would like to add tassels as I have here then use Cocoa and make 3 tassels of approximately 20cm long.
Attach them to each point of the shawl and weave the ends into the shawl to secure.
Chart
If you prefer using a chart to guide you through the pattern, here it is: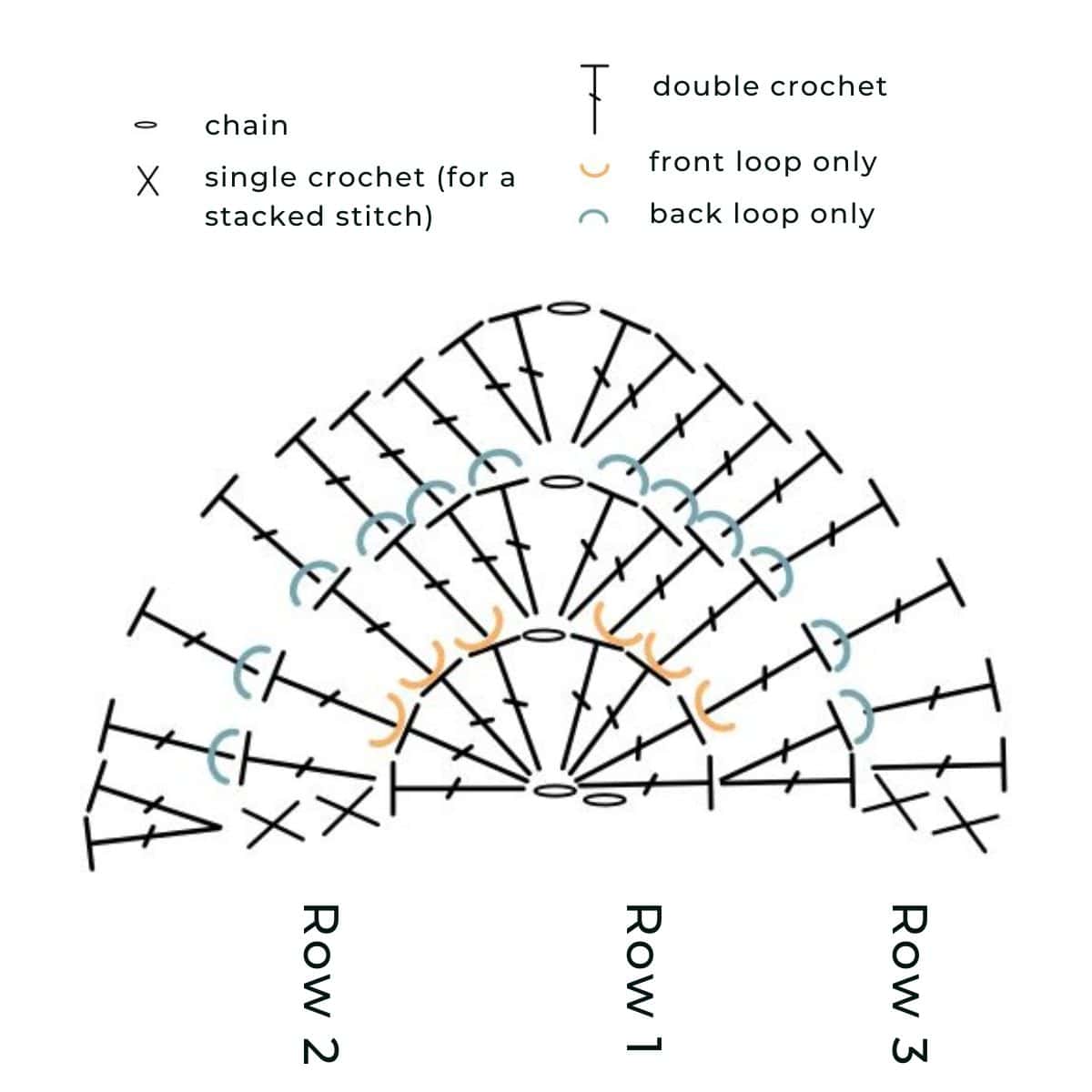 Photo Stitch Tutorial:
You can watch a step by step video tutorial of the shawl, plus here are some step by step pictures that will help too.
Ch2 and begin the shawl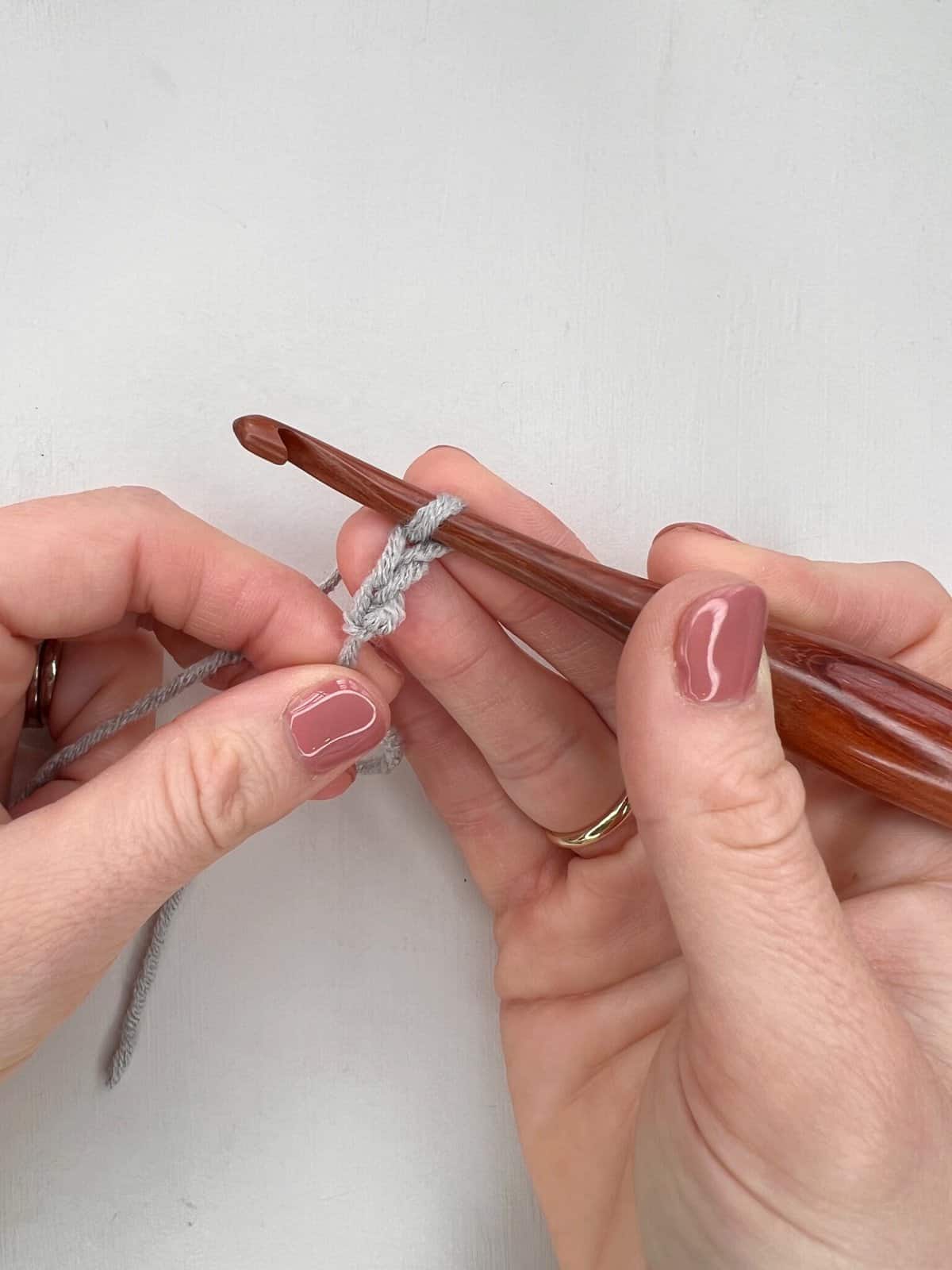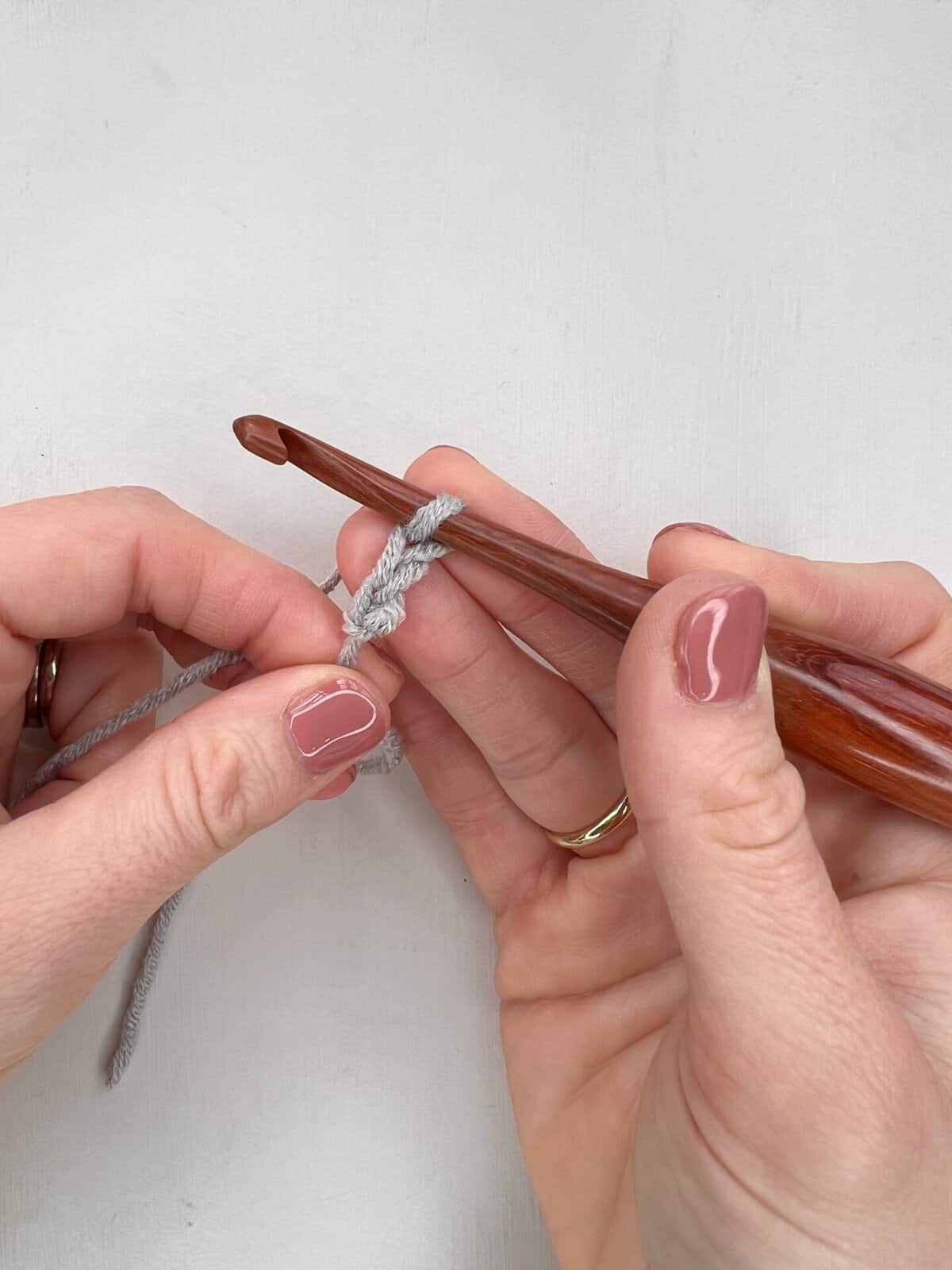 Stacked double crochet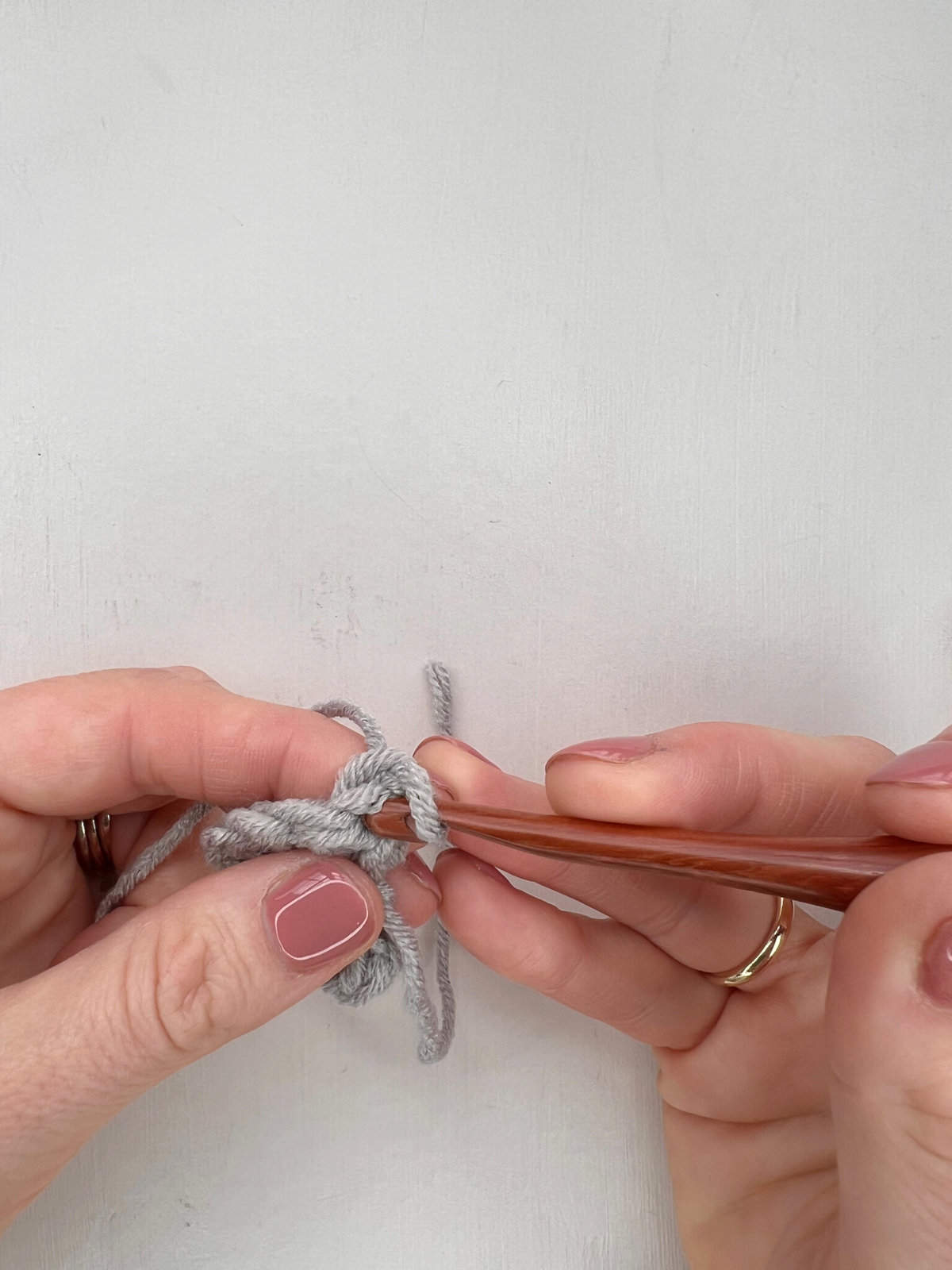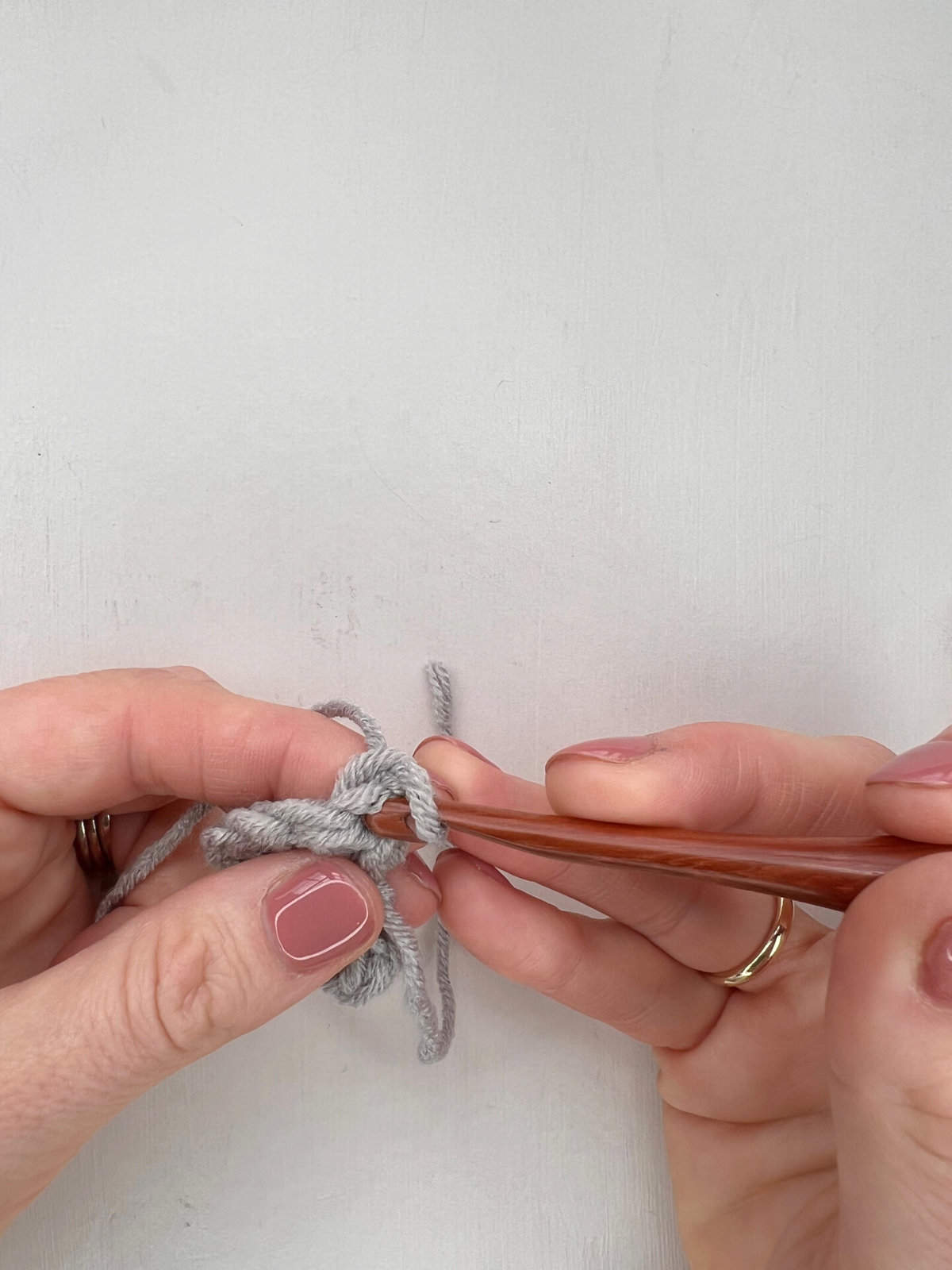 Alternative to stacked stitch – ch3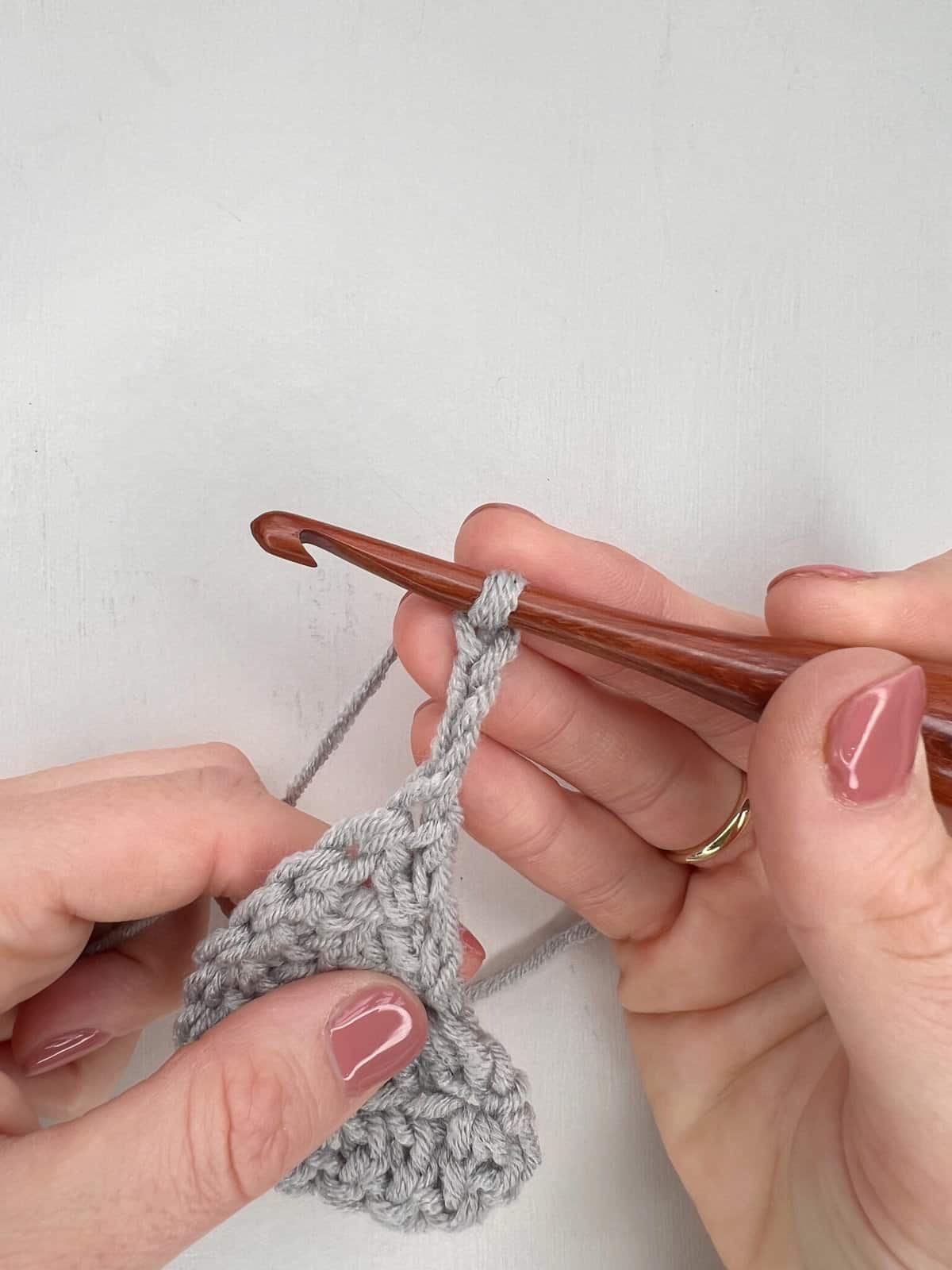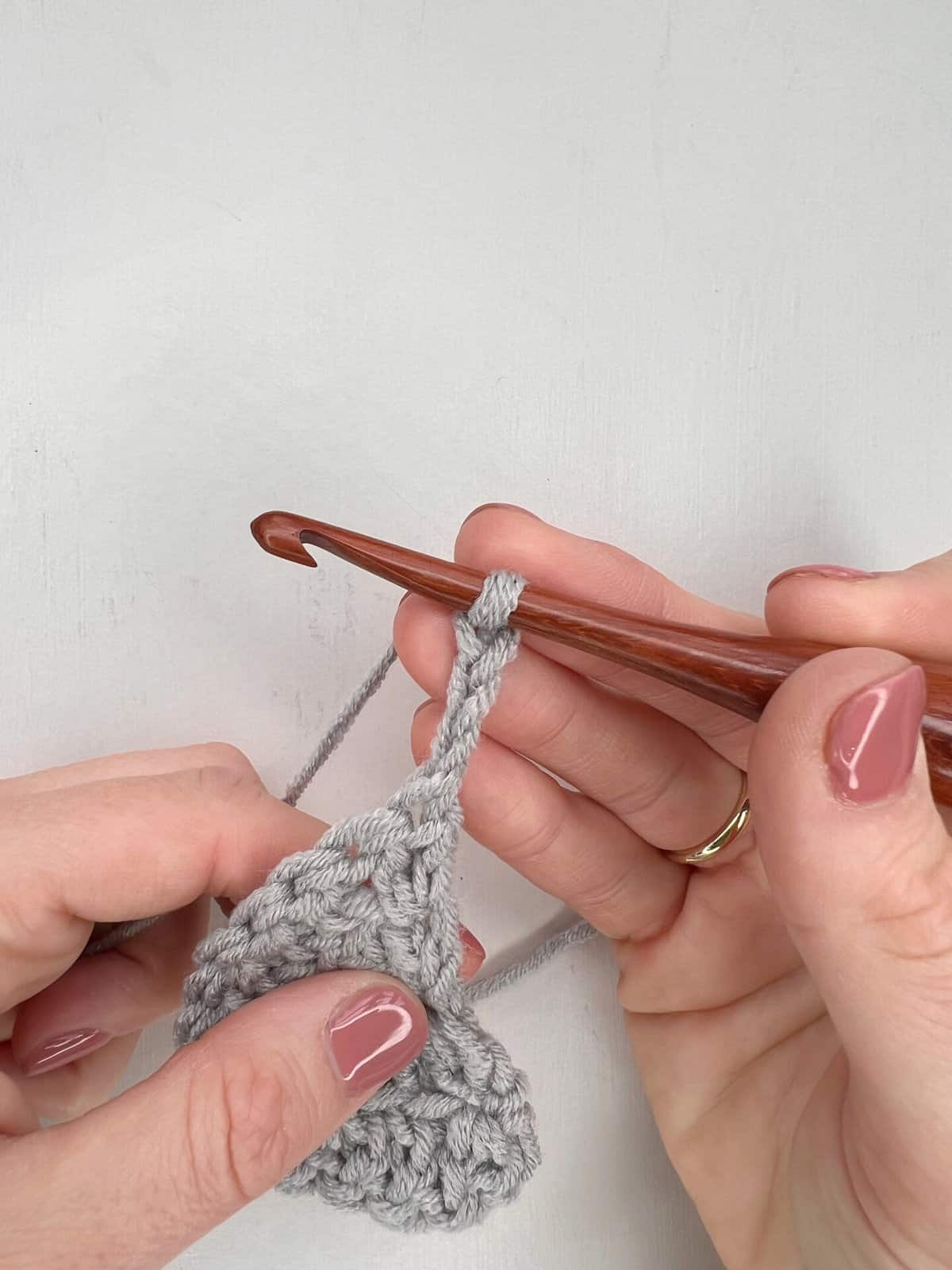 Back and front loops of stitches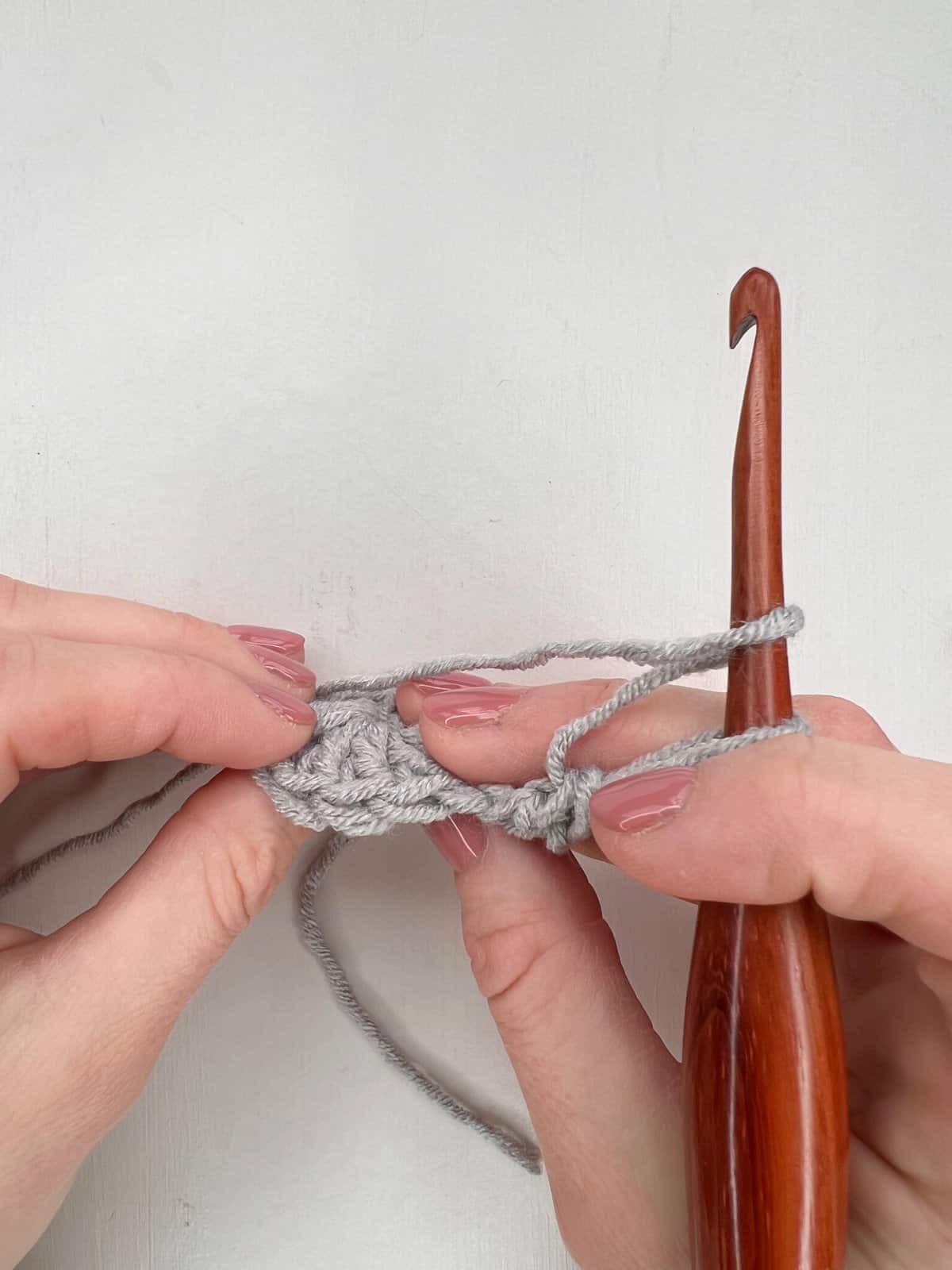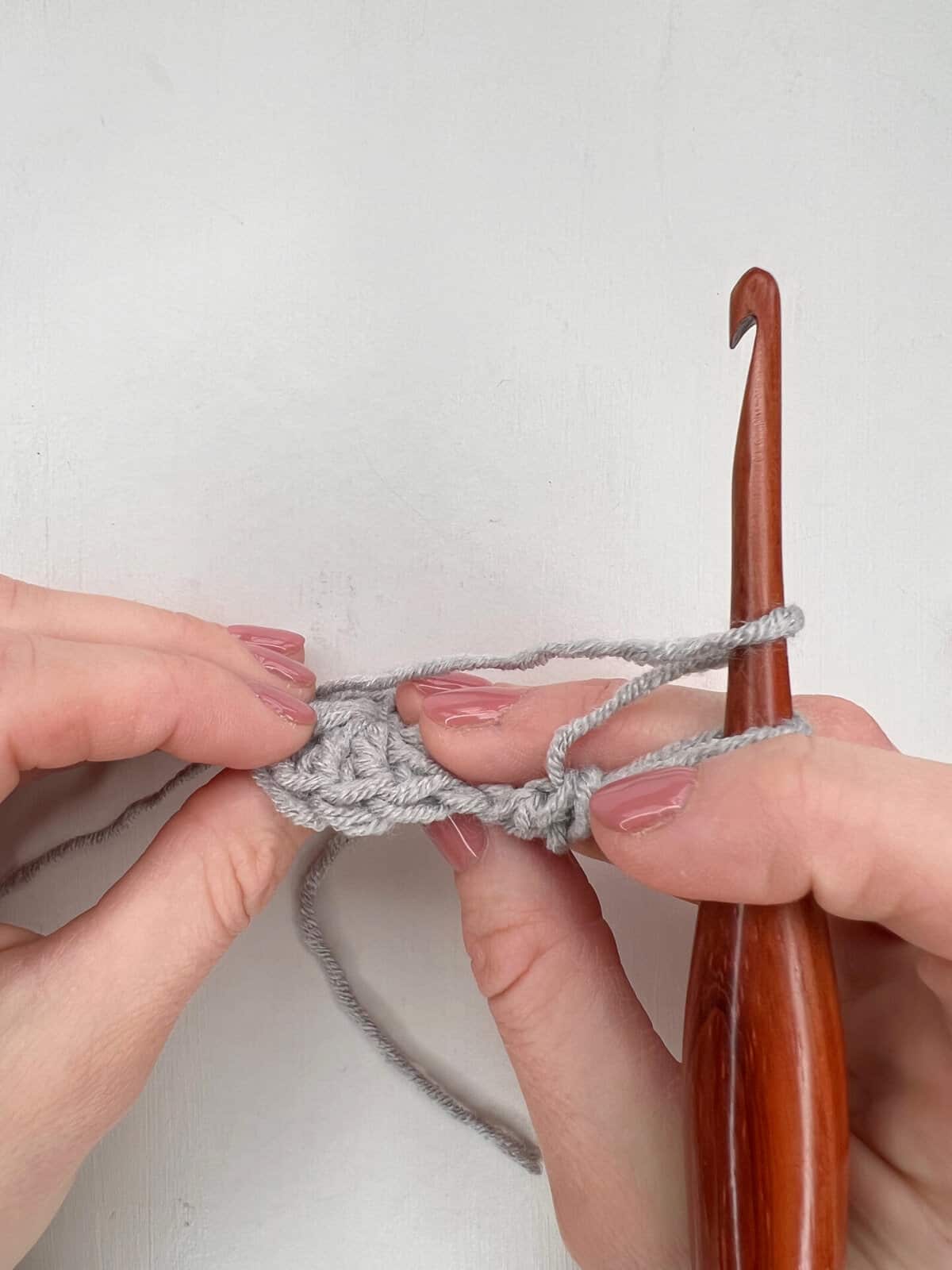 Join HanJan and Share Your Crochet!
It's an honour to be able to create and share my free crochet patterns with you. I'd love to stay connected and send you regular discount codes and free patterns! Please sign up for my subscriber list to get a free gift right now!
I look forward to seeing your finished crochet projects, especially this easy crochet pattern, so please share them with me in the HanJan Crochet Facebook group or on Instagram and tag #hanjancrochet.
Purchase and Print
Get the ad-free, printable PDF with added extras in my pattern stores: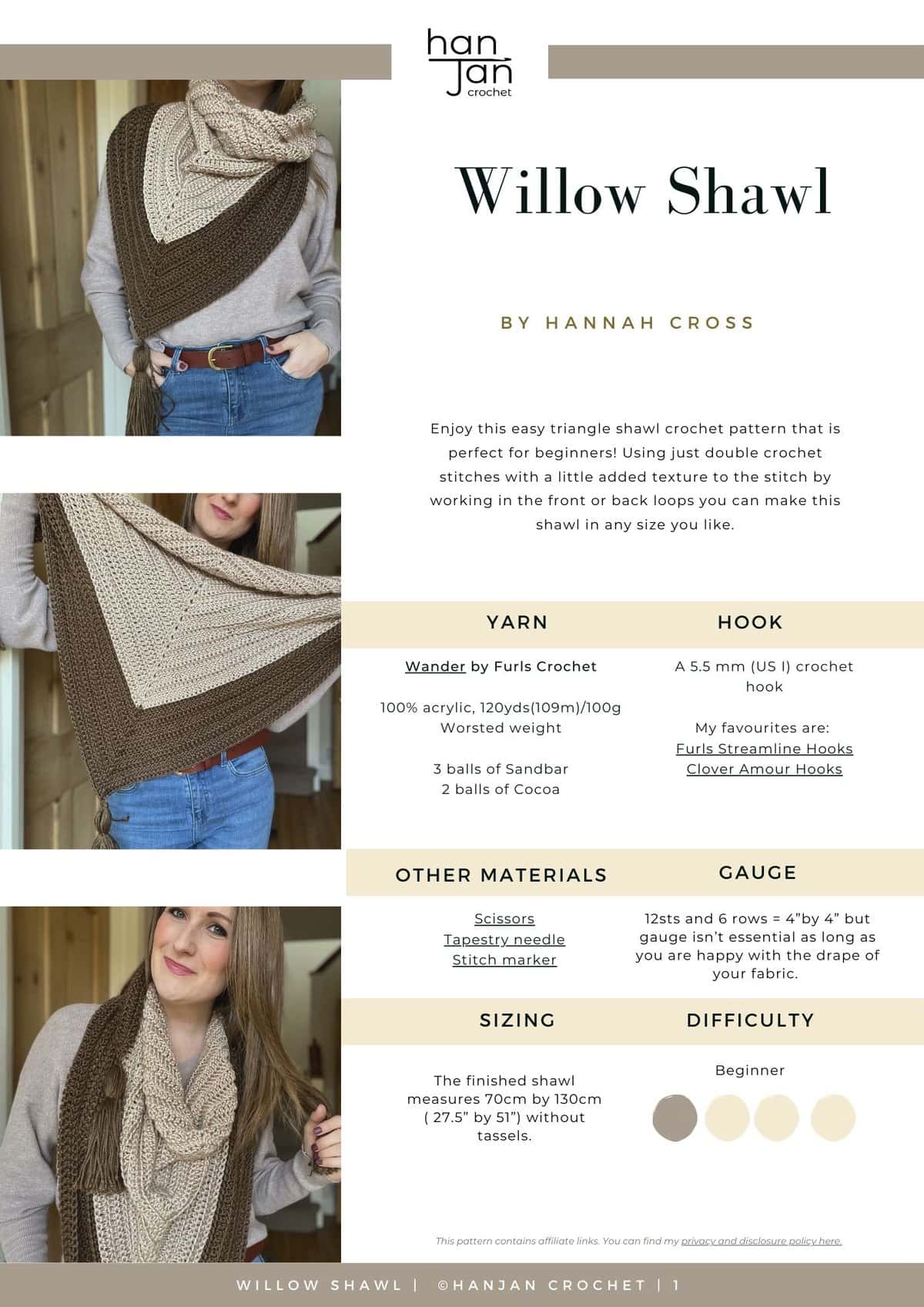 More Crochet Shawl Patterns You Might Enjoy
If you enjoy crocheting shawls and wraps, here are a few more you might want to make!
Other Cape & Shawl Patterns
A super simple crochet wrap that you make in a rectangle and seam at the shoulder for an easy fit.
An effortless and stylish cowl that you can wear as a wrap or double over as a cosy cowl too.
A delicate but oh so warm wrap buttoned at the shoulder to create a comfy cowl neck.