Learning how to work a crochet braid isn't just great for hairstyles, it's amazing to do with yarn too! Using just a row of simple long crochet stitches and a twist at the beginning, you can create the most beautiful texture to add to your crochet.
Today, I'm excited to teach you how to work a crochet braid stitch in this easy step by step and video tutorial too. It is a technique that I used recently in my Braided Blanket Crochet Ruana pattern which you can find for free on the blog.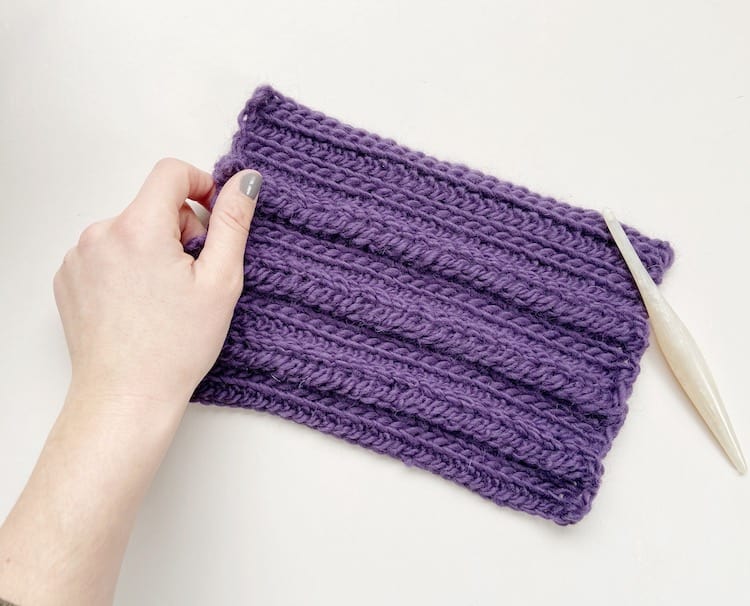 About the Crochet Braid Stitch Tutorial
When I started to learn to crochet I watched countless hours of crochet tutorials and was amazed at how much I picked up from them. I recently decided to start filming some tutorials to accompany my patterns and am so glad as I had forgotten how useful they are!
The crochet braid stitch looks similar to a cable stitch and is most definitely easier than it looks, as long as you can crochet a row of long stitches you are almost there. Just add a twist in the first stitch and the rest slot in place so easily. Let me show you how to do it in this easy crochet braid tutorial.
See the video >>> Watch the video tutorial or keep scrolling for step by step details.
Pin it for later >>> Save this pin to your Pinterest crochet board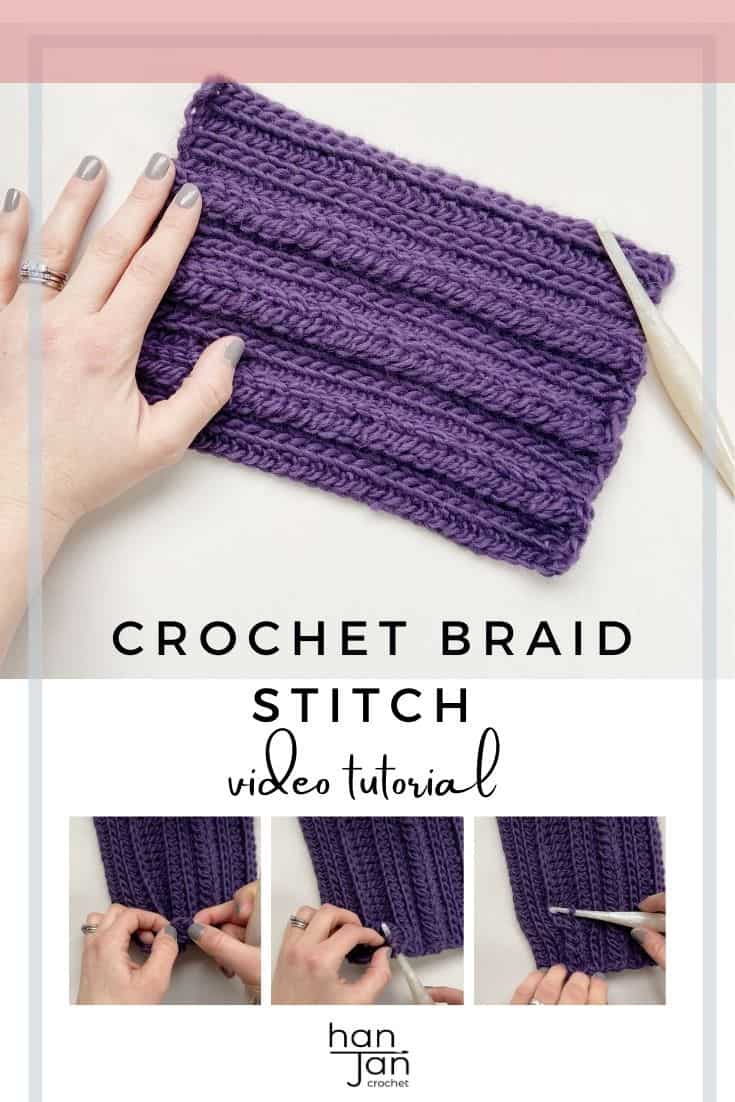 Braided Blanket Crochet Ruana Pattern
If you'd like to skip ahead and find the pattern that I used this technique for then you can find it here:
The Braided Blanket Crochet Ruana Pattern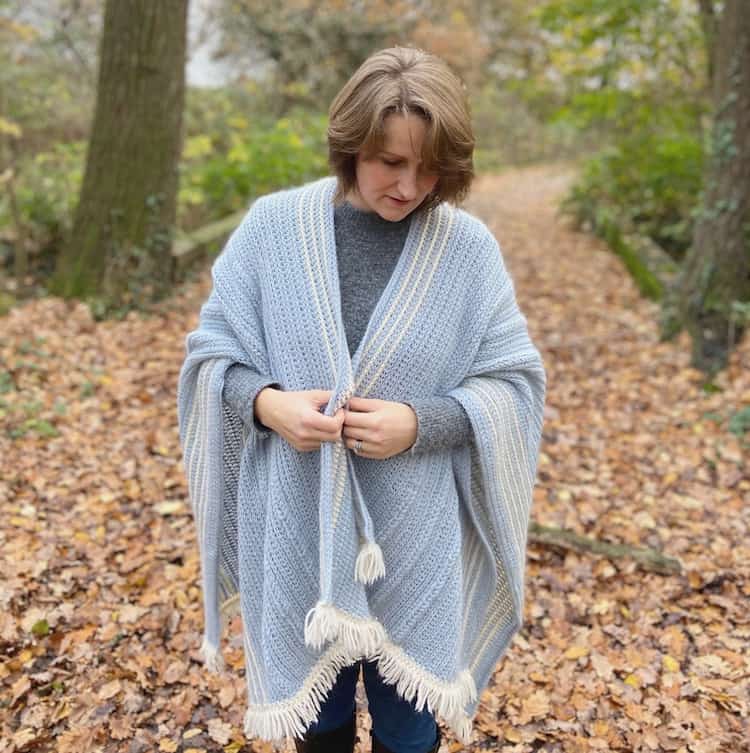 Yarn and Materials
For the video tutorial I used West Yorkshire Spinners ReTreat yarn which is 100% wool, 140m(153yds)/100g and so lovely to work with. It's perfect for chunky homeware that you wanted to feel soft and luxurious too.
For the crochet ruana I used Rowan Kid Classic which is a fabulous Aran weight yarn. A great alternative is Wonderfluff by WeCrochet, they both have a wonderful feel to them and create beautiful fabric.
You'll also need –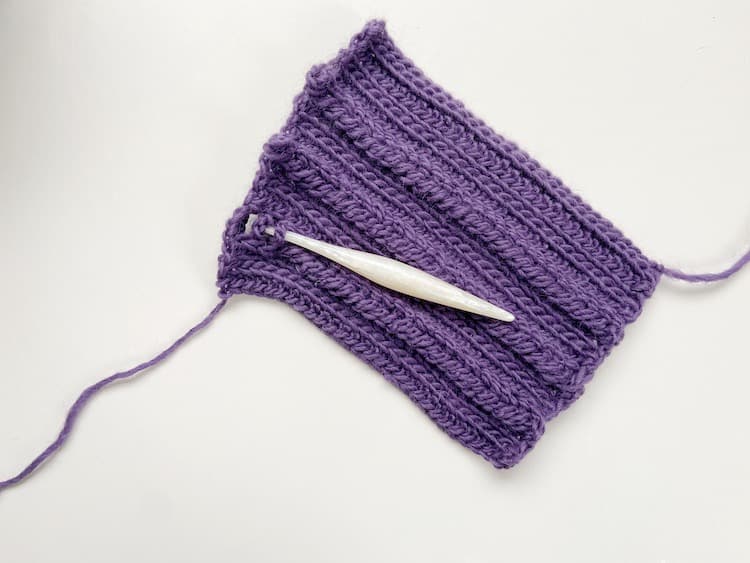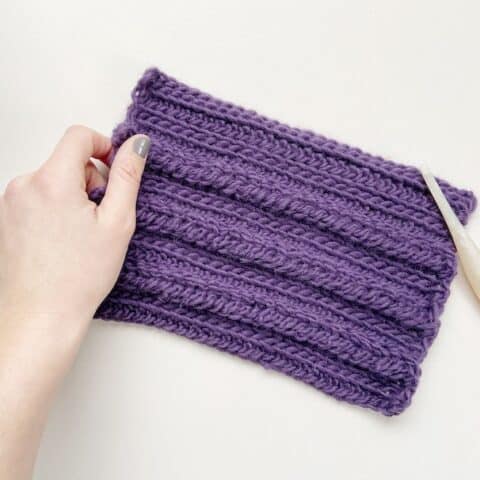 Easy Crochet Braid Stitch Tutorial with Video
Learn how to work a crochet braid stitch with this easy video tutorial from HanJan Crochet. A great crochet technique to learn for crochet blankets, garments, pillows and much more. The step by step beginner friendly video also includes details on triple treble crochet stitches too.
Instructions
Begin by working a row of US triple treble crochet stitches (full details of this in the video).
Rotate your work so that the side of the row is facing you and select the first stitch.
Using your fingers, twist the stitch so that it is crossed over itself and creates a loop at the top.
Keeping the twist in place, insert your hok through the loop.
Pull the next stitch through the loop you created from the stitch and tighten to secure the braid.
Continue along the row by pulling the next stitch through the loop on your hook and so on.
Finish the row by pulling the last stitch through the loop on your hook.
Turn your work over and sew the last loop onto the back of your work to secure the entire crochet braid.
Other Crochet Tutorials
I have a number of other crochet tutorials you might enjoy:
Crochet Loop Stitch Fringe Tutorial
Field of Flowers Stitch Tutorial.
How to crochet a granny square and keep it straight.
The Lacy Wave Crochet Stitch Tutorial.