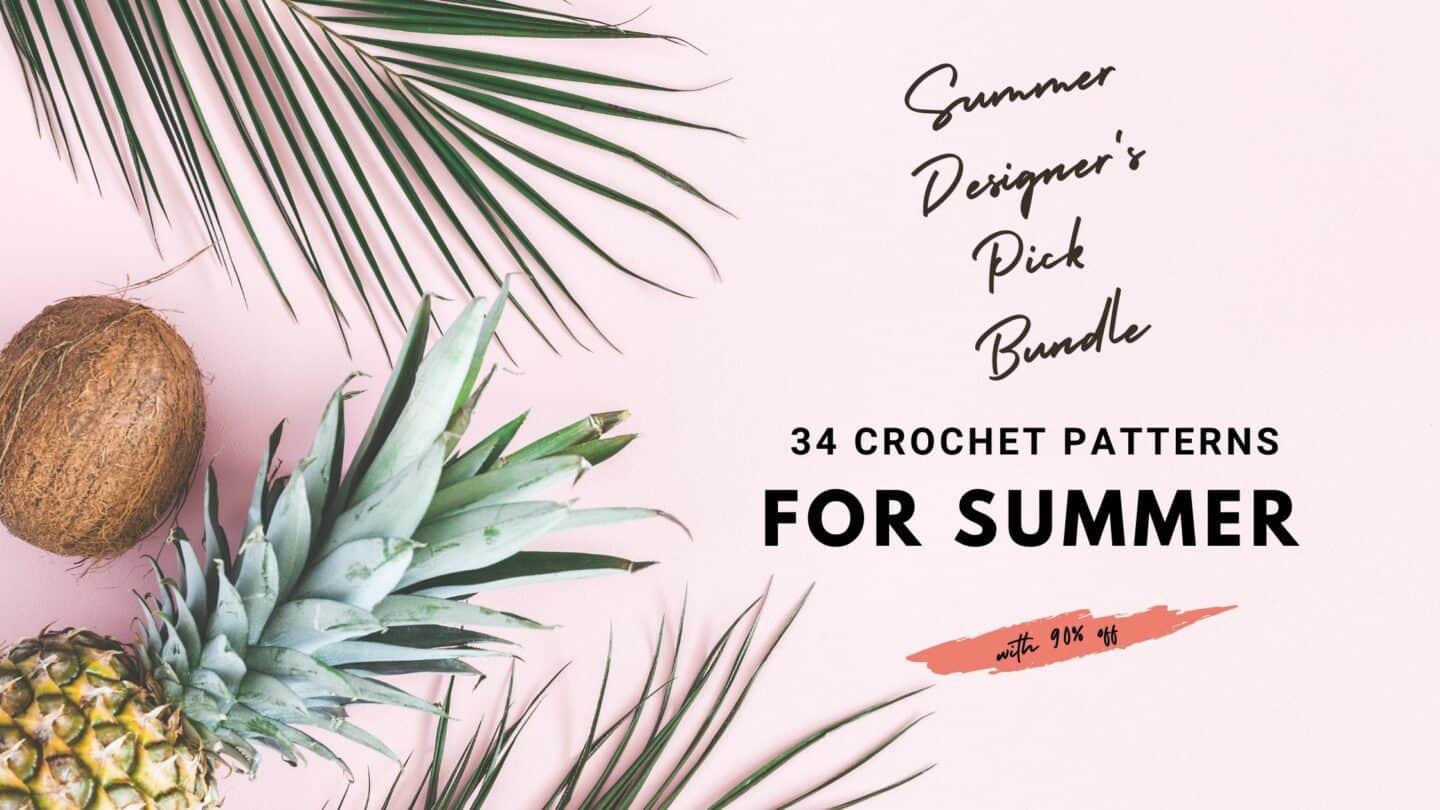 Introducing the Designer's Pick Summer Crochet Pattern Bundle
---
Save 90% by purchasing the whole collection of patterns!
The start of Summer is upon us and it's time to create some amazing lightweight, modern, and fun crochet for the season.
We proudly present our designer's collection of 34 stunning crochet patterns for you to enjoy with a huge discount of 90%!
34 patterns for just $12.99
The Designer's Pick Bundle
Each of the amazing designers have chosen their favourite design for you to make – read on to find out what they chose and why!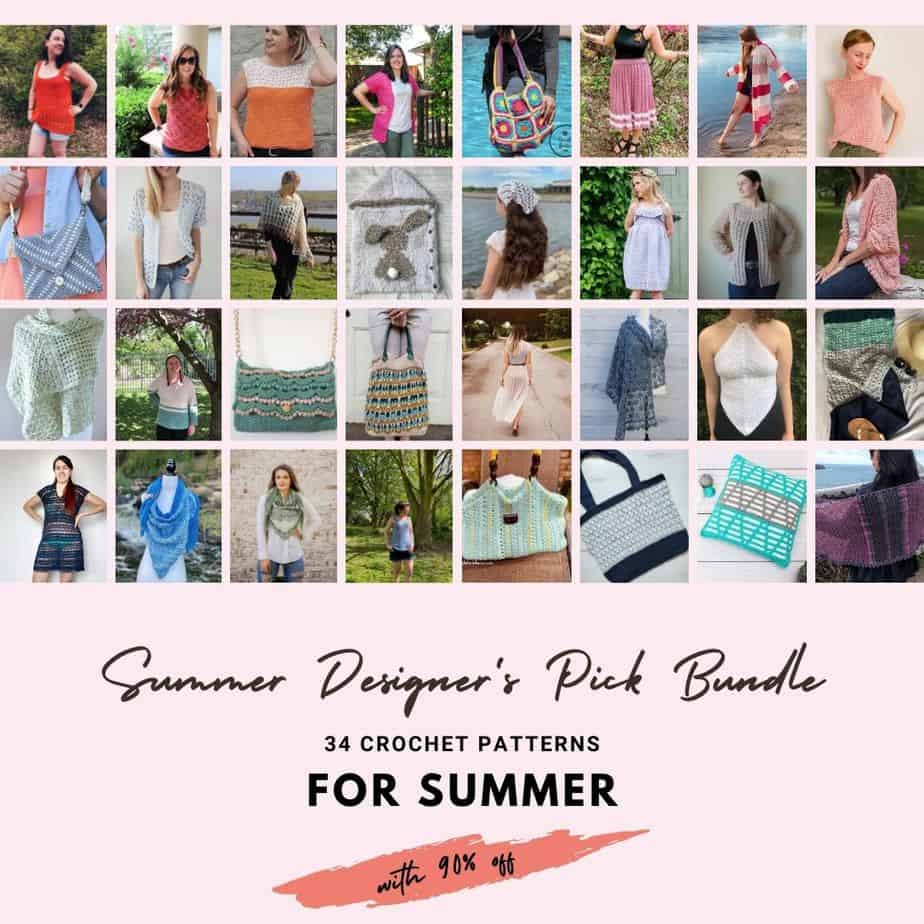 We asked some of the best crochet designers out there to choose just one pattern, their favourite one, to be featured in this collection. Almost all of the patterns are brand new releases designed especially with you in mind to create a stunning collection for you to enjoy!
By joining forces as designers we are able to offer you this amazing hand picked collection with a discount to get 34 patterns for price of 3 regular patterns.
If you can find more than 3 patterns you'd like to make (although I know you'll find more!) then you've already saved yourself money!
Let's take a look who the designers are and what they have 'picked' for you –
The Designers
---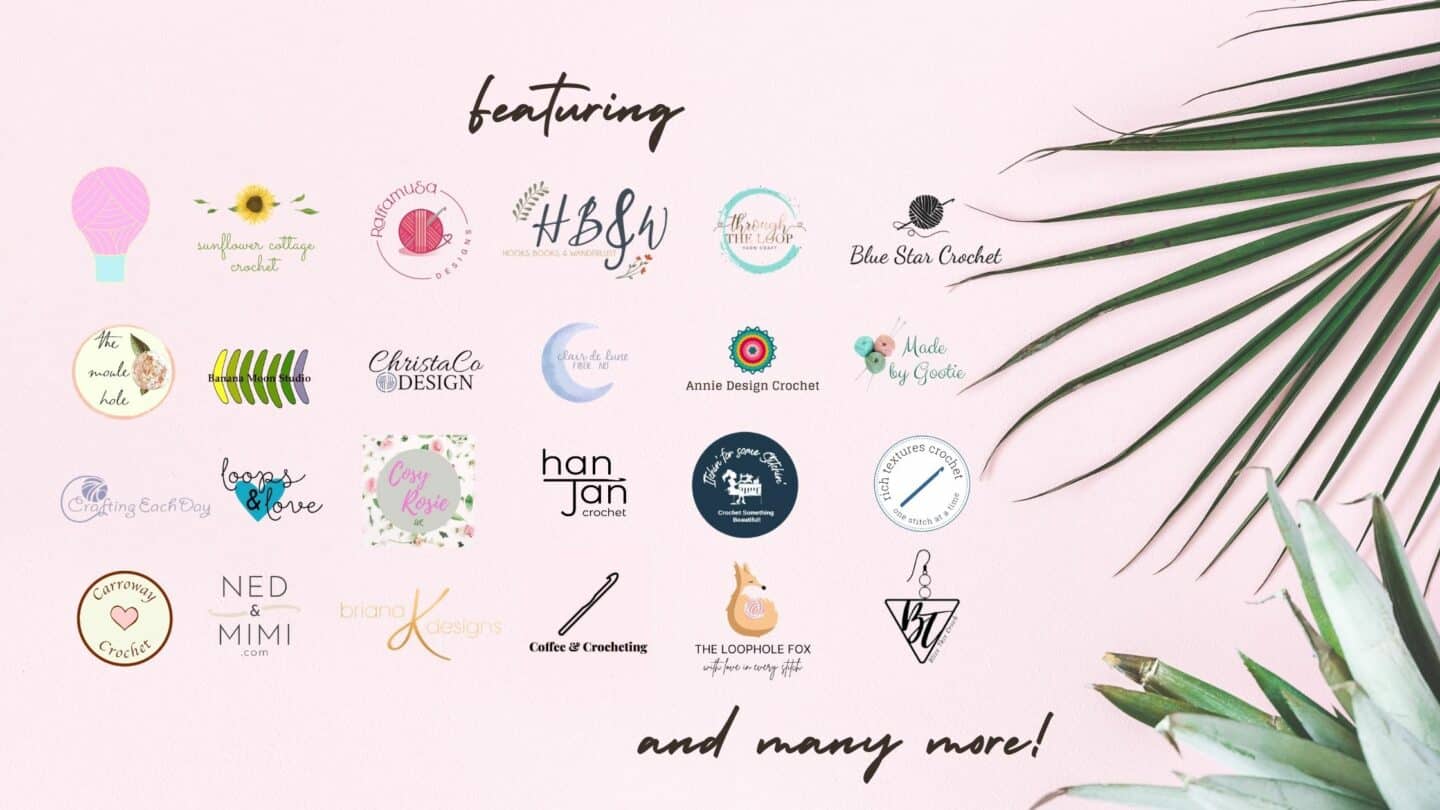 The Pattern Collection
---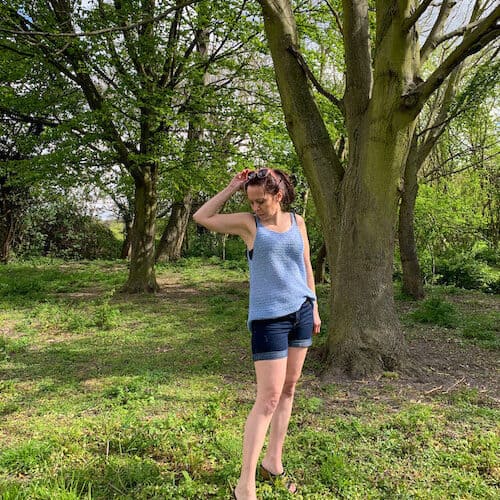 IMPERFECT SUMMER VEST
A lightweight, naturally flowing summer vest top with all the drape and all the space, in sizes XS-3XL. 'Imperfect summer' is a simple pattern for a practical wardrobe staple that you'll wear all summer long. A 'beach to street' top, it can be worn anywhere; thrown over a bikini or teamed with a cami for extra coverage.
Regular Price: $5.40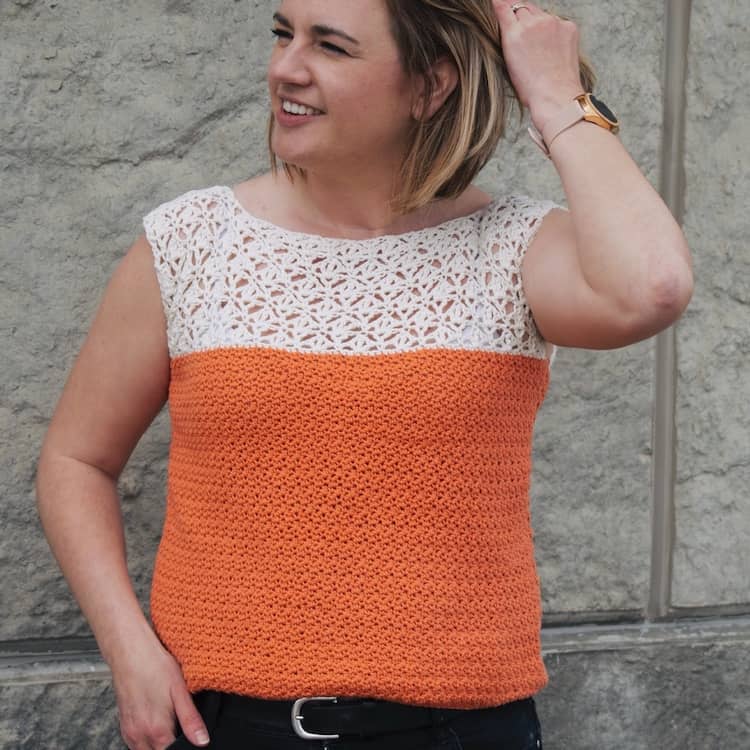 THE SARAH TEE
This gorgeous summer top has been written for sizes XS-5XL and suits most body shapes! It has been designed to not show too much of your bra, something that a lot of women hate! The stitch work in the bottom section ensures that you stay warm enough and the lacy section at the top looks so gorgeous. It is sure to get you some fantastic compliments! Wear it by itself or team it up with a cute cardigan or wrap.
Regular Price: $5.50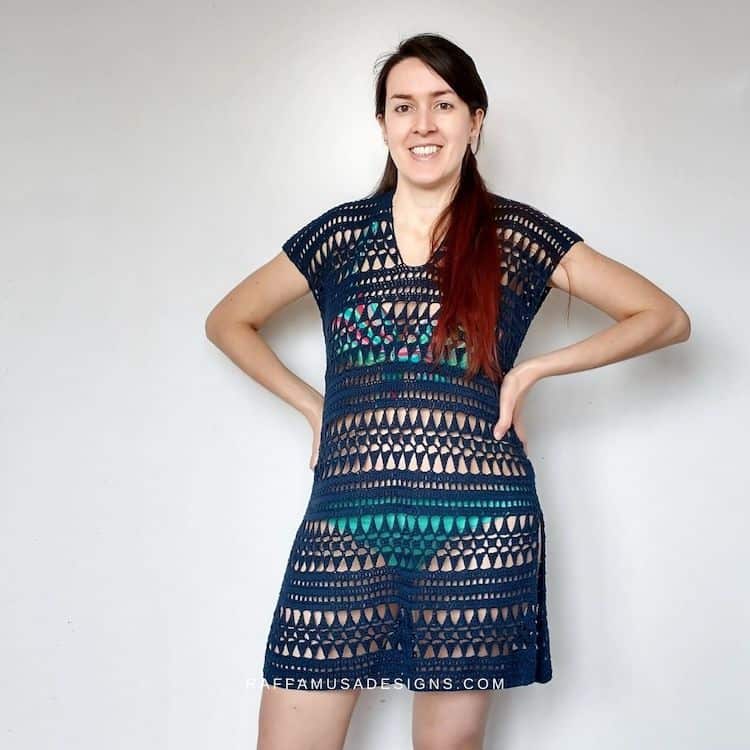 SUMMER BEACH COVER UP
Get ready for summer with this super breezy and airy cover up. Featuring a stunning geometric lace pattern, this summer dress comes in sizes from XS to 5XL.
Regular Price: $5.99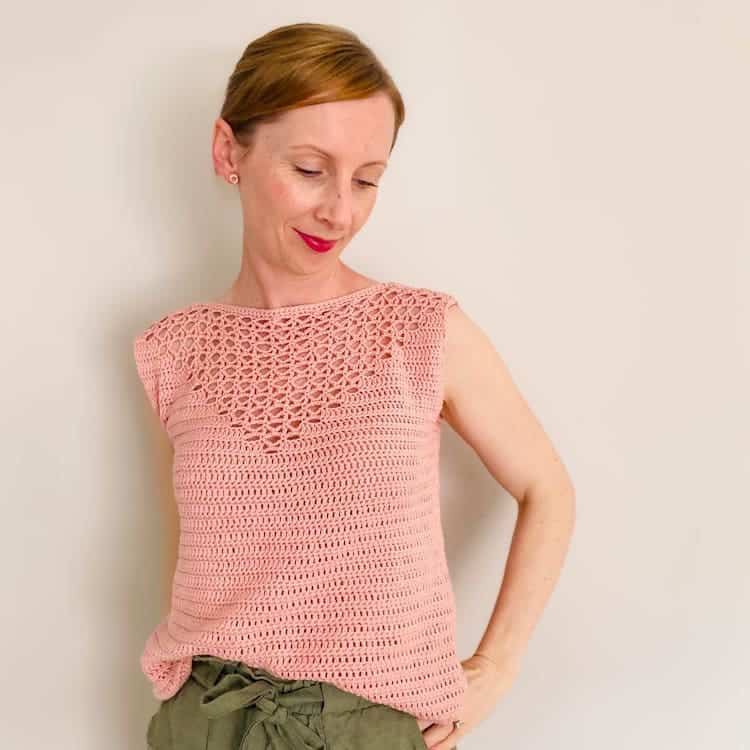 FLAMINGO SUMMER TOP
The Flamingo Tank is a simple summer crochet top with a gorgeous lace feature along the neckline. This free pattern is written for 9 sizes (XS – 5X), and is a perfect first garment – the back and front panels are identical, there is no shaping involved, and minimal seaming.
Regular Price: $5.50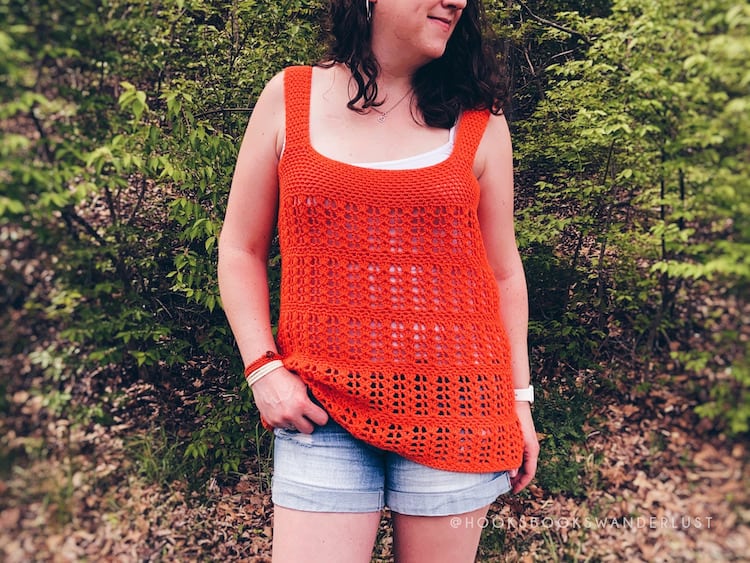 IRIS TANK
This open stitchwork top will give you all the island vibes! Three length options allow you to wear as a trendy crop top, an airy tank top, or a tunic length cover up for the beach or pool! Featuring the iris stitch and the granite stitch (aka linen or moss stitch), this top is worked in joined rounds from the bottom up. Available from XS to 5X in three length options!
Regular Price: $4.50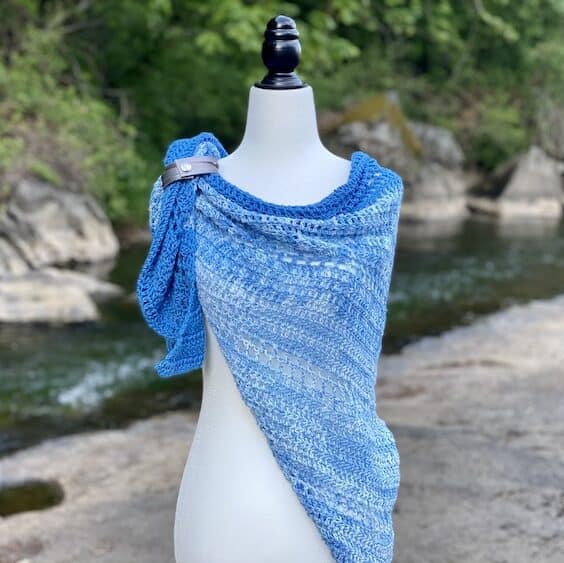 RIVERSIDE SHAWL
The Riverside Shawl is worked from the bottom up making it easy to customize size. Using only basic stitches and repeats this pattern is great for all levels. It's perfect for that bit of warmth on summer nights or to add some layers to any outfit all summer long.
Regular Price: $4.00
34 patterns for just $0.37 each
The Designer's Pick Bundle
Save over 90% on this wonderful collection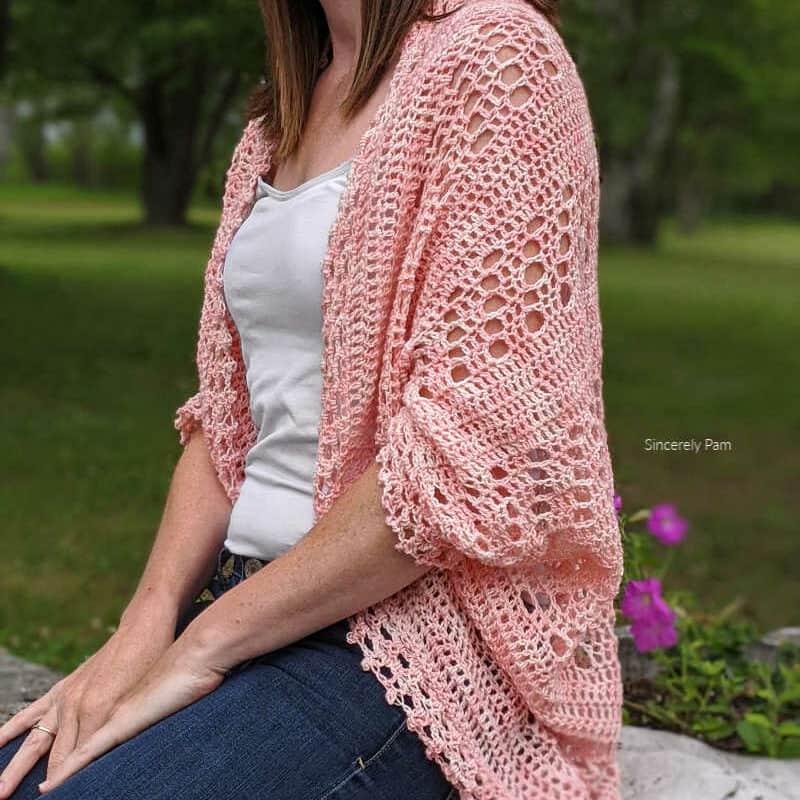 DAPHNE COCOON CARDIGAN
Written for ladies S-5X, the Daphne Cocoon Cardigan Crochet Pattern is a light-weight Summer design using fingering weight yarn. This cardigan features a filet crochet type body with a simple picot edging.
Regular Price: $3.00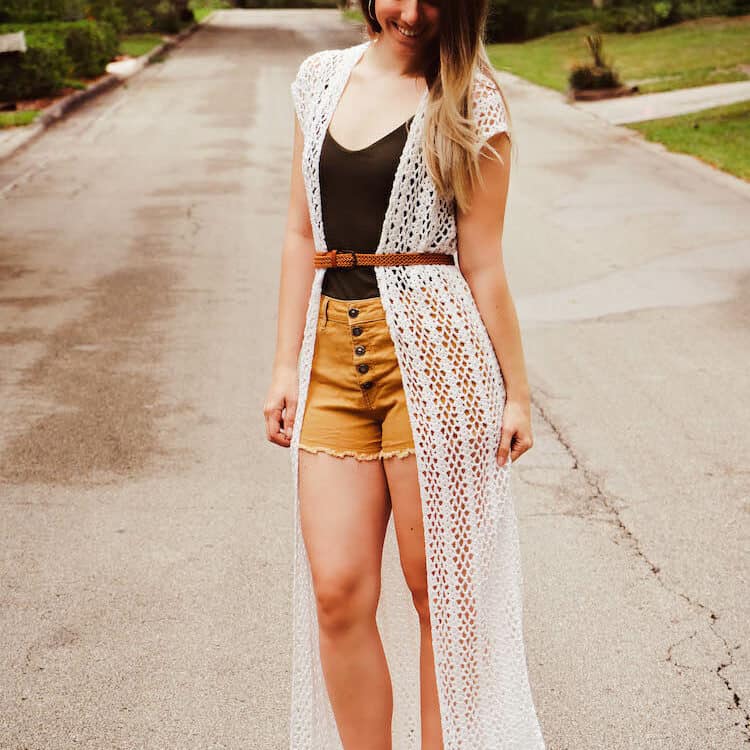 SUMMER LACE DUSTER
With the weather getting warmer, the Long Summer Crochet Duster is the perfect project for the season. I hope you are looking forward to long summer days and cool summer nights like I am. This crochet duster is worked as one very long piece and then seamed on the sides. With the two-row repeat, it's a relaxing project. And with the yarn used in this pattern, it's a lightweight project, which means no sweating while you create.
Regular Price: $3.99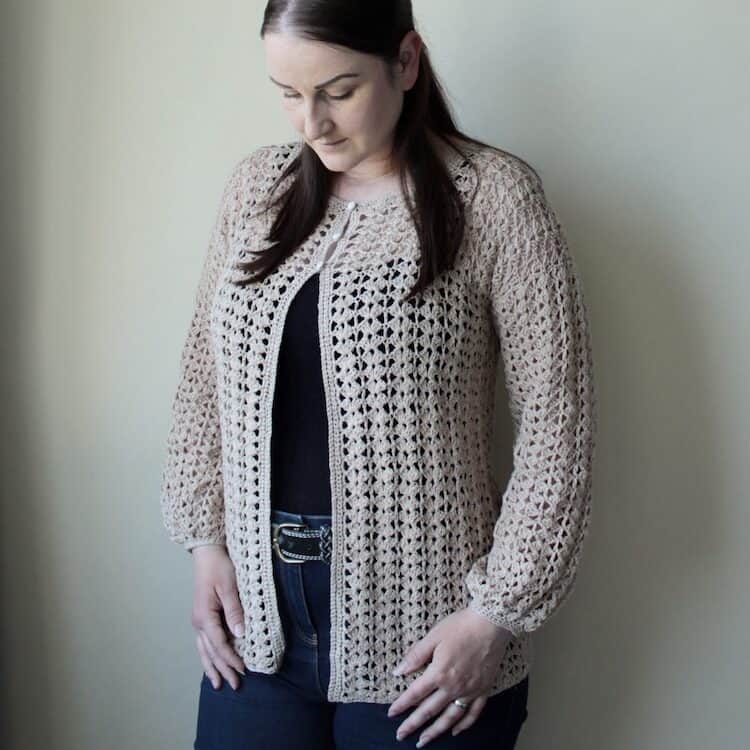 SELENE CARDIGAN
The Selene Cardigan is a beautifully light and airy summer cardigan. It uses a lovely combination of basic crochet stitches to create an interesting lace. The pattern is beginner friendly designed in sizes XS-5XL.
Regular Price: $6.34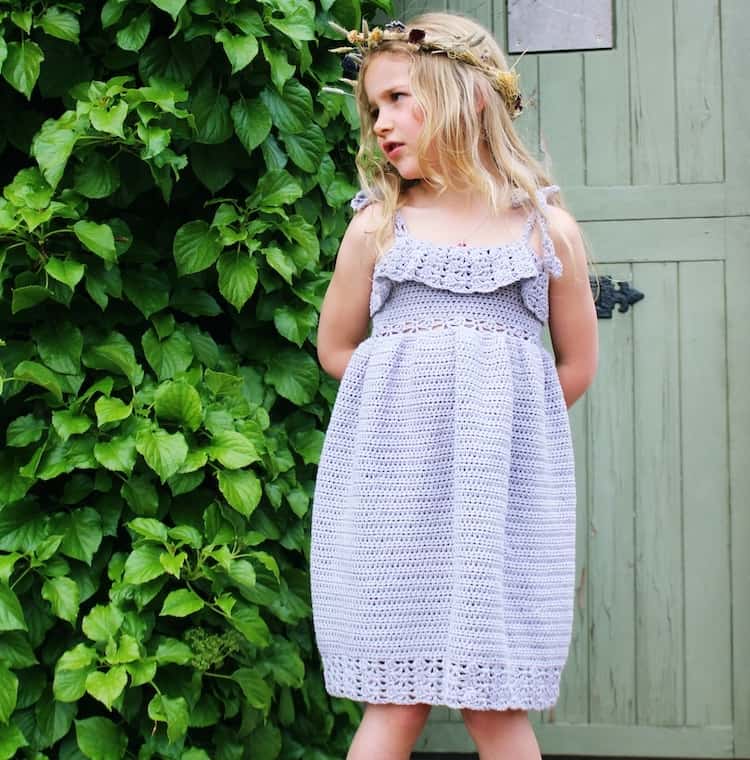 THE LACEY DRESS
The Lacey Dress is a beautiful crochet dress pattern written for sizes 0-6 months up to 10 years. It is perfect for long summer days and the tied straps ensure a great fit. It can easily be made into a top if you do not want to make the full skirt. The lace detailing around the chest and skirt add the most gorgeous detail that your little one will love to wear.
Regular Price: $5.39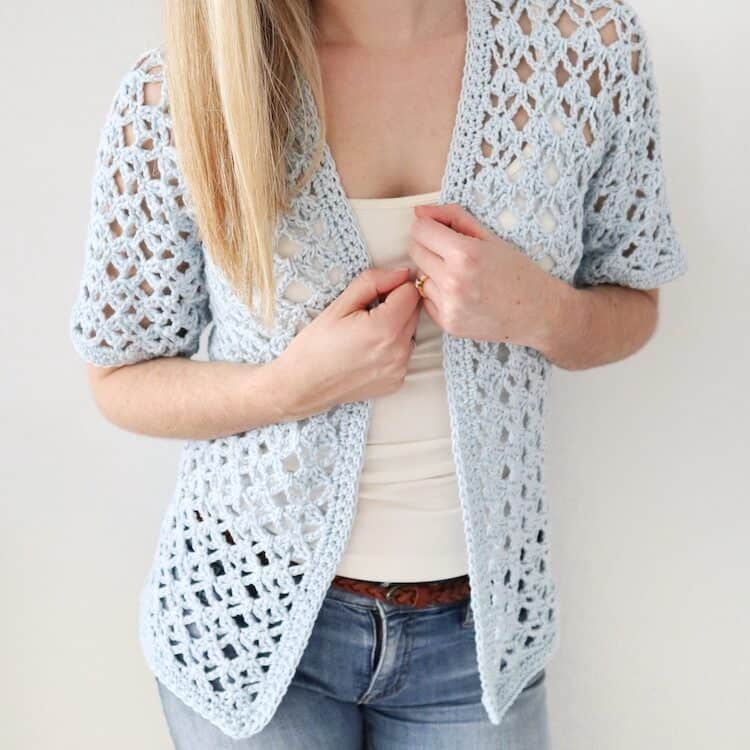 TULIP LACE CARDIGAN
Easy crochet lace cardigan perfect for your summer wardrobe! With and easy pattern repeat, worsted weight yarn and beautiful lace stitches the Tulip Lace Cardigan is a quick make that will complete your summer wardrobe in no time. Match it with shorts or make a longer version to have as a beach coverup. The pattern includes detailed photo tutorials and guidelines and a video on the stitch. This size inclusive pattern includes women's sizes XS-5XL.
Regular Price: $5.90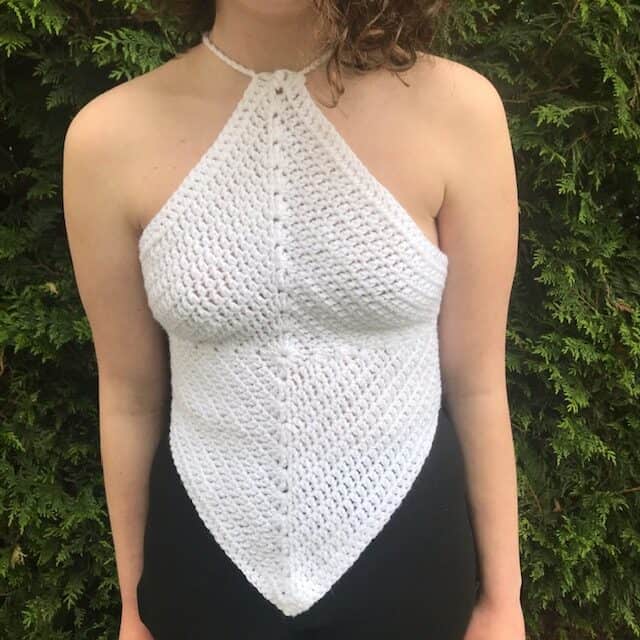 SIMPLE SQUARE HALTER TOP
The Simple Square Halter Top is the perfect beginner project for those new to garment making. Made from a simple crochet solid square and chained ties. This is a classic and stylish summer top.
Regular Price: $5.00
Projects for everyone
The Designer's Pick Bundle
The great thing about designer's picking their favourite means there's so much variety! From children's clothes and accessories, to adult garments, to shawls and bags – there is so much here for you to work on throughout Summer and beyond!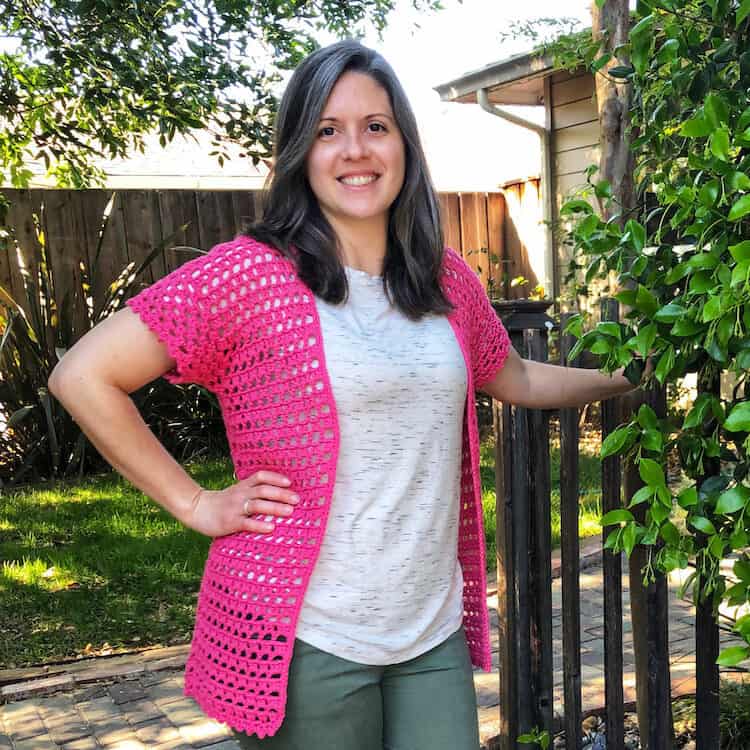 ELBA CARDIGAN
The Elba is a lacy crochet cardigan that's perfect for draping over your summer tank top to give you a stylish and finished look. Crochet lace is made easy in a simple two row repeat of double crochets and chains. This summer layering piece features short sleeves and a delicate picot stitch hem. The pattern includes women's sizes S (34″)-5X (62″) and is easy to customise.
Regular Price: $3.50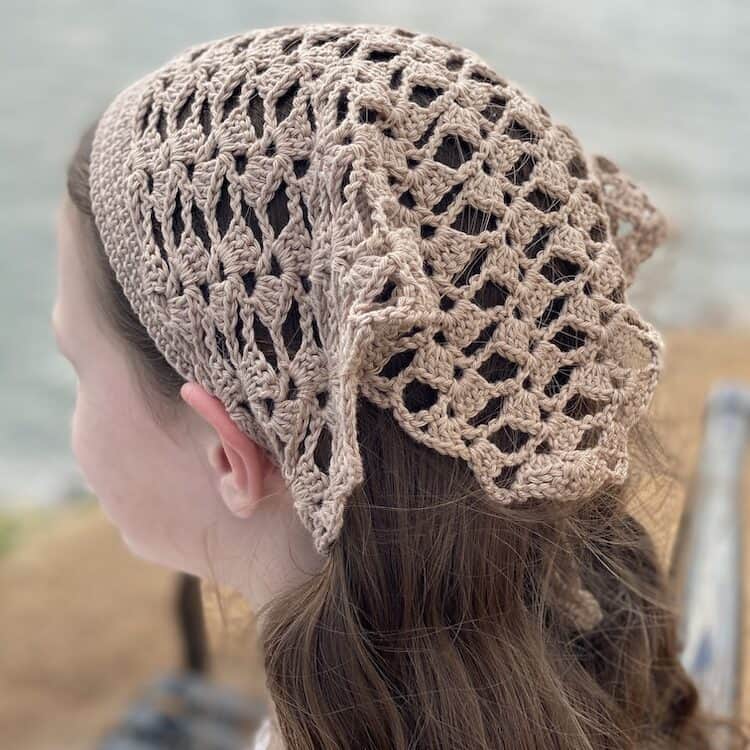 MARIETTA KERCHIEF
Summer is for days in the sun and road trips with the top down! Add this beautiful lace kerchief to help keep your hair back as you enjoy it al! The Marietta Kerchief fits a range of head sizes easily because it ties in the back. Will fit both women and children nicely.
Regular Price: $2.00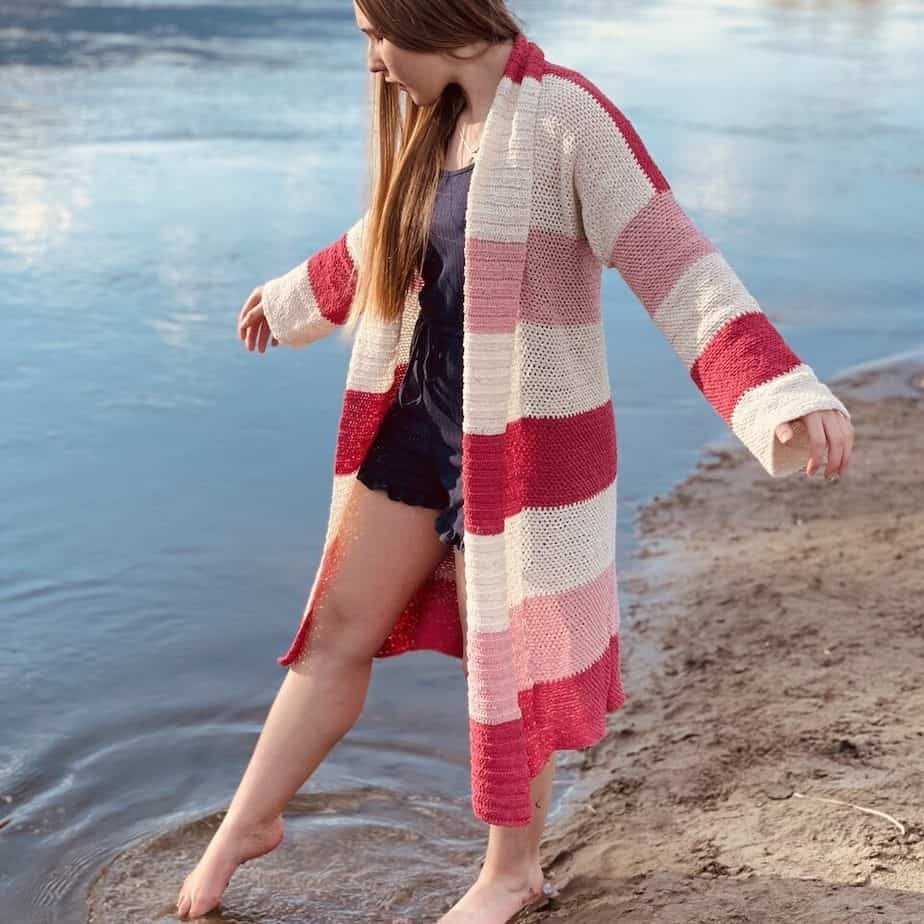 LYNDIE STRIPED CARDIGAN
Who says comfort can't have flair? Have it all with the Lyndie Cardi! A simple pattern designed using only basic crochet stitches, this fashionable summer cardigan is a must make. Perfect for those hot beach days or those warm midsummer nights. Wrap yourself in luxurious style with this fun and easy cardigan pattern!
Regular Price: $5.99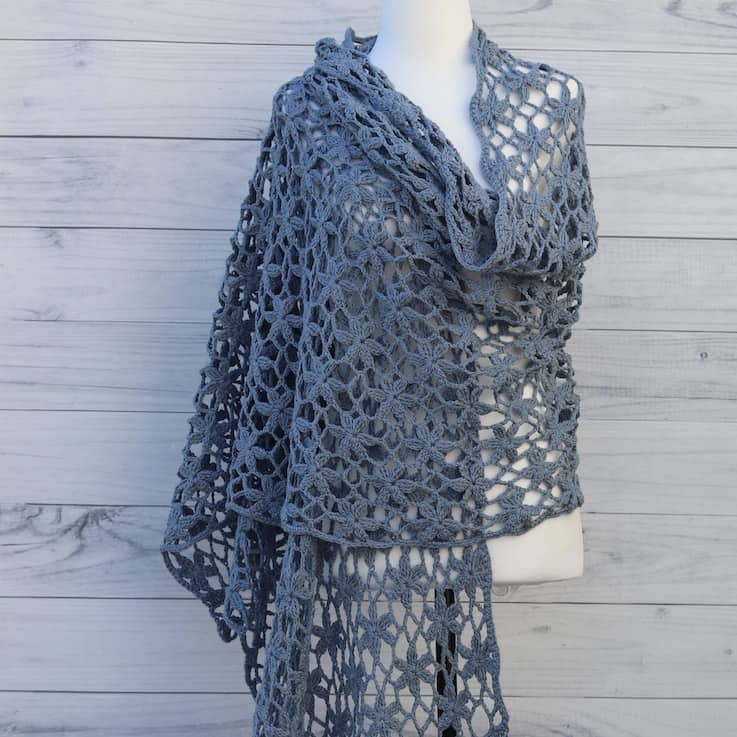 BLUE ORCHID SHAWL
Wrap yourself in this luxurious and stunning lace shawl. The design features delicate flower stitches. It's the perfect accessory for your wedding, special event, or even summer evening.
Regular Price: $4.54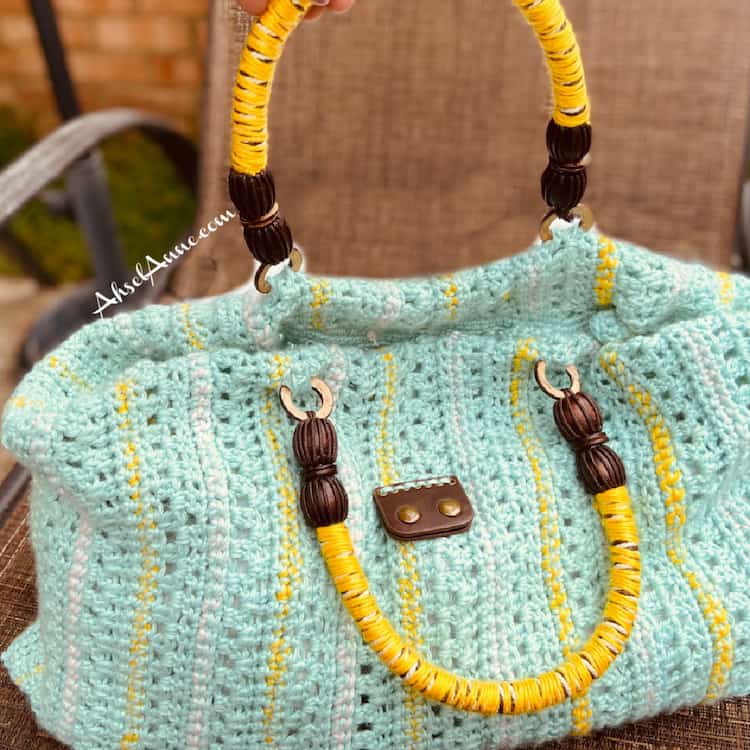 FLOPPY SEASIDE TOTE
The Floppy Seaside Tote is a perfect accessory for a day at the beach or pool.This oversized tote is the perfect size to carry beach towels, flip flops and even a few cold drinks. This crochet design is created with a few simple stitches that even a beginner can catch on and enjoy!
Regular Price: $3.00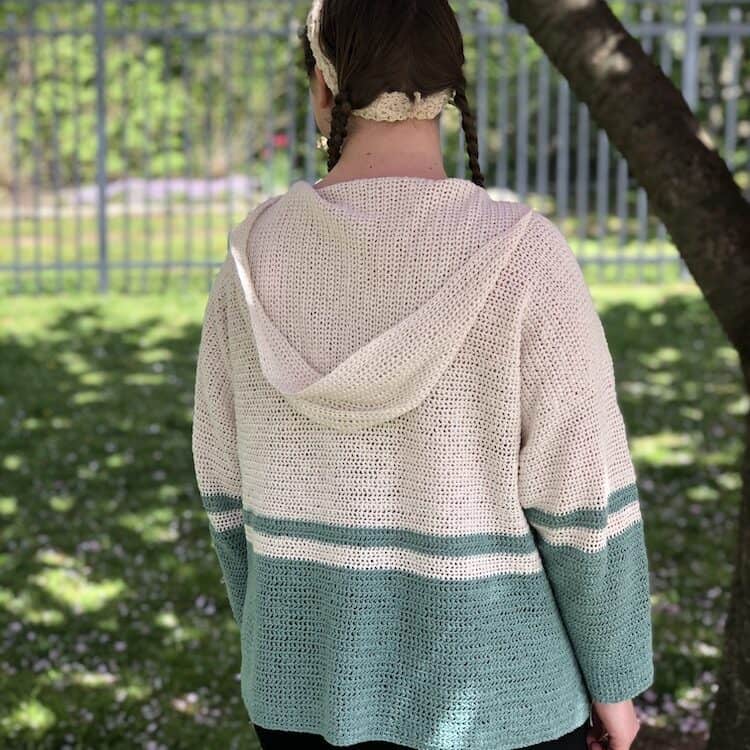 GONE FOR A DIP PULLOVER
The Gone for a Dip Pullover is a lightweight but cozy layer inspired cool nights at my grandmother's cabana when I was a kid. Throw it on over a tank top or bathing suit for a waterside barbecue or beach bonfire! A hood keeps you comfy when the breeze picks up. This pullover is graded for bust measurements 31-62″ and is worked top-down. The only seam is for the hood!
Regular Price: $7.00
Learn new skills and stitches
The Designer's Pick Bundle
As designers and makers we know how much you love to learn new crochet things! We've worked hard to bring you new stitches, techniques, constructions, seaming methods, you name it – it's all here for you!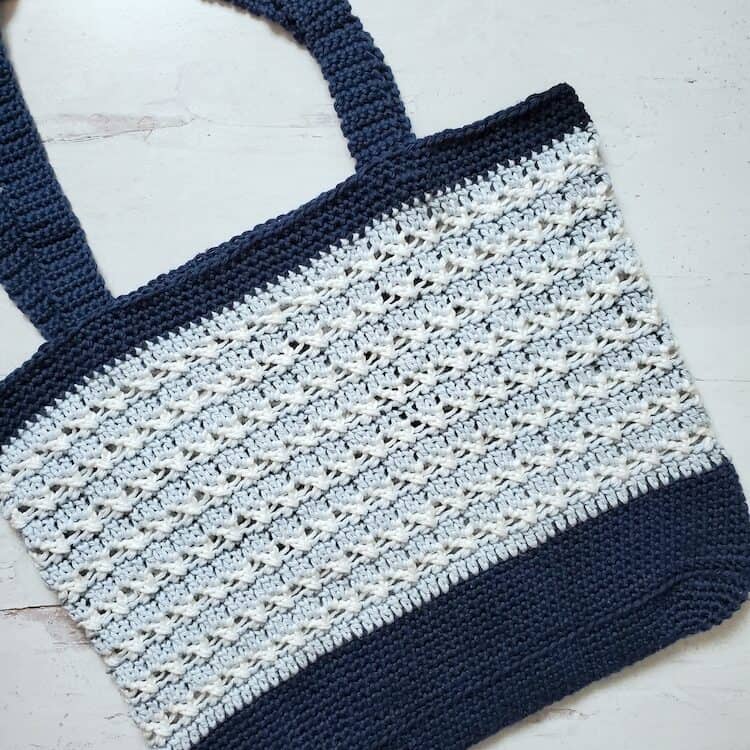 AURORA BEACH TOTE
The Aurora Beach Tote is the perfect warm weather bag. It has enough space to carry needed essentials to the beach, or your current WIP's to an appointment. The construction is simple and the stitch pattern works up quickly.
Regular Price: $5.99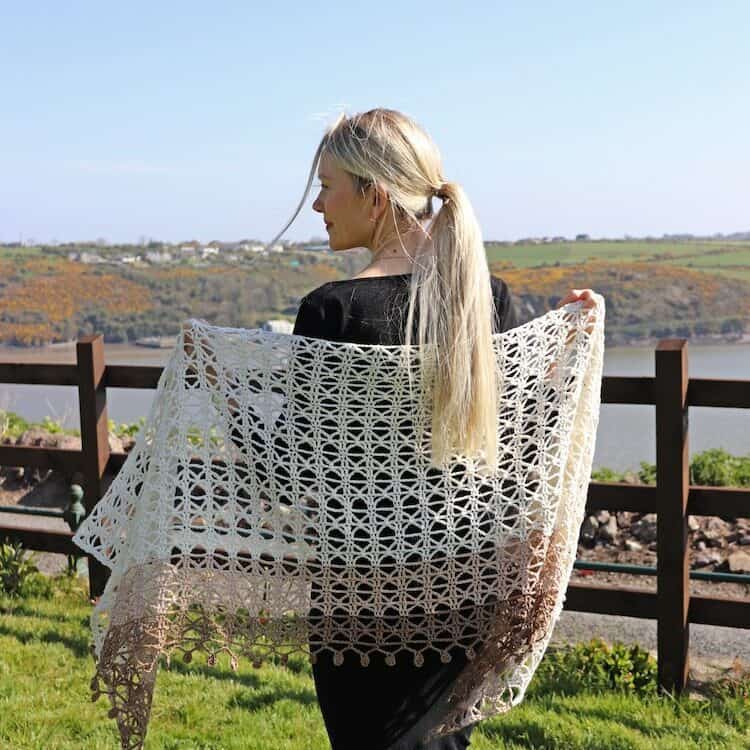 VENETIA WRAP
An easy open lace pattern is used to create this delicate crochet wrap. Perfect for draping as a light evening shawl and dressing up any Summer outfit! The delicate bobble fringe adds a touch of flair to this statement wrap.
Regular Price: $5.99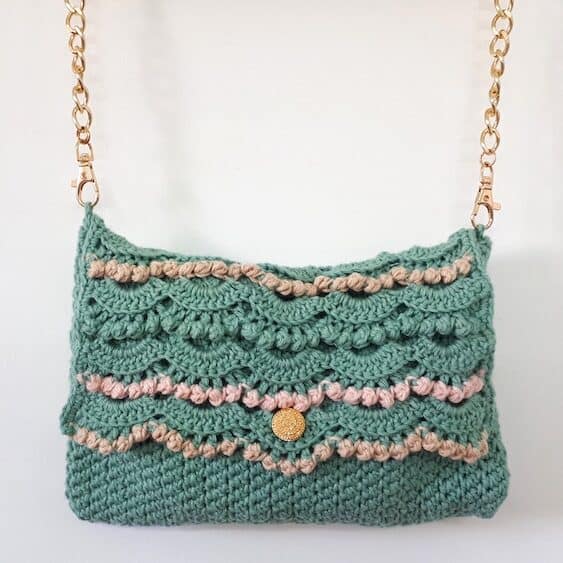 PEARLS OF THE SEA CLUTCH
The pattern is worked flat in one piece and then the sides are being sewn together. The body is crocheted with the alternating spike stitch to create a sturdy fabric and the cover adds more texture with the beautiful shells dotted with colourful pearls-like stitches. The bag is comfortable and light, but big enough for your purse and cellphone.
Regular Price: $4.50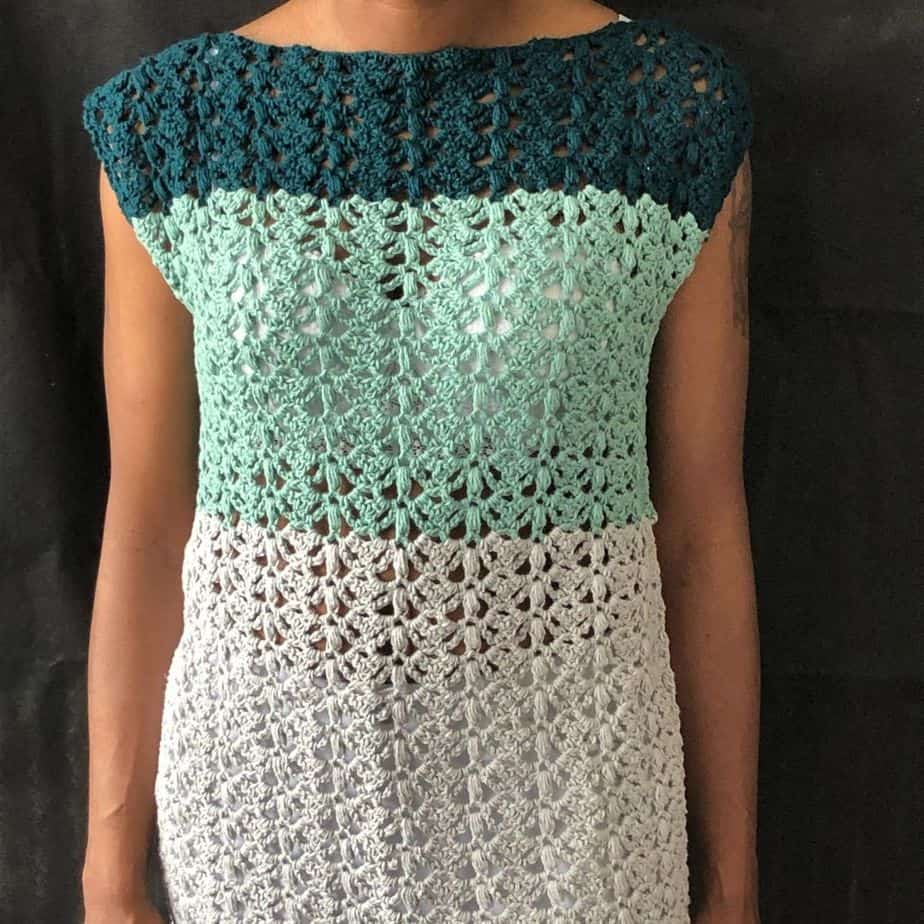 SPLIT DECISION TUNIC
The Split Decision Tunic is an easy to wear summer beach cover. Tunic Style this pattern is perfect for beginners, featuring minimal shaping, clusters and puff stitches and an easy repeating pattern that works up quickly. Wear it short with jeans, or a bikini, or go long with a pair of linen pants and a wide brimmed hat the options are endless. The perfect summer capsule wardrobe piece.
Regular Price: $5.99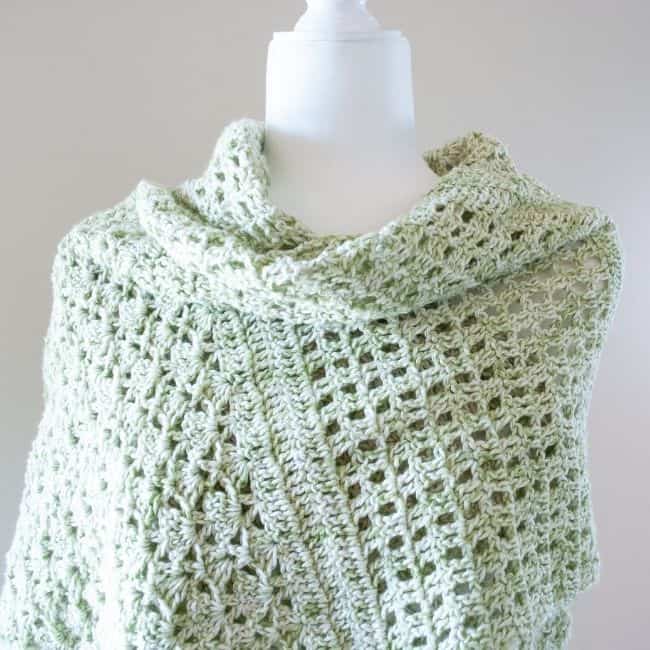 DAPHNE SHAWL
The Daphne Shawl is a lightweight crochet shawl perfect for summer. The openwork lace stitches are easy to master. Worked in the Comfy Mist yarn, the shawl is soft and has beautiful dapples of colour.
Regular Price: $3.00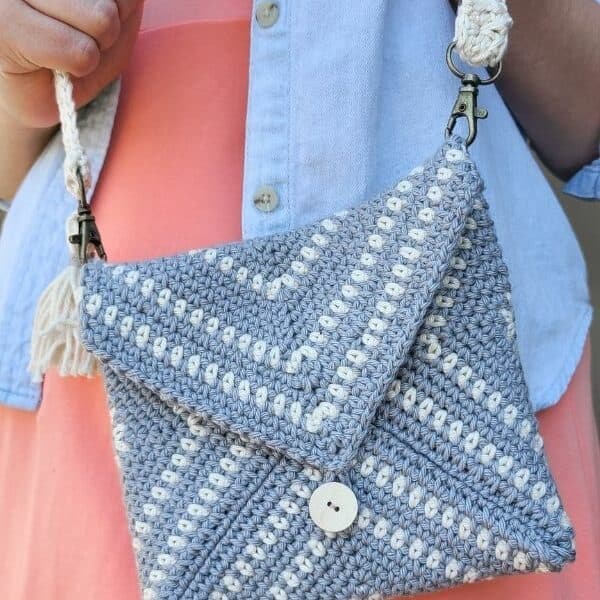 THE SUNDAY CLUTCH
The Sunday Clutch is the perfect summer accessory for coffee dates with friends our little outings around town. Small enough to not be a hassle yet big enough to carry important items like your phone, this clutch perfect for grab-and-go. This clutch is worked flat as a square, seamed like an envelope and adorned with an adorable button for a secure close.
Regular Price: $3.50
For beginners and beyond
The Designer's Pick Bundle
Our mission was also to bring a wide range of skill levels to the collection – there is something for everyone and many of the patterns include video tutorials to help you along the way if you'd like to try your hand at something new or more advanced.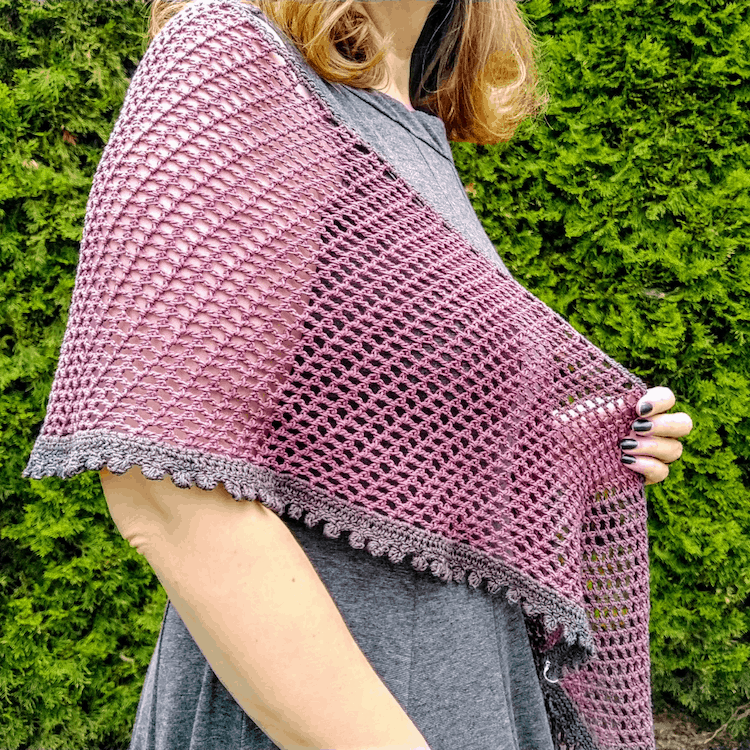 MAGGIE-ROSE WRAP
The Maggie-Rose Wrap is perfect for summer parties, weddings, poolside, out on the town, wherever. Drape it across your shoulders for an elegant look. Wrap it around your waist after a dip in the pool, Use it as a scarf. The possibilities with this versatile wrap are endless!
Regular Price: $4.50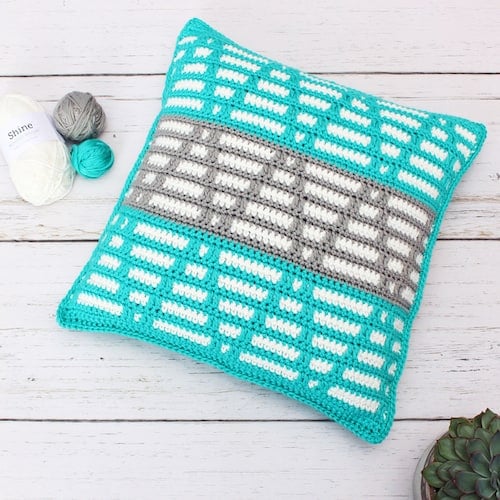 MOSAIC TRIANGLES PILLOW
The Mosaic Triangles Pillow is such a fun crochet project that is sure to brighten up any room, whether you are changing up your home décor for the summer season or the rest of the year too! This pattern is perfect for all levels of crocheters and includes detailed descriptions, photos, and a video to help along the way. Enjoy making these in all colours to match your home décor vision!
Regular Price: $3.50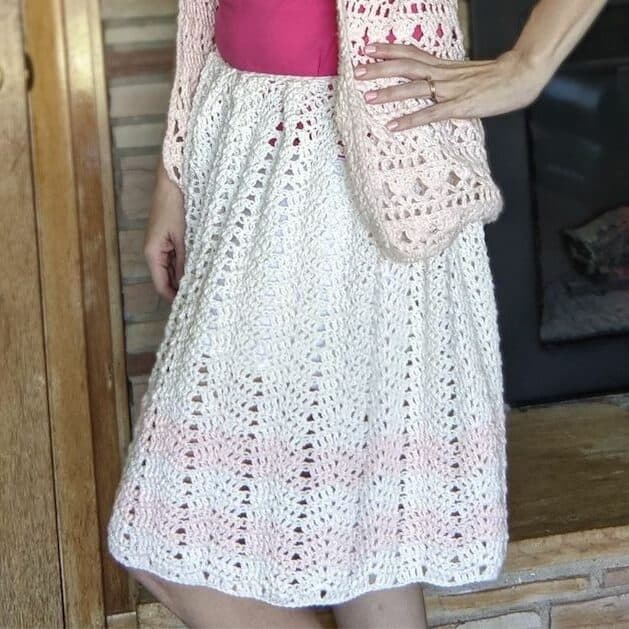 BITTERSWEET MARAGRET SKIRT
This 1950's inspired pleated skirt, is my go to summer skirt as it's lightweight and flowy. The best thing for me about this skirt has to be when you take it out for a spin, you can have a Marlyn moment safe in the knowledge that the CotLin is weighty enough to protect your modesty while it creates the most beautiful drape. The linen blend is perfect for those warm summer nights strolling along the sandy beaches.
Regular Price: $7.70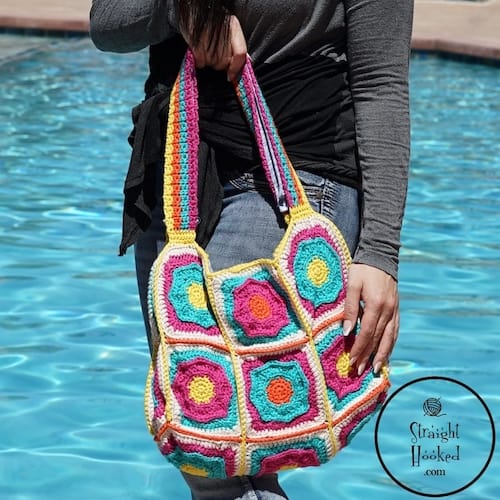 FLORAL FLAIR HANDBAG
The Floral Flair handbag is the perfect summer accessory! People will stop you to ask where you found such a cute bag. There are many fun techniques used in this pattern, with detailed photos and tutorial videos linked so you'll be able to master new skills while creating a stylish handbag you'll love!
Regular Price: $6.99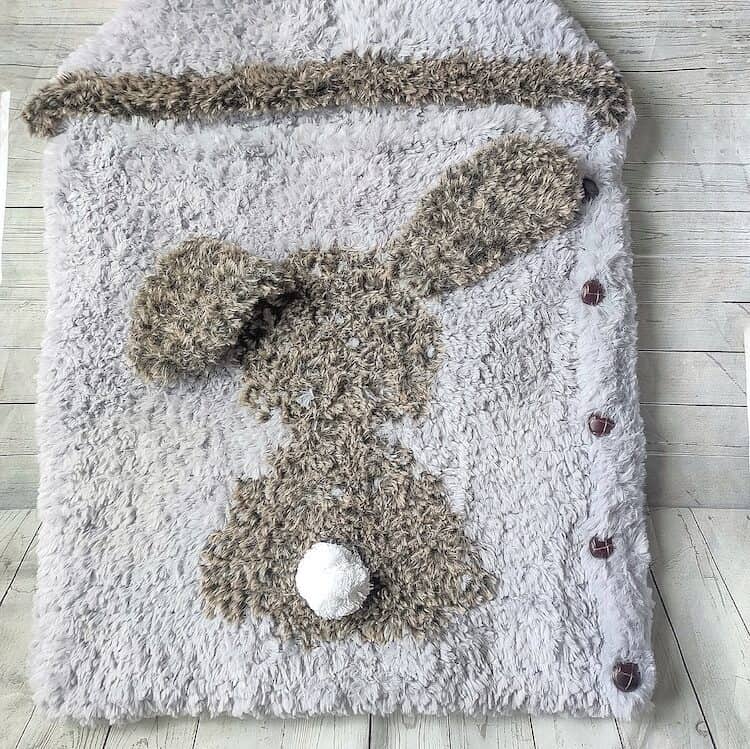 SLEEPING BEAUTY
Even Summer babies need to snuggle up! Wrap your little one in love, and in handmade sleeping bag which is handy and super easy to make! The texture – the feel of this is so amazing I want to make one for myself.
Regular Price: $5.99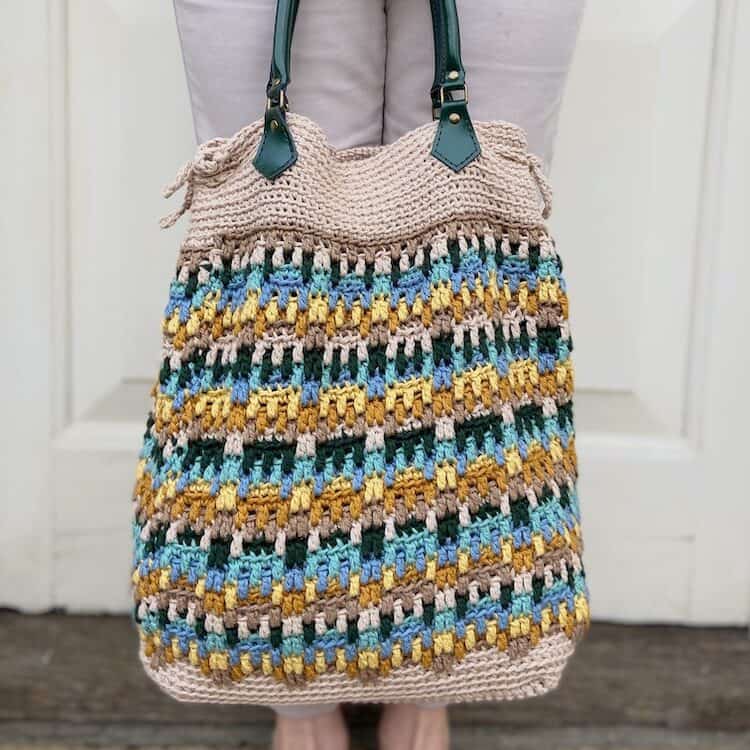 THE HAYDEN BAG
Crochet yourself a stunning bag that's perfect for summer, fun to make and so easy to personalise! Using the mosaic in the round technique, this great bag is made in one piece with a sturdy bottom, pull tie sides and is much easier than it looks!
Regular Price: $4.90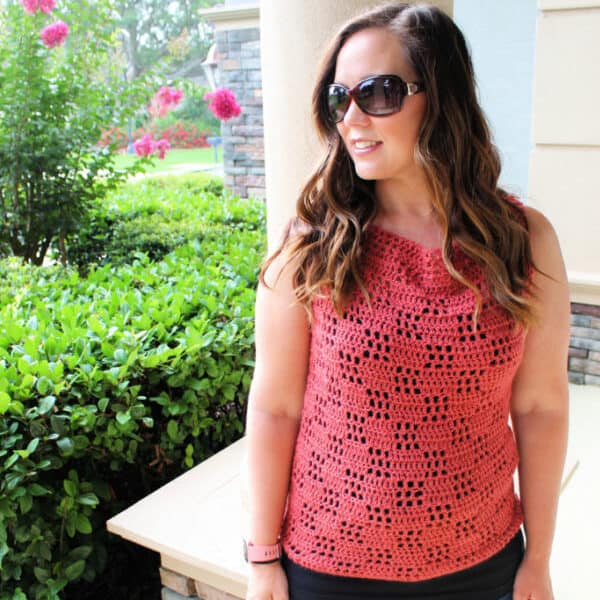 VALERIE TEE
The Valerie Tee crochet pattern is a super simple summer tee using the filet crochet technique and can be worn multiple ways!
Regular Price: $5.99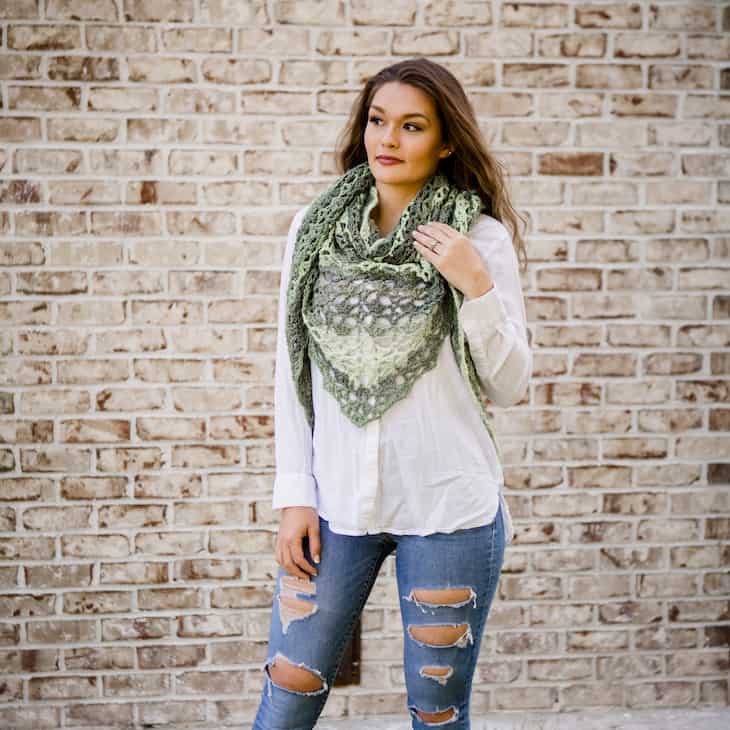 CHROMA SHAWL
This blooming, openwork shawl, made in Chroma, will add a touch of spring to any outfit. With its soft color changes, this piece will be a bold yet chic accessory that effortlessly flows in the breeze. Wear it as an outer layer over your formal wedding-guest outfit, or with jeans and a cardigan to grab a cup of coffee on those still-chilly, late-spring mornings!
Regular Price: $4.95
BONUS PATTERNS!
Brand new and exclusive from hosts HanJan Crochet and Itchin' for some Stitchin'
These fabulous patterns are included in the bundle too!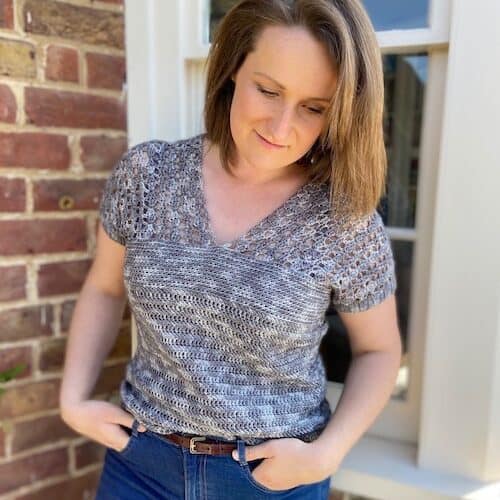 HAWTHORNE TEE
The Hawthorne Tee is a relaxed, comfortable tee to dress up or down throughout the year. Constructed by making two matching sleeves which are joined to then work in rounds for the body, this top is completely seamless and something everyone can achieve.
Regular Price: $5.99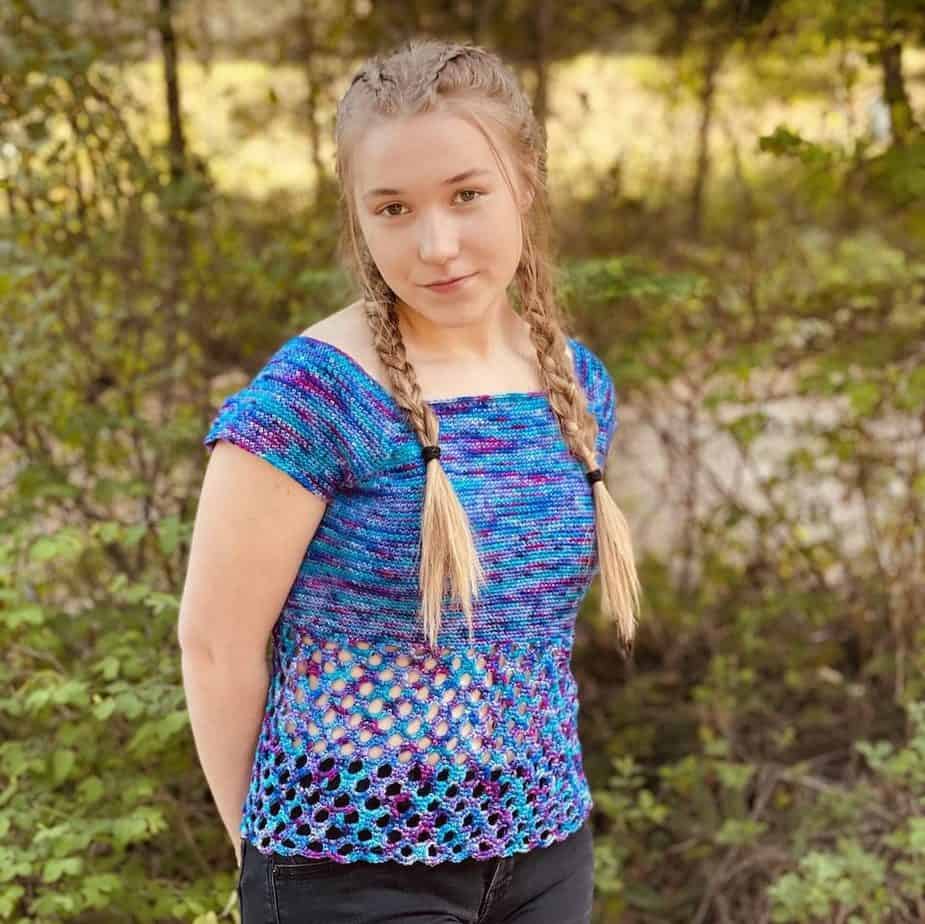 ESTELLE BABYDOLL TEE
The Estelle Babydoll Tee is fun and flirty! Seamless and worked entirely in the round, the top portion provides full coverage while the lace midriff adds a touch of sultry elegance. Perfect for days full of fun in the sun or those easy summer date nights! A size inclusive pattern includes women's sizes XS – 5X.
Regular Price: $4.99
Bundle FAQs
How will I get my patterns?
First of all, congratulations!
Once you complete your purchase, you will be immediately redirected to the the patterns. Additionally, you will also receive a confirmation email and receipt from Thrivecart (please see sample invoice below). In the confirmation email there will be a link to a folder – you will find all of the pattern PDFs in this folder.

Simply choose the patterns you would like to get started with and either save them to your device or print them on your home printer. If you don't have access to a printer you can arrange for printing at your local store (they will be able to help you out with this).

*** If you cannot find your confirmation email/invoice, please contact RaeLynn at raelynn@itchinforsomestitchin.com and she will resend it out to you.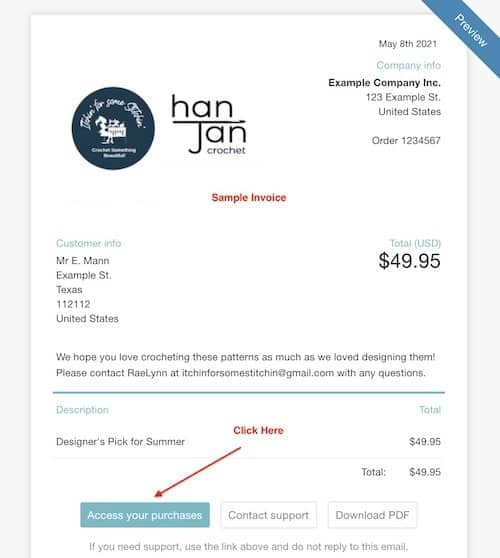 Will I receive anything in the mail?
You will not receive any physical items in the mail.

The pattern bundle contains digital crochet patterns only – all of which you can download and print at home at your convenience. You will not receive any printed material, yarn, or other crochet supplies in the mail
What is the refund policy?

We want you to be happy with your purchase and with 34 patterns valued at over $130, we are certain that this bundle is an excellent value for the money.

However, if you don't feel that you have received more than $12.99 of value from these 34 premium patterns, send an email to raelynn@itchinforsomestitchin.com within 7 days of your bundle purchase and you'll be issued a full refund.
Have any other questions about the bundle?

No problem!
Just send an email to raelynn@itchinforsomestitchin.com and she'll be happy to help.
Don't miss out on this amazing collection